So, you think you know Japan? It's the small island country that seems to operate like clockwork; a place just more technologically advanced than the rest of the world and has been so since we can remember. It's the home of Sony, Panasonic, Canon, not to mention Toyota, Honda, Mitsubishi.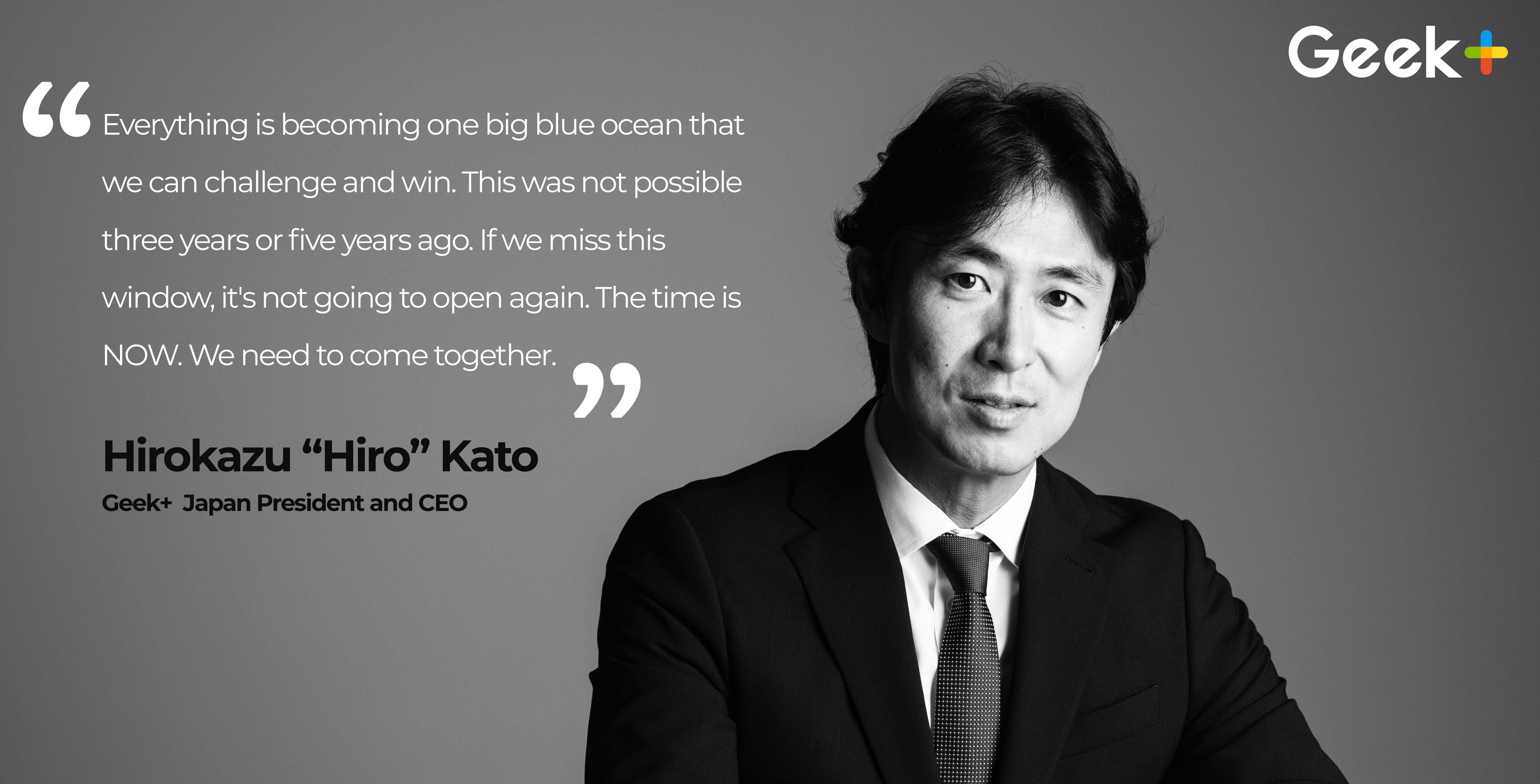 Geek+ Japan's new President and CEO, Hirokazu "Hiro" Kato, says outside perspectives can be deceiving when it comes to the tech industry in the Land of the Rising Sun. And he would know--he learned the ins and outs of the logistics world while building his e-commerce business, Acca, in the early 2000s, a time when e-commerce was in its infancy in Japan. "I think the Japanese logistics industry is way behind everyone," he said. "It's an old, industry-oriented market. But if we act quickly and in the right way, this will be a massive opportunity for Japan and Geek+."
As Kato assumes his new role at Geek+, he aims to help Japan's logistics industry automate at warp speed--because COVID has pushed logistics to its limit--plus the country's aging workforce demands it. We had the opportunity to sit down with him to understand his background and knowledge of the market and the industry.
BACKGROUND
Q: "Hi Mr.Kato, thanks for joining us. Could you tell us how your journey to the robotics automation industry and to Geek+ started?
Mr. Kato: "I used to work for Morgan Stanley as a banker back in 1999 after graduating from university. I was doing research about real estate for warehouses in Japan and I discovered a huge gap in the industry. I decided to start up my own company, ACCA international, in 2006.
Acca is a 3PL logistics and e-commerce company that brings B2B and B2C industries together. Our biggest problem was that warehouse workers lost a lot of time trying to locate and pick the goods. When researching and searching for automated solutions, we had looked into Geek+ and some of their key competitors. I had even traveled to other countries like India and the US to learn more. The competitors' solutions were very expensive and not really usable. Their system was slow and wasn't set up properly; we needed something that was functional and cost effective. Being a very small company internationally at that time, we couldn't afford to take the chance with them.
Then I contacted Geek+ back in 2016 and met with the global CEO, Yong Zheng, and he showed me around some sites that had Geek+ installed. It was pretty impressive to see the operations were running smoothly and effectively. When I spoke to the end client, they were very happy about the Geek+ system, as well. In terms of cost, it was very cost effective for us to go with Geek+ than with any other competitors on the market. Finally, Yong personally flew to Japan and he looked at our facilities and talked about the operation and system integration. The company's perception towards the client was impressive, along with their solutions, which encouraged us to go with Geek+"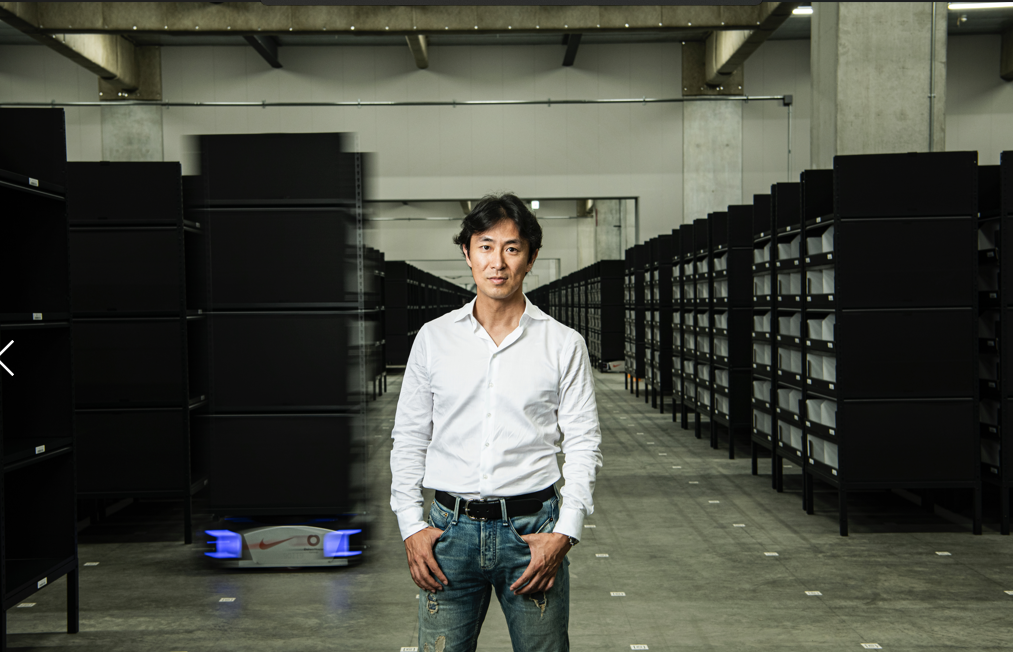 CHALLENGES: THE COUNTRY OF MANUFACTURING GIANTS AND FLEDGLING LOGISTICS
To understand the complexity of the Japanese goods and services market, Kato says you must understand the culture behind it.
It's an industry with two heads--and the two couldn't be more different. The first head is manufacturing—it's the classic image of Japan. The high tech one we see in all the movies. Fast electronics, sleek car companies built and supported by university elites and industry legacy money. The the lesser-known, weaker of the two is the logistics network--how goods get from a warehouse to your door when you want them. This part of the industry is built entirely of blue-collar workers, part-timers turned full-time employees, turned managers, turned leaders.
Because the logistics industry was built from the bottom up with little emphasis on management, change is slow, especially when it comes to automation. "The logistical side isn't capable of adopting new technology easily or can't take on new tools for a new service that customers demand, which is the entire new industry of e-commerce," said Kato.
Before COVID, logistics companies didn't need to automate immediately because they could still get the job done with people. The industry was moving slowly from B2B to B2C and businesses could get by. When the pandemic happened, business rapidly shifted to B2C, the labor shortage problem in Japan became serious, and automation was no longer something companies could neglect.
Q: "Could you please tell us how COVID has affected the future of the workforce in Japan? And can you tell us specifically, in a time of such drastic global change, how has Japan particularly been affected?"
Mr. Kato: "COVID has changed how people shop, consumer demands and people's expectations towards the logistic industry have also taken a quick turn and that's not going back at all. There has been a major shift in the way we shop, the way inventory moves about, and the overall supply chain has completely changed to a faster and more efficient way. This is a window for us."
JOLTING JAPAN INTO THE FUTURE
So what do you do with a logistics workforce that needs a jolt into the 21st Century? Kato says he will position Geek+ Japan as a solutions provider, not a machinery sales company.
His team is currently setting up training facilities around Japan, experimental informational centers where businesses can take their inventory, test out Geek+ technology, and see the benefits in real time. They call these centers DOJOs, the learning place for the Japanese martial art, Judo. Clients will come in and use the facility with their Warehouse Management System (WMS) and monitor their key KPIs such as productivity, capacity, efficiency, etc. It will not just be a training facility, but also a testing facility for companies to see if Geek+ solutions would fit into their daily operations.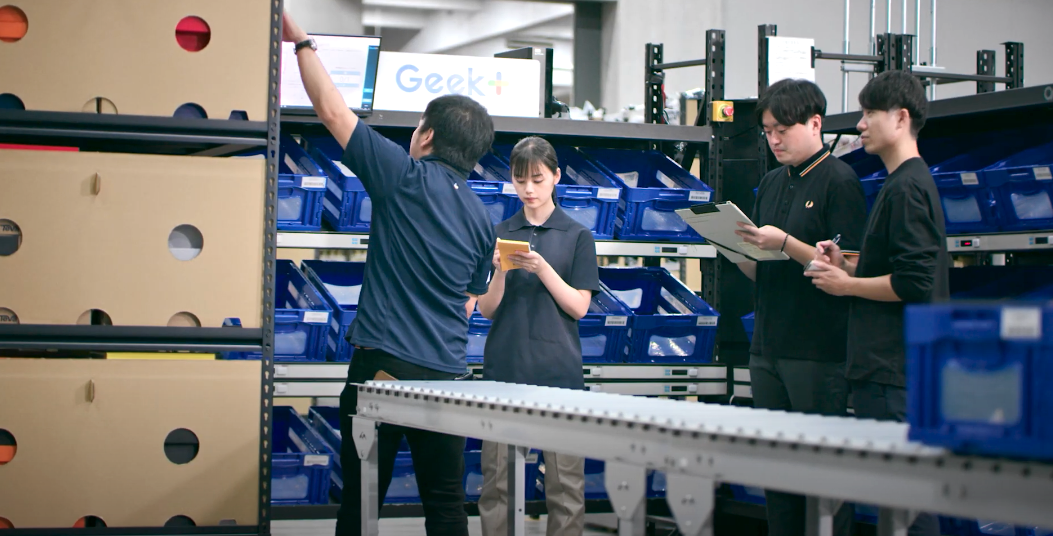 Inside the Geek+ DOJO

Kato says these training facilities can also be a place where 3PL companies can see new business opportunities.
"A 3PL can take the business model and localize it, understand it, and copy within themselves. We will take this risk and try to make an example first, then hand it over to 3PL companies so that they can understand from a real, successful business model," he says.
Kato will also expand Geek+'s subscription service so clients can pay for usage instead of the sometimes-steep upfront costs for a permanent solution.
"Geek+'s WMS is one of the best out there. We customize the software based on the client's needs and their warehouse setup. We need to have a subsystem that connects each warehouse's resources and material handling gears so that we can have an entire network to support the industry. So we are planning to build this networking system to cover that industry. These are some of the challenges we are planning to take on next year."
"We believe so much in the power of our product that we will take the risk, so our client doesn't have to," say Kato. "Geek+ will provide the hardware and software, and will teach our clients how to use our technology. They will see their products moving 3x faster with their own eyes. Once they see how easy it is, they'll see that purely manual logistics is a thing of the past."
Kato knows what it's like to be the owner of a manual 3PL looking to automate; he was a Geek+ customer himself less than 10 years ago. The easing of Geek+ into the Japanese market through friendship and the work of former CEO, Tomohiro Sato, have produced huge wins for the company where so many other foreign robotics companies have remained stagnant or have failed. In fact, Geek+ now enjoys an 80% share of the AMR market in Japan.
"It's a difficult industry. You just have to know the market, you just have to know the culture," says Kato. "In Japan people say yes, but it means no. You must read between the lines and try to get the right message. If you don't get the drift, then you're out. You must not only have the right products but the know-how. With Geek+, we have both. We are in a special, advantageous position and now it's time to get to work."
With the industry in flux because of COVID and the labor shortage, Kato says he knows he has major challenges ahead, but he's not worried; he's essentially been training for this job his entire life. As a kid, Kato watched his businessman father run businesses from burger stores to bakeries. He taught Kato to keep a close eye but also to engage partners and even competitors in the process. Kato embraces the idea of partnerships and says everyone from RFID developers, real estate, corporate finance, financial companies so many surrounding partners can be connected through this Geek+ energy to come up with creative solutions.
"Everything is becoming one big blue ocean that we can challenge and win," says Kato. "This was not possible three years or five years ago. If we miss this window, it's not going to open again. The time is NOW. We need to come together."
A video about Geek+ DOJO in Japanese.
What's next:
-Connect with Mr. Kato on LinkedIN