According to Adobe's Digital Economy Index, global e-commerce sales are set to hit $4.2 trillion as the surge in online shopping fuelled by the global pandemic shows no sign of slowing down. To capitalize on this, retailers worldwide have invested in online businesses.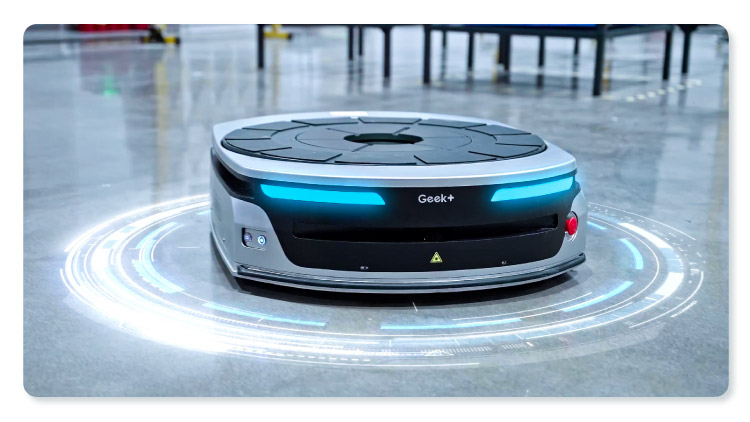 Thus, it is no surprise that the AMR industry is simultaneously growing at a rapid pace – AMRs are the unsung heroes that work 24/7 behind-the-scenes to prop up the operationally efficient warehouses needed to handle the scale of today's e-commerce market.
However, even as the use of AMRs in warehouses has soared in popularity in recent years, there are still myths surrounding the topic of AMRs, and today, we will be discussing 6 of them!
---
Myth 1: AMRs require large financial investment
Across various industries and various use cases, AMRs have proven to transform productivity and efficiency for the better, generating faster output, higher quality, and greater flexibility in virtually all production processes. To achieve such stellar results, it is commonly misunderstood that a huge upfront cost is needed to implement AMR operations. However, that is not necessarily true.
The overall investment of AMRs can be divided into several phrases for warehouse operators to review the product performance data and decide if they want to scale up the deployment.
It can be true that the automation, equipment, and software needed for fully automated Goods-to-Person (GTP) systems like AMRs are considerably more expensive than automated Person-To-Goods (PTG) systems. However, despite the initial capital expenditure, GTP systems can generate favorable ROI when considering potential labor efficiencies, real estate savings, and life cycle costs.
In the case of AMRs, the ROI payback period is attractively low, estimated at around 2 years as a general rule.
---
Myth 2: AMRs will 'replace' my labor force
At the mention of warehouse robots, some may feel uncomfortable with the thought of robots replacing the jobs of the labor force. However, it isn't so much of a 'labor replacement' as it is a 'labor reallocation' – instead of doing the brunt of physical tasks in a warehouse, your labor staff can be groomed into higher value-added roles such as inventory management and robot fleet management.
AMRs also bring part of the solution to the prevailing labor crises in the supply chain industry, such as labor gaps in tactical staff and fluctuating demand for part-time workers due to unpredictable peak periods.
Reference: Worker Walks 10km per day
AMRs, with features such as flexible scalability and fast deployment, will bring stability all year round to warehouse operations because they allow for flexible maintenance and modification without any service interruption.
---
Myth 3: AMRs require a lengthy deployment period
Time to bust this misconception for good – did you know that, unlike other automation systems, AMRs only require minor changes to the warehouse infrastructure: primarily the floors, connectivity, electricity, and the addition of racks and robots?
The fastest deployment of AMRs has been a period of 1 month, with 3 months being the average deployment period. Below is a great example of the DSV Case: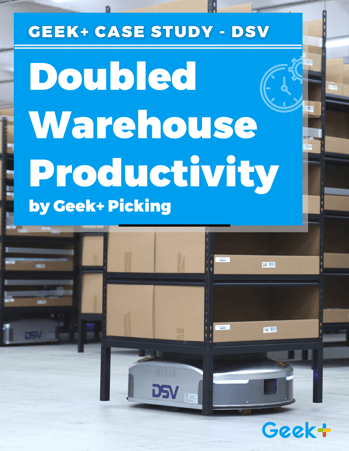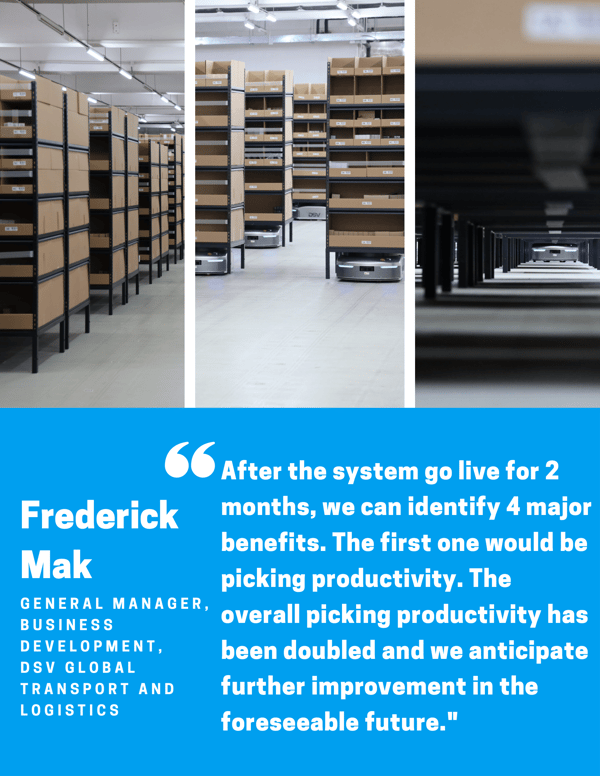 ---
Myth 4: Throughput > Storage (or vice versa) in AMR deployment
Before concluding whether throughput or storage is the more important objective, businesses should consider several factors, such as the type of warehouse, your business goal or KPI, and warehouse operations.
Factor 1: Type of warehouse
Distribution Centre: For distribution centers, the focus will lie on achieving the highest storage density possible due to the larger space and height. An AMR series like Skypick will be suitable.
The Sky-Storage & Ground-Pick solution has integrated storage and picking solutions with high-density storage and high throughput capabilities. It increases storage capacity, throughput, and flexibility and is cost-effective.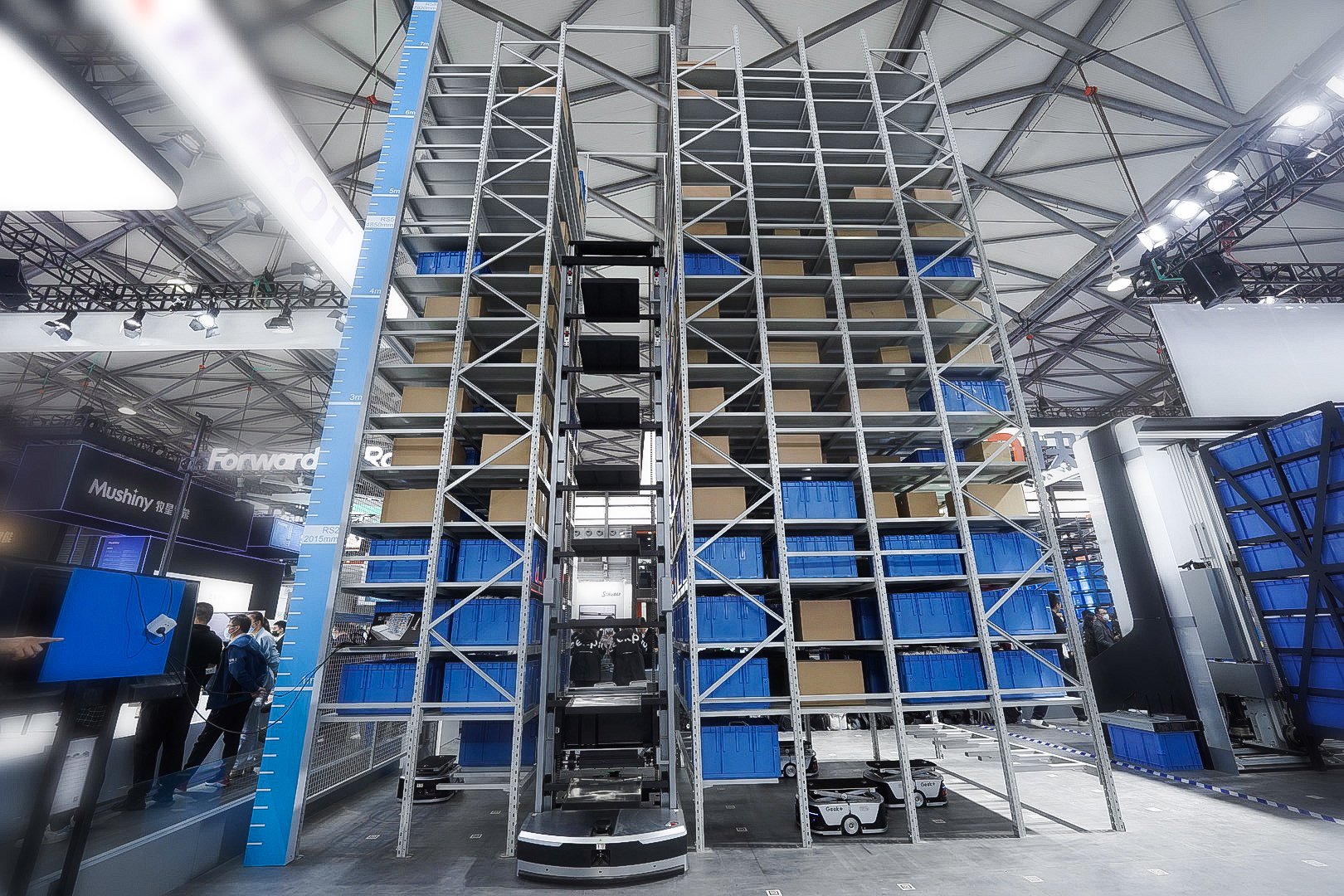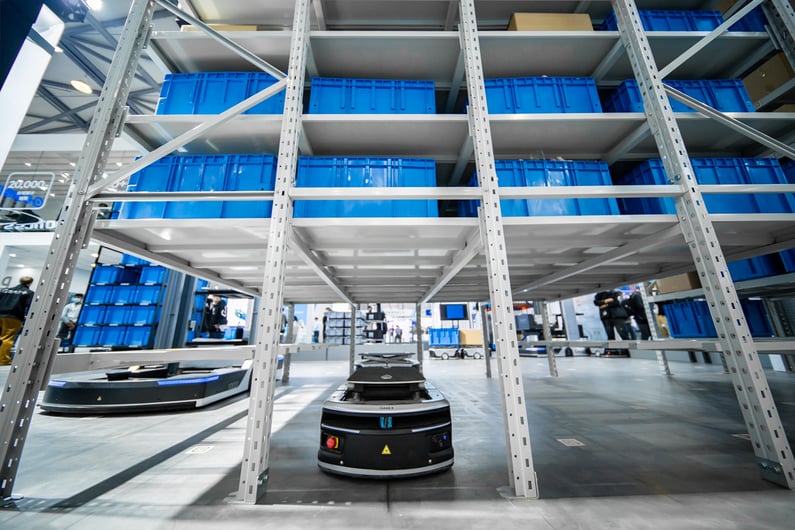 Another potential solution would be the RS+P40. The Geek+ RoboShuttle™ Tote-to-person picking solution can achieve high-density warehouse storage with its narrow aisle design and high picking, storage, and operating efficiency. Its flexible tote box handling subverts the conventional tote inventory model, achieving ROI within 3 years.
Fulfillment Centre: The focus will be on achieving the highest throughout and moderate storage density for fulfillment centers. This can be achieved through PopPick.
PopPick is Geek+'s revolutionary, new goods-to-person solution, which pairs an upgraded moveable shelf carried by mobile robots with the industry's first dual-unit picking station. As an all-in-one solution, PopPick creatively combines picking and storing totes, shelves, and pallets.
With advanced AI technology and intelligent autonomous mobile robots (AMRs), PopPick can increase warehouse picking efficiency up to 650 totes per hour and optimize throughput capacity by a factor of 2.
Factor 2: Business Goal/KPI
With the different businesses having different needs and goals, the warehouse KPI of one firm can look very different from another's. Identifying the appropriate warehouse KPIs for your operations is essential before kickstarting any AMR deployment.
Examples of warehouse KPIs include inventory accuracy, turnover, lowered picking costs, throughput, or storage capacity.
Factor 3: Warehouse operations
Warehouse operations like micro-fulfillment and cross-docking can also lead to different warehouse requirements. For example, micro-fulfillment centers (MFC) tend to be smaller-sized, highly automated facilities typically positioned close to the end customer base so that the delivery time and cost of goods are minimized.
On the other hand, for cross-docking operations, the focus of a cross-docking system is just-in-time delivery (JIT), where the products are directly from the incoming to the outgoing transport, without leading to long-term temporary storage.
This process is achieved through immediate processing and converting incoming deliveries into outgoing shipments; a distribution center ultimately functions as a sorting center, not as a warehouse.
---
Myth 5: I will be an early adopter of AMR technology
Robotic automation is not something new or foreign to the logistics world. The e-commerce boom of the global pandemic has bolstered countless businesses (market leaders and smaller firms alike) who have invested in AMR technology and reaped the rewards.
3PL Cases:
- Ceva Logistics:
Geek+ led the successful deployment of AMRs in CEVA Logistics's Truganina warehouse in 2021. Geek+ autonomous mobile robots intelligently and flexibly move mobile inventory racks and pallets to picking stations, saving employees time that would otherwise be spent walking around finding and picking inventory. The result is improved employee comfort, logistical efficiency, and considerable savings.
Maersk in Hong Kong:
Maersk Distribution Centre in Hong Kong implements automated guided vehicles to optimize operations in 2020, leaving behind the traditional manual pick and pack for automated picking with 100% accuracy and speed.
- Asda:
Geek+ deployed sorting robots in 2021 to help Asda bring excellent fulfillment services to online shoppers all over the UK, with the solution flexibly integrating with AMH Material Handling and Asda's platforms for accurate, efficient, and scalable sortation of over 2000 parcels/hour.
Retail Cases
- Nike:
Geek+ implemented 202 picking robots and 6000 set racks in Nike's warehouse, a 10000㎡ area in CHIBA, in July 2019, increasing picking efficiency, mitigating labor shortages, and streamlining warehouse operations to meet the rapid growth in online sales and bring same-day delivery to its Tokyo customers.
- Decathlon:
Geek+ deployed AMRs in Decathlon's three European distribution centers in 2021, located in France, Poland, and Italy, to increase its storage capacity, streamline its logistics processes, and better serve an expanding online customer base across these countries.
With 1045 stores in 25 European countries, Decathlon required a highly flexible and fast supply chain and chose Geek+'s goods-to-person solutions to optimize its B2C logistics.
If your business is striving for a more efficient operations but has yet to invest in AMR technology, you must take action now to seize the first mover advantages these businesses have.

Learn More about the Fast Replication of Operations of Decathlon? Download the whitepaper here:

---
Myth 6: Totes pick superior to piece pick or vice versa
The reality is that each operation has its drawbacks.
Totes Pick
Although totes picking may get a smaller number of items stored, it is highly favorable for items with large SKUs since they can be found in the same tote as small items.
Tote picking also usually allows for higher storage since the shelf is much higher at around 8m than piece picking operations. ASRS solutions that facilitate automatic retrieval would be recommended to help retrieve the items. This also reduces the injuries of workers during the picking process.
Piece Pick
Considering that shelf height stands at a maximum of 2.8m, its storage capacity is likely much less than totes picking operations for piece picking. However, it is very suitable for large amounts of SKU business and the shelf customization to store different SKUs' sizes since there are no totes.
It may also be very suitable for warehouses in urban areas, such as those located within industrial buildings or stores – as the height of the building would usually not exceed 4-5 meters.
Hybrid Pick Possibility
PopPick allows for rack customization as it supports several kinds of racks, like mixed racks with different shapes and sizes of goods, a mix of cartons and totes, traditional racks, and enormous heavy pallet racks. Racks can be extended further with 2 extra rows for even greater storage capacity.
---
Many concerns may come to mind when considering the deployment of AMRs; in this article, we have shed light on some of them and hope we have debunked some myths and provided answers to some questions.
Needless to say, AMR technology is proving to be a reliable investment for warehouse operators worldwide and is fast becoming the preferred choice in smart logistics.
If you have read to the end of this article, we encourage you to book a free consultation with one of our consultants so we can learn more about your warehouse needs and tailor a solution to reach your business's goals.