Q&A with Mengdi Wang, Senior Product Engineer at Geek+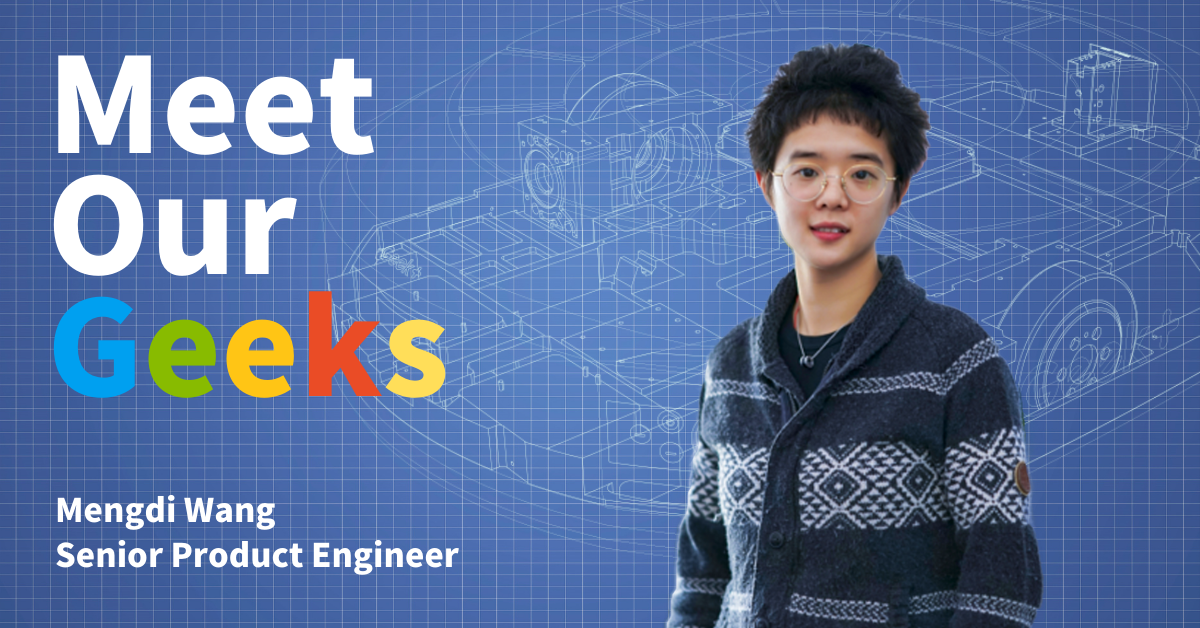 When did you start working with Geek+, and what is your current role?
I started working with Geek+ in March 2017 and have been with the company for almost four years now. As a senior product engineer, I mainly focus on developing our picking product line.
What got you interested in this field?
Before I started working with Geek+ I was working in logistics integration. At that time, logistics equipment was often restricted to traditional fixed automation and rigid systems which left little room for adjusting the process according to different business needs. You rarely came across flexible automation equipment like logistics robots. I decided to come to work with Geek+ when I realized what a powerful and interesting tool this technology would be for adjusting and optimizing processes.
What are the most interesting aspects of your work at Geek+?
As a senior product engineer, I work with developing our wide range of robotics solutions and products. Since each one of our products and solutions is unique, you get to use a lot of creativity in the design of each product. We continuously strive to improve the efficiency of our products and solutions and since each customer site is unique there are a lot of different variables to consider. I really enjoy it when I can visit the site of a customer, see a solution land and bring value.
Is there any interesting project that you're working on? If so, what's the best part and the most challenging about it?
One of the most recent projects is the new design of the workstation for the Roboshuttle solution. The purpose is to improve the overall efficiency by making the human-computer interaction at the workstation more comfortable. This is one of the most interesting parts of my work, going over the solution step by step to find the most optimal way to improve efficiency. In terms of challenges, I'd say there are currently very few workstations suitable for robot-docking on the market, consequently, it requires more innovative thinking.
You were one of the key people who developed C200M. What do you think makes this product different?
C200M is the latest addition to our P-series robots. In terms of product development, earlier products include one type of picking robot that carries ordered goods on racks and shelves from the storing area to the workstation, also referred to as our goods-to-person solution, and robots like C200S that carries bins to and from the workstation and can be implemented on multi-floor layouts to optimize the use of vertical warehouse space.
Although earlier products solve many of our customers' problems, we wanted to develop a solution that would improve the bin-picking efficiency and optimize the use of space on single-floor layouts. Unlike C200S single bin-to-person robot, C200M can use its extended arms to access two bins at once, transfer up to 5 boxes in one go and travel long distances carrying these boxes. In turn, it makes the bin-to-person picking process more efficient.
Which part of the developing process did you enjoy the most?
In simulation design, the most enjoyable part of developing a new product is to put forward a hypothesis, prove the feasibility, and lastly, make the solution.
What do you believe will be the biggest trend in robotics and AI in the upcoming 5-10 years?
From the perspective of the customer and the logistics industry, I think businesses have started to realize that flexibility, rapid response, and unmanned and intelligent equipment is becoming more and more of a necessity. And so, the advantages of AI-driven robots will continue to be recognized. Since logistics robots allow a 1-3 year ROI I believe more and more customers will come to accept this approach instead of traditional automation equipment that often implies slow ROI.
Thinking of the future, please fill in the end of this sentence:
I´m waiting for the day robotics and AI can: Move the world intelligently ;) haha
Do you have a favorite Geek+ product? If so, why is it your favorite?
I like the P-series robots the most. Having experienced and seen the improvement that we've made over the past 3 years those are the products that I feel most for. From the perspective of the solution, even though the robot can only carry one rack at a time, the optimization of inventory structure and hit rate is always a point that can be further explored, and so there are plenty of opportunities to adjust and develop.
If given unlimited resources, what would you like to develop?
I would like to do some modular and multi-combination schemes so that a single robot scheme becomes a lego building block. Customers would then be able to adjust the operations to their own needs and make arbitrary combinations and they finally form their favorite and most suitable plan.
Lastly, they call you the company rockstar. When did your singing career begin at Geek+ and what do you prefer to sing?
Haha, my singing career started one week before the annual meeting and ended the day of the annual meeting. I like singing a lot, but it was a coincidence that I formed a band in the company. Anyway, I really enjoyed playing in our band at the annual meeting, but I wouldn't call myself a "Rockstar" since I prefer folk songs, one of my favorites is the Chinese folk singer Zhao Lei.