Q&A with Simon Houghton, Head of Sales and Marketing at Geek+ UK & Ireland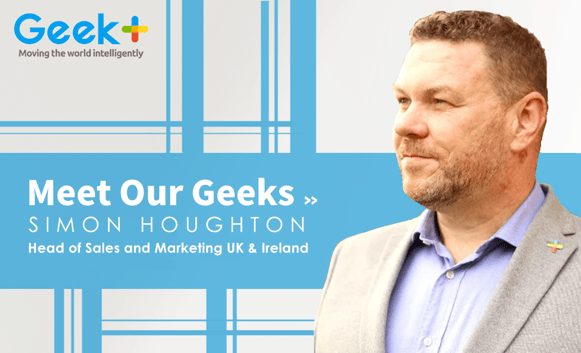 What got you interested in robotics and automation?
I suppose technology has always been an interest of mine and I've always seemed to position myself to be at the forefront of whatever the latest development/trend is around at the time. At the risk of revealing my age, I would say it started at the age of 10, helping out at my father's photographic camera shop on Saturdays. At that time, there were no laptops or computers, but the technology of the moment was cameras. That then progressed, and I got involved in selling the world's first home computers from Sinclair and Commodore (now vintage!), then the first mobile phone technology and the data storage solutions (1st CDR/DVD and flash storage) and finally automation equipment for material handling which led me to the robotics sector.
How would you say working with Geek+ compares to earlier experiences?
Throughout my career, I have worked for tech companies such as Nokia, Sony, and Dematic, selling everything from data storage to warehouse storage solutions. I also ran my own national distribution company for 15 years, bringing IT products from Asia and Europe to the national market of Spain and Portugal, and more recently, I have worked with several logistics supply chain-focused companies.
I´d say that the experience that I gained running my own distribution company has proved to be very useful for my current role, introducing AI-driven logistics robots to the UK and being at the forefront yet again of introducing new technology into a marketplace.
What are the biggest challenges and opportunities associated with introducing Geek+ technology?
Working with Geek+ is a lot about being a pioneer and educating businesses on the different options that are out there. Although the UK market is very advanced with automation technologies, robotics automation is still a new concept, especially within the logistics industry since operations are often reliant on mechanical systems built to work with cranes, conveyors, and lots of steel.
Even though these systems work well, they tend to be designed around a particular footprint, throughput, and product, making them very inflexible and expensive to adjust and adapt. I believe this is where robotics can add value, as the entry-level costs are low, with designs that can be more adaptable and scalable.
How would you describe the current market outlook for the UK?
Right now, it is kind of like a perfect storm as CoVID-19 has forced companies to rely more on e-commerce and adapt their businesses. If reliant solely on labour-heavy manual systems or traditional automation, this has caused many pain points in a lot of cases.
Labour availability and costs in the UK are creating big headaches for many warehouse operations teams across the country and this is predicted to get worse. We have worked with many well-known forward-thinking UK companies who started their journey into AMRs over 2 years ago and the sooner a decision to introduce them into the business has been made, the quicker the robots can help resolve issues and improve efficiencies whilst offering significant cost savings which will help improve the P&L.
Entry-level pricing for robotic goods-to-person picking and sortation systems so are surprisingly low and so, consequently, it has widened the range of potential customers in terms of both size and industry. Add the short lead and implementation times and this allows for the introduction of multiple-phased introductions of a solution that starts small and grows with the business minimizing disruption and reducing capital spending.
Can you describe the typical customer?
The flexibility provided by logistics robots is changing the way we think of potential automation candidates. Entry to full warehouse automation used to cost millions, but now, for example, a full goods-to-person robotic picking system could be introduced for a few hundred thousand, meaning that we have in addition to our larger customers we have now added SMEs as well to our customer base. Today, a warehouse does not have to have more than 100+ people employed to consider automation. I´d say any business which typically has 15-20 people could be a possible candidate.
Can you talk a bit about a recent project?
There is a project that we are implementing at the moment for one of the largest e-commerce / TV Shopping channel jewellery retailers in the UK. Their distribution site is currently manual with a large number of operators working in a relatively small area. This can result in a very busy chaotic environment and also another one of the challenges they have is that they are adding thousands of new lines every month. To help them resolve these challenges we designed a full goods-to-person AMR picking solution. This also will provide them the following benefits; help them reduce costs, improve picking accuracy, triple pick, and putaway productivity whilst also increasing their storage capacity and security for valuable items.
What is the process for implementing these systems?
Apart from working directly with end-user customers we also recognize the key part our channel partners and integrators play. Although we're a global company, we're still a relatively small team in the UK so we have partnered with some established UK integrators who have their network of sales, solution designers, and engineers so this results in an extended Geekplus UK family of over 120 people. Our partners support us with sales and marketing, project implementation, and providing our UK-based 24/7 after-sales support.
The process from initial data gathering, concept design, and costing through to full go-live can be a short as 12-16 weeks for some projects. This rapid implementation period appeals to many customers who are looking for a fast resolution for their problems.
Moving forward, which industries do you think are more likely to adopt this kind of technology?
As most of us have got more comfortable ordering more and more items online, I believe that any business in and around the e-commerce distribution will continue to expand. In turn, any 3PL business that supports businesses in this space will also grow as there is an ever-increasing demand for more warehouse space and fulfillment services.
Up until now, some 3PLs have always been reluctant to invest in traditional automation since they would have to design each system around their customer's products, throughputs, and storage requirements and the previously high costs of traditional automation resulted in the 3PL having to lock their customers down to very long contracts up to 10 years to help recover the initial investment. As we know, based on recent events lot can change in even a very short timeframe so long-term contracts are generally not acceptable. With robotics-driven solutions that are much lower in cost, flexible, scalable, and adaptable to the ever-changing needs of the logistics business. They can help minimize the risks associated with large capital investments and allow for shorter contract terms since the system can be easily adjusted for new customers, allowing longer-term resilience.