SEOUL, December 23, 2021 - Geek+, the global AMR leader, is pleased to announce that CJ Logistics, one of the leading Korean 3PL providers, has implemented 128 autonomous mobile robots (AMRs) to serve its e-commerce client, Naver Shopping. This collaboration is an extension of previous successful collaborations between Geek+ and CJ Logistics and brings new opportunities for enhancement in the Korean logistics market.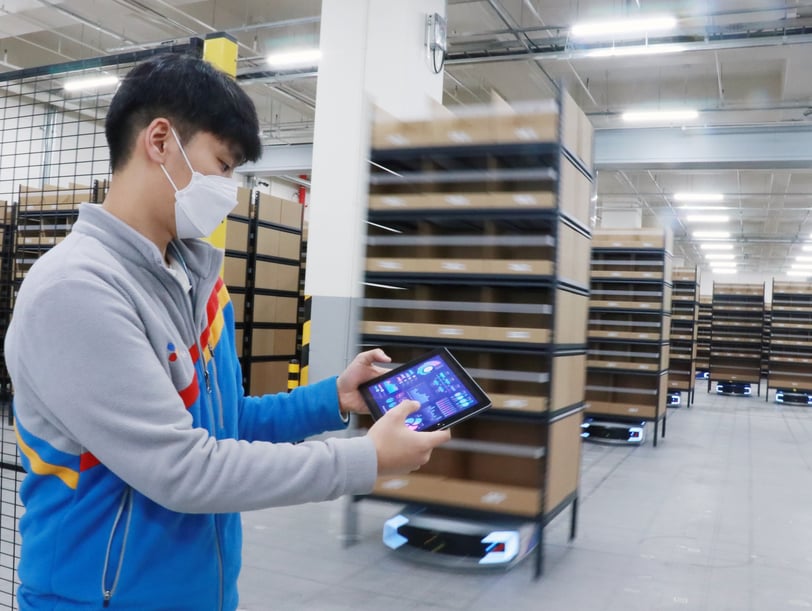 According to the United States International Trade Administration, online purchases in Korea reached $136.5 billion in 2020, up from $116.0 billion in 2019 (+17%).1 As one of the top e-commerce platforms in Korea, Naver Shopping is enjoying the great opportunities presented by market growth while relishing the challenges of increased order demand, labor shortages, and high operating costs. To provide quick and satisfying service to their customers, CJ Logistics need flexible, agile, and creative solutions. Based on the significant improvements in efficiency achieved through collaboration with Geek+ in their Dongtan distribution center, CJ Logistics have decided to introduce AMRs to their Gunpo site.
128 AMRs robots have been placed at CJ Logistics's Gunpo site to handle 30,000 orders per day. They will cover 8300m2 of allocated space within CJ Logistics's 10,000m2 warehouse. By integrating Geek+ AMRs into their WMS system, CJ Logistics raise their operations efficiency by 33%. The picking AMRs are part of the Geek+ goods-to-person solution and will automate the picking process by bringing the inventory shelves to the warehouse operator at the picking station. The AMRs provide better support for high throughput demand and can cover the site's 24/7 operations.
Lit Fung, Geek+'s Managing Director for APAC, UK, and Americas, said: "We are delighted that CJ Logistics have placed their faith in us to extend our already successful cooperation. We can't wait to see our robots give them flexibility, adaptability, and precision in dealing with the vigorous market growth. We believe there is a huge demand for AMRs robots in Korea, so we set up a full team there to support companies with professional knowledge and service to facilitate digital transformation."
Kim Khunghoon, Managing Director of CJ Logistics said: "We are excited to use smart robots to improve our supply chain operations and increase our competitiveness. We're pleased to extend our partnership with Geek+ to our Gunpo warehouse after seeing the efficiency and accuracy improvements that Geek+'s technology has delivered in our Dongtan distribution center."
CJ Logistics is a leader in third-party logistics in Korea, with a number of important clients. The country's e-commerce market is expanding, which brings opportunities in the AMR market. AMRs are an attractive option for businesses looking to optimize warehouse operations to shorten delivery times and increase customer satisfaction. To provide the best localized service and support Korean businesses, Geek+ established a full team in its Seoul office to provide a full range of Al-driven robotics solutions in the region.
Geek+ will continue to work with CJ Logistics to provide Korean businesses with the technology to improve their efficiency and reduce the costs of warehouse management in this ever-changing environment.
1. United States International Trade Administration,

South Korea - eCommerce (trade.gov)

About Geek+
Geek+ is a global technology company leading the intelligent logistics revolution. We apply advanced robotics and AI technologies to realize flexible, reliable, and highly efficient solutions for warehouses and supply chain management. Geek+ counts 300 global customers and more than 20,000 robots sold worldwide. Founded in 2015, Geek+ has over 1500 employees and is headquartered in Beijing, with offices in Germany, the United Kingdom, the United States, Japan, Mainland China, Hong Kong SAR, and Singapore.
For more information, please visit: www.geekplus.com

About CJ Logistics
CJ Logistics transports raw materials and products throughout all industrial sectors, from strategic materials that build the foundation for national industries to consumer goods, foods, and the heavy chemical industry like automobiles, shipbuilding, and steel based on the company's long experience as well as its nationwide logistics network. We also operate a top-level automation center in Korea and perform harbor loading and unloading.
For more information, please visit: https://www.cjlogistics.com/
For inquiries, please contact:
Lee Turner Kodak
PR and Communications Manager
lee.kodak@geekplus.com