Supporting Janco's new flagship hub with the capacity to provide its customers with efficient and affordable logistics services
Geek+, a global AMR provider, has installed a RaaS-enabled (Robot-as-a-Service) picking system in the new flagship hub of Janco Global Logistics, one of Asia's leading providers of integrated logistics services.
With customers in everything from FMCG and pharmaceuticals to e-commerce and more, Janco aims to leverage Geek+ smart robotics system to streamline the management of 130,000 SKUs and support its growing customer base with 24/7 fulfillment services.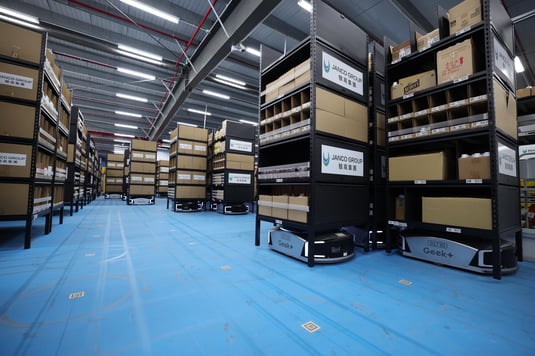 Lit Fung, Vice President of APAC, UK and the Americas at Geek+, says: "This is the very first time we see the Robot-as-a-Service model adopted in Hong Kong. Consequently, we're very excited to support an established 3PL player such as Janco with robotics improved logistics services and equip companies of varying sizes with affordable and game-changing service capabilities."
Janco's new flagship hub is a 2-level facility of 120,000 sq. ft. The first floor supports 5,000 pallets while the second floor has a designated area for storing temperature-sensitive goods and small-parcel pick & pack services. Starting with an initial 24 picking robots and 200 racks, Geek+ will help Janco scale operations monthly and offer continuous optimization through management support and robot rentals.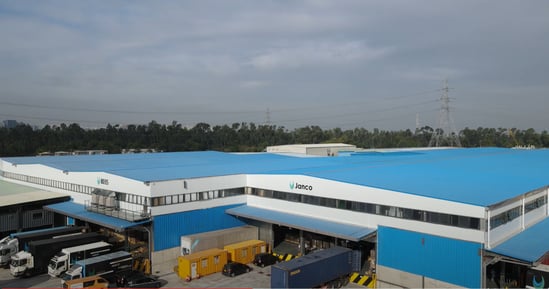 Lit Fung says: "What Robot-as-a-Service allows us to do is to bring another level of flexibility and proactivity to the operations. By incorporating cloud-based data and using robot rentals, our solution will help Janco adjust the number of robots to the exact amount needed every month, improving the efficiency while lowering the overall investment cost."
The cooperation will allow Janco Logistics to provide its customers with exceptional services regardless of fluctuating demand. This year, the total number of orders delivered the same day during Single's Day, Black Friday, Thanksgiving, 38 Festival, and 618 Festival amounted to over 2 million orders. By incorporating RaaS, it will provide Janco Logistics with the flexibility to deliver exceptional services during peak periods without having to add additional fees or charges.
Robot-as-a-Service or RaaS is a product developed with Geek + robots, systems, and AI algorithms, providing an integrated service solution for intelligent warehouse and distribution. Through flexible business cooperation models, RaaS reduces the capital and capability barriers for businesses to access advanced technologies. RaaS empowers customers with robot-based operational capabilities to help them quickly achieve supply chain upgrading. It is now available to third-party logistics providers in Hong Kong.
The Hong Kong Government recently launched a "Pilot Subsidy Scheme for Third-party Logistics Service Providers" to encourage the adoption of technology by the logistics sector. The subsidy will be provided on a 1:1 matching grant and the total subsidy ceiling per eligible applicant is HK$1,000,000. For more information regarding the RACSF scheme, go to their website.
About Geek+
Geek+ is a global technology company leading the intelligent logistics revolution. We apply advanced robotics and AI technologies to realize flexible, reliable, and highly efficient solutions for warehouses and supply chain management. Geek+ counts 300 global customers and has deployed more than 10,000 robots worldwide. Founded in 2015, Geek+ has over 800 employees and is headquartered in Beijing, with offices in Germany, the UK, the US, Japan, Hong Kong, and Singapore.
For more information, please visit:http://www.geekplus.com/
About Janco Global Logistics
Janco Global Logistics provides reliable and cost-effective third-party logistics (3PL) and fourth-party logistics (4PL) solutions that accommodate a broad range of warehousing and distribution needs. Founded in 1990 and listed on the Hong Kong stock exchange in 2016, Janco has evolved from a company mainly focused on freight forwarding service to an integrated logistics service provider, catering to e-commerce demands and offering services for airfreight, sea freight, express freight, charter flights, O2O logistics, and supply chain solutions. Their services include but are not limited to inventory management, temperature-control storage, distribution, licensed pharma-logistics, and e-commerce order fulfillment. With 350,000 sq. ft. of multiple function facilities in Hong Kong, the company handles a daily capacity of over 100,000 orders.
For more information, please visit: http://www.jancofreight.com/
For inquiries, please contact
Geek+
Fish Yu
Senior Marketing Manager, APAC