Geek+ collaborates with Scandinavian company SystemTeknik to automate Northern European warehouses.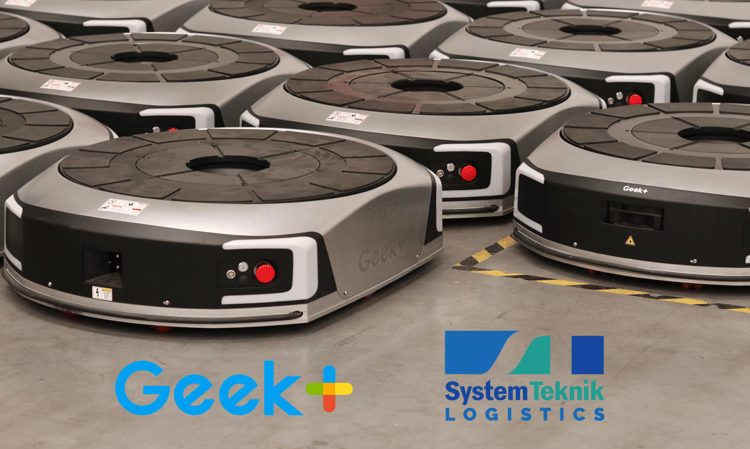 Aalborg, 12 September 2022 - Denmark will be the Nordic link for Geek+, which now wants to enter and secure a share of the rapidly growing market for warehouse- and picking automation solutions. Geek+ is the global market leader in mobile AMR (Autonomous Mobile Robots) technology and has chosen the Danish electrical engineering company SystemTeknik in Nørresundby as its Nordic front runner for the immense market venture.
SystemTeknik establishes a new business unit, ST Logistics, to handle the task. ST Logistics will be responsible for the sale and implementation of the AMR robots from Geek+ in Denmark, Sweden, Norway, Finland and Iceland. To execute the ambitious plan, ST Logistics has handpicked two great profiles from the international logistics industry, Morten Kirch and Ole Madsen, respectively former sales director and CEO of SSI Schäfer in Northern and Eastern Europe for 12 years.
."The market for AMR solutions is growing rapidly all over the world, with companies such as Amazon and Alibaba investing aggressively in simple and flexible warehouse automation. We experience a similar need in the Nordics, where the growth in e-commerce companies, in particular, creates great potential for warehouse automation solutions. What keeps many companies from investing in the solutions is that they are often expensive, complex and take a very long time to implement. As such, this market is very interesting for Geek+ in the Nordics," says Morten Kirch, who is sales director at ST Logistics.
The AMR solutions from Geek+ have an implementation phase of about two weeks and are typically paid back in under three years. At the same time, they are easy to scale and have a technological edge compared to competing solutions, which helps increase expectations for their future market position in the Nordics.
"We expect a turnover of €~30 million in three years. There is a great deal to be gained by tuning the logistics in a warehouse, and many companies have reached a point where there are no further optimization gains to be made by hiring more people. So, there is a clear need for warehouse automation solutions, and we are coming up with a revolutionary solution that everyone can comprehend," says Ole Madsen.
Geek+ has strong funding and capital behind. American company Intel and other international companies have invested 300 million USD in the development of Geek+ and their AMR robots over the past few years.
About Geek+
Geek+ is a global technology company leading the intelligent logistics revolution. We apply advanced robotics and AI technologies to realize flexible, reliable, and highly efficient solutions for warehouses and supply chain management. Geek+ is trusted by over 500 global industry leaders and has been recognized as the world leader in autonomous mobile robots. Founded in 2015, Geek+ has over 1500 employees, with offices in Germany, the United Kingdom, the United States, Japan, South Korea, Mainland China, Hong Kong SAR, and Singapore.
For more information, please visit: https://www.geekplus.com/
About ST Logistics
ST Logistics is a new business leg of the electrical engineering company SystemTeknik. Since 1951, SystemTeknik has developed, produced and serviced switchboards and automation systems for companies worldwide and in a wide range of industries. The company employs 80 people in Nørresundby and Stettin in Poland, who will support ST Logistics with local planning, commissioning and service of the AMR solutions from Geek+. In addition, a larger number of employees with logistics expertise are being hired to run the new venture in the Nordics. More information at www.systemtekniklogistics.dk. Also follow at www.linkedin.com/company/systemteknik-logistics-a-s/

For inquiries, please contact:
Lee Turner Kodak
PR and communications manager
lee.kodak@geekplus.com
Tel: +49 0172 512 2909
Christian Borrmann
Head of Marketing Europe
christian.borrmann@geekplus.com
Tel: +49 0172 512 3167