--From Soo56
Beijing Geekplus Technology CO., Ltd (Geek+) focuses on the field of warehousing and logistics. It provides highly flexible and intelligent logistics automation solutions through leading robotics products and artificial intelligence technology. Enabled by rich practical experience and strong R&D capability of robotics, embedded software and hardware, software engineering, artificial intelligence and other relevant aspects, Geek+ has become the leader in the transformation of logistics and warehousing, always dedicates to providing clients with excellent, reliable one-stop and turnkey solutions.
At CeMAT, a great variety of smart warehouse robots presented by Geek+ are favored by many potential customers and audiences. During less than 2 years, Geek+ has become one of the largest intelligent warehousing robots enterprises in terms of application cases' quantity and scale. As a young start-up, how does Geek+ become so stand-out? What are their advantages? Soo56 took the opportunity to interview the CEO of Geek+, Mr. Yong Zheng who shared some in-depths thoughts.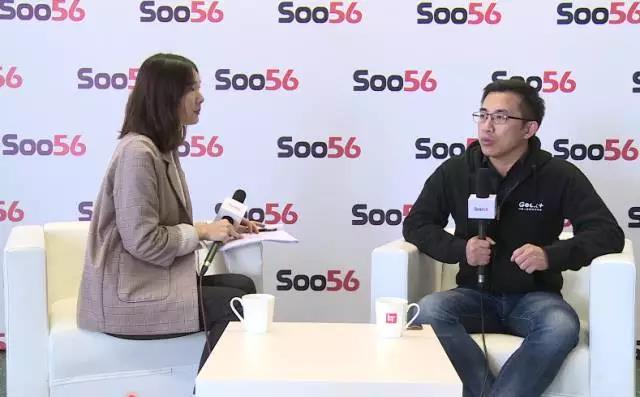 The following is the interview record:
[Soo56]: Hello, Mr. Zheng! After these two years of accumulation, what kinds of accomplishment has Geek+ reached?
[ZHENG]: After two years of development, Geek+ has grown up from a small start-up to a certain mature company in logistics and warehousing robotics industry. At the first beginning, we only have 4 co-founders, but now there is a strong, high-efficient team of over 300 members. So far, Geek+ has launched more than 10 models of warehouse robots, committed to providing intelligent warehouse robotics automation solution. All these make Geek+ a potential leader in the supply chain industry.
In 2017, over 3000 units of Geek+ Robot has been deployed in many client's warehouses from different industries. We hope our products can really help our clients, and the entire warehousing & logistics industry as well, so as to help accelerate the transformation from labor-intensive to automation.
[Soo56]: In the past two years, many KIVA-like robot manufacturers have emerged, what do you think of the market competitiveness and prospects?
[ZHENG]: In fact, we have seen a lot of similar manufacturers in CeMAT and other events. In my opinion, this is certainly a good thing, for it means the robot technology-based intelligent warehouse automation solution has gained the recognition of market, more and more clients are accepting this new trend, and paying more and more attention. And indeed, Geek+ has more competitors now.
However, let's have a look at the environment of China's logistics market, there is only 5%, or no more than 10% of warehousing and logistics companies have realized automation. A huge market is waiting for us to explore. There will be more and more enterprises entering this market to guide, to educate customers so as to make the "cheese" bigger. It's should be a good thing for the entire industry.
[Soo56]:The warehouse robot industry has developed so rapidly, how do you think of this trend?
[ZHENG]: I think the trend of development is due to some implicit demand. To a big extent, China's logistics industry is driven by e-commerce. E-commerce has developed so fast that many logistics companies have been brought into the big move. However, because of the rapid development, much of the equipment and technology haven't been kept up. Basically, 90% orders fulfillment rely on the most traditional methods of operation. With the "DOUBLE 11" shopping season and spurring development of e-commerce, consumers' experience is getting worse and worse, so there is an urgent need for improvement.
After getting endorsement and verification by Kiva robotics, we have great expectations for robotics solution in logistics automation, and this is why warehouse robots have such rapidly increasing speed. Everyone in this industry finds the right chance and hope this solution would bring a new change to the warehousing & logistics field or a technological evolution.
[Soo56]: You just mentioned that the development of warehouse robot is too fast, will there be some problems like that technology fails to keep up or products performance are not good enough? Will it show some unhealthy trend?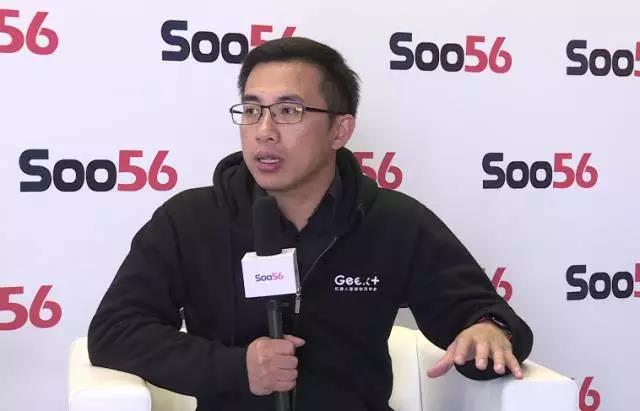 [ZHENG]: Now it's still healthy. We have China Speed. It is true that Chinese companies' growth are faster than that in other countries in terms of technology's application and development, that's because here we have many good and real application scenarios that can quickly support the products to run in and improve.
Yet, people still have big concern that "Made-in-China" are poor quality and not stable or reliable enough. Today, new generation of AGV company, Mobile robot company truly pays more and more attention to quality control.
In 2017, Geek+ has released several new versions of warehouse robots, compared to the old version, products types didn't change a lot compared to the former ones in half year or even a year ago. But each model has constantly big improvement in performance and quality. For example, Picking System Robot has already been the fifth generation. We have been focusing on polishing details, hoping that "Made-in-China" quality would be a pride like China Speed, in which both reflect our true strength.
It is also a big challenge of for new warehouse robot companies which just enter into this field. This market looks like easy to enter as there is no particular big technical threshold. But the truth is, the technical aspects involved in it are plenty and wide, it's not easy to do well. Today I hope could reach 90 points, 95 points from 80 points, 85 points, during this period, it will become a capital-heavy, technology-heavy industry, then we need to spend more time and patience to improve our products, polish our technology, and strengthen understanding to business scenario.
[Soo56]: As for the pain points you just said, how to make further improvements in technology? And how Geek+ make it?
[ZHENG]: Technology is only one part, or just the so-called technology in the traditional sense. When it comes to technology, people think of robotics, hardware technology, and software, AI. Yes, AI algorithm is the essential core of the robot system, it decides whether the system can replace human labor efficiently or not. And this is what Geek+ has been working hard on. We also utilize more and more machine-learning, intelligent algorithm to figure out how to improve system efficiency.
However, we often ignore the other part, that is, the technical understanding of the logistics system design. We've made lots of efforts on this part, we need to know more about the business characteristics of each client, and combine them to our software algorithm to create an user-friendly system. We should devote more time on this part.
Without business understanding, no matter how smart algorithms are, there is no way to really combine the needs of your market, your business, and your customers.
[Soo56]: Geek+ is also specialized in warehouse robots, how many types of products do you provide?
[ZHENG]: The products line is divided into three categories, the first category is Picking System which is applied in e-commerce warehouse, also know as " goods-to-person" system. The second category is aiming for manufacturing industry, it's called Moving System, taking tasks of material handling and autonomously moving in workshop. The third category is deployed in Express parcels distribution, Sorting System.
[Soo56]: What about the application prospects?
[ZHENG]: I think these three categories all have huge application market, but the maturity of each market is different. For example, the manufacturing industry, since traditional AGV products have been in use for a long time, especially in the automotive industry. Now with the popularity of automation, AGV has been widely used in many different industries. This is a mature market.
Then the e-commerce, it has the biggest opportunities, it's the potential new market for AGV manufacturers, which is also what Geek+ spends most energy on.
The third category is parcel sorting in logistics. Like e-commerce, there are big demands in this field, and this market is more concentrated as customers are those several large courier companies. However, this market is also facing competition from other types of automation solutions, its maturity of market is relatively low. Geek+ has launched different models of Sorting System including large, medium and small sizes, which are in promotion process now.
Soo56: What are the characteristics and advantages of these products in the enterprise? What is the solution to the pain point technically?
[ZHENG]: Our first category Picking System is the first product which is developed in our early start-up period, now it has the fifth generation. One biggest advantage of the this Picking System version is that there are many improvement in details to enhance quality reliability and stability. Instead making it run more faster, we made more effort on keeping it more stable.
The other benefit of Picking System is that its load capacity has been greatly improved. This model is called P800, its original definition of 800 is able to lift a load of 800 KGS, but in fact this robot can lift 1.2 tons. So it has huge energy in a very small body. P800 can meet various types of customer needs by combining picking shelves and moving pallets together, also its big load capacity is one of the factors. Besides, robot systems have a better versatile performance. Even though robot systems are not the most efficient solution in any area, they are standard devices, which mean a universal solution would help clients quickly build the autonomous warehouse. Versatility, flexibility and scalability are the most valuable parts in our comprehensive solutions which can be widely compatible with different customer types.
The second category is Moving System which uses SLAM navigation. In factory, autonomous material handling is a perfect match for our moving system to deploy. As in the "goods-to-person" system, the navigation solution relies on QR code which needs to be designed and deployed on the floor in advance. And it's difficult to distinguish the area of robot moving, people walking or forklift transition, but if we skip this part, then lots of maintenance work will be required as QR code stickers are easy to be destroyed.
SLAM Navigation doesn't need those kind of extra work, so its adaptability is much better and there will be a very large application opportunities for SLAM Moving System in the future. We will continue to work on it to make the performance better and better in accuracy and stability.
[Soo56]: At the beginning, you mentioned that Geek+ has grown from a 4-person company to nearly 300 employees. What is your uniqueness in business management and what is the positioning of Geek+? Will there be some difference in the future?
[ZHENG]: The reason that we call ourselves Geek+ was because we aimed to be a robotics company at the beginning, and we believe that robotics and AI will be a new huge era. We hope that our company could develop toward that direction. But later, other co-founders and I started to wish that our products would be practical and deliver real values to the society, so we finally choose to begin with warehouse robots. And with accumulated experiences in AI and robot technology, we believe we will try more fields in the future.
[Soo56]: Any other things you want to do in the logistics industry?
[ZHENG]: It's too early to talk about it. We are still trying, especially there are many things that we'd like to take a chance in warehousing and logistics field. Now everyone is trying to transform the warehouse to an unmanned warehouse, even deliver goods with robots like drones, self-driving trucks in the outdoors. For these two fields, it will be a long way for us to make it come true. I think we need to research and develop more in the right direction.
Our slogan is " Robotics For Logistics", we really hope that Geek+ Robotics will truly help our clients in the warehousing and logistics industry, achieving a technology revolution of Intelligent Logistics.
[Soo56]: You just mentioned unmanned warehouse, what do think of the obstacle in the development of unmanned warehouse in China market?
[ZHENG]: Sometimes it's ourselves who create the obstacle. When we talk about unmanned warehouse, mostly we mentioned the concept of universal application. It's true that human labors should be reduced as much as possible in the warehouse, but it's not necessary to achieve totally "unmanned" from a practical point of view. It's supposed to combine things that are suitable for robotics automation with other things which people excel in. If we blindly pursue unmanned warehouse, we will face a great deal of difficulty in technology and cost. However, if we look into the industrial application more realistically, new robotics technology and automation technology have been widely used in labor-intensive and repetitive work environment.
Now in China we face a bit of difficulty, that is, labor cost is relatively low, so it's important to ensure efficiency, ROI during industrial application. Geek+ has to work hard on improving products quality and stability so as to provide clients with long-term value, excellent experience.
[Soo56]: How do you think that robots and human can reach harmony? Since there are many people saying that robots' emergence make people have no job or lose their jobs.
[ZHENG]: In the future, human beings should undertake work which requires more creativity and thinking. For repetitive work especially some dangerous, labor-intensive work should be allocated to robots. So technically speaking, it's not that robots will take over human being's work, rather human and robots cooperate in a new way. We all know that people in logistics industry work very hard, especially in DOUBLE 11 or Black Friday, even though the selling volumes are amazing but our co-workers do feel tiring and stressful.
In Alibaba, they set tents in the office one month to be prepared for the campaign before the Double 11. So do our colleagues. Although we are a robot company, we might be the most hardworking team. Our colleagues in AI, R&D department have to go to the warehouse in suburban, and stay there overnight to guarantee the system operate stably. They really contribute so much energy and time to clients' projects.
So we really hope that Geek+ robots and a wide range of automation solutions will make our work and life easier. Everybody doesn't have to work so hard for big events like Double 11, and could spend more time with family and friends.