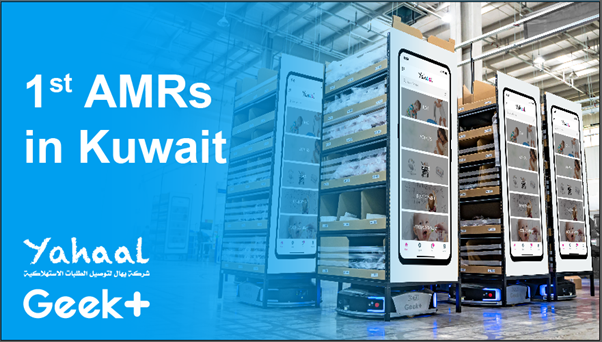 Geek+ is bringing baby items to the region with Yahaal, a regional e-commerce leader specialized in baby products, and Dhuki Intralogistics Solutions, a regional distributor of Geek+ products, to help Yahaal expand their e-commerce capabilities to meet growing online demand. The project marks the very first time smart logistics robots are used in Kuwait, introducing AI automation for e-commerce logistics in the Middle East.
As the pandemic has accelerated the shift toward e-commerce, Yahaal has seen rapid growth in online sales, introducing new logistics challenges. The company started looking for a solution that would allow them to shorten the picking time, increase accuracy and expand operation capacity to meet customer expectations for faster deliveries.
By implementing networks of AMRs (autonomous mobile robots) powered by intelligent algorithms, Geek+ automates many of the redundant, tiring, and time-consuming tasks traditionally executed by warehouse employees. The robots carry movable racks directly to employees positioned at workstations, considerably improving the overall picking accuracy and efficiency.
Yahaal currently offers 24/7 delivery services ranging from 15 minutes to 1 hour depending on location. To better fulfill that promise, the e-commerce company has chosen to automate its warehouse using the Goods-to-Person solution. The solution helps shorten the order handling time and allows Yahaal to flexibly scale operations in periods of high throughput demand to achieve instant fulfillment, by simply adjusting the numbers of robots deployed. With the ability of robots to work around the clock, it also mitigates the risks associated with labor shortages and improves customer services.
The project is planned to go live in September this year and is expected to lead to a threefold increase in picking efficiency and 99.99% picking accuracy.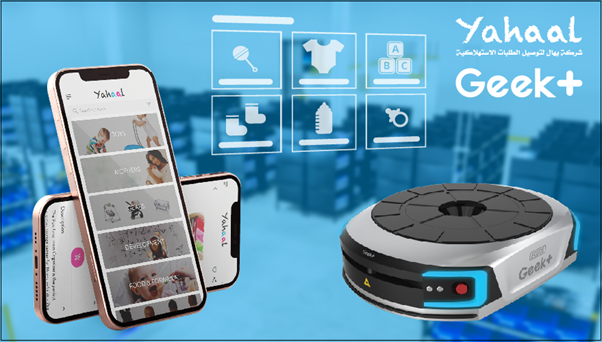 Lit Fung, VP and Managing Director of Geek+ APAC, UK and Americas, says: "In the past few years we have helped e-commerce businesses all over the world undergo their digital transformation. We look forward to supporting Yahaal with a technology that can help them flexibly expand their e-commerce capabilities and can't wait to see the launch of the very first AMR-driven warehouse in Kuwait."
Ali AlZankawi, Founder and CEO of Yahaal, says: " We are willing to invest in new technology to offer a better shopping experience to our clients and to help us deal with rapid growth demands. We are excited to see Geek+ automatic robotic solution help us deliver the right products to our customers in the shortest time."