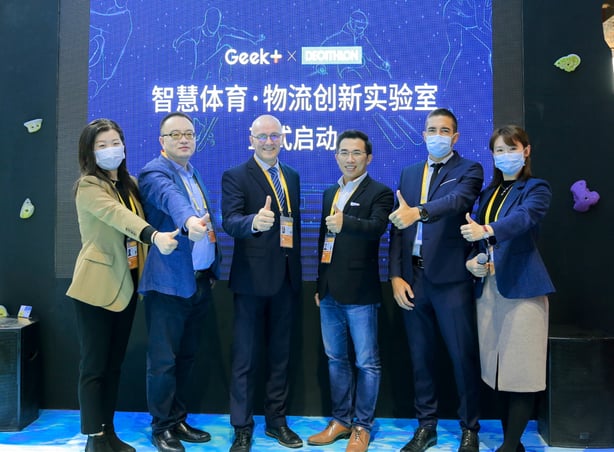 November 11th, 2020 — Geek+, a leading AI and robotics solutions provider for logistics, and Decathlon China, one of the world's largest retailers of sporting goods, are pleased to announce that on November 6th, the two industry leaders signed a Memorandum of Understanding (MoU) for the development of a joint Smart Sports Logistics Lab. The MoU was signed by Yong Zheng, founder and CEO of Geek+ and Bruno Thellier, Transformation Leader at Decathlon during an official ceremony at the China International Import Expo, China's premier event and largest trade fair.
Under the MoU, Geek+ and Decathlon will jointly explore applying new robotics and software technologies to the supply chain, setting a benchmark for the environmental-friendly and sustainable smart future of the sports retail industry. Geek+ will contribute its newest AMR, AI algorithm, and software, while Decathlon China will focus on strategic supply chain innovation design and land innovative initiatives on its global operational scenarios. Both parties will also invite ecosystem partners, including but not limited to players in software, IoT, 5G sectors, to join the group of innovation and work together to build a global dynamic engine to drive the fast and sustainable industry evolution.
Geek+ founder and CEO, Yong Zheng commented "Decathlon and Geek+ are like-minded partners. We are impressed by their determination to innovate, their vision, and decisive actions, which have made Decathlon an industry leader in supply chain innovation. We're excited that Geek+ will continue to empower Decathlon in their high-growth future."
Transformation Leader at Decathlon: Bruno Thellier commented "Technology changes the world, Geek+ and Decathlon are collaborating together in all of our logistics parks in China and we have already achieved game-changing in the sport retails logistics.
Today with Geek+ we are creating the first construction block of an open ecosystem and we believe that LAB will empower our enterprises, will stimulate more market vitality, and will allow more added values in the sports retail industry thanks to the technology. "
Decathlon, a pioneer in applying RFID technology in retail, has taken an early lead among global retailers in adopting intelligent automation solutions. Geek+ and Decathlon have collaborated in numerous sites in the past three years, including implementing new remote deployments at the height of the Covid19 pandemic, accelerating Decathlon's automation program. To date, Decathlon has completed the picking automation of all its China warehouses and kicked off the replications of proven-successful solutions to its global warehouses. The robotics warehouses powered by Geek+ have enabled Decathlon to triple the average productivity of labor with an ROI of under three years.
The successful implementation of Geek+ systems in Decathlon's warehouses has been studied by independent research firm, Interact Analysis - a global market intelligence company specializing in supply chain automation. Click HERE to download the whitepaper.
###
About Geek+
Geek+ is a global technology company leading the intelligent logistics revolution. We apply advanced robotics and AI technologies to realize flexible, reliable, and highly-efficient solutions for warehouses and supply chain management. Geek+ counts 300 global customers and has deployed more than 10,000 robots worldwide. Founded in 2015, Geek+ has over 800 employees and is headquartered in Beijing, with offices in Germany, the UK, the US, Japan, Hong Kong, and Singapore.
For more information, please visit: https://www.geekplus.com/
About Decathlon
Decathlon is the largest comprehensive sporting company worldwide. It was founded in France by Mr. Michel Leclercq in 1976. Our purpose is to make the pleasure and benefits of practicing sports accessible to the many. Decathlon focuses on the mass sports market. It has opened more than 2000 stores in more than 60 countries and regions. Decathlon has its own industry value chain with product design, R & D, production, passion brand, logistics, and retail, it's the No.1 in the world in the mass sports industry. We provide the best products for the many through the innovation concept and the whole value chain industry. In China, Decathlon has settled in more than 100 cities, and has achieved a complete deployment of the whole industrial value chain, and continued to popularize the mass sports market.
For inquiries, please contact:
Geek+:
Fanny Hernmarck
PR Executive
+46 738723822
DECATHLON:
Lily ZHU
DECATHLON China Senior Manager of Public Affairs
Mail: lily.zhu@decathlon.com
+86- 185-1669-9409