- Forefront Autonomous Mobile Robot technology installed in record time for fulfillment to Spain, Portugal, and France

- Creating 150 new jobs and high sustainability standards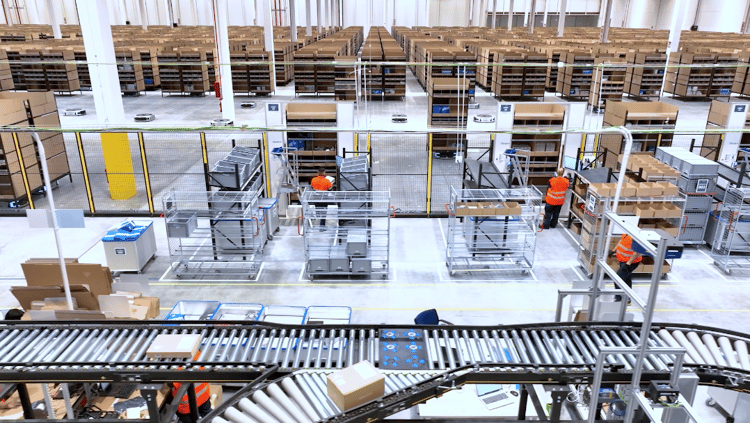 MADRID, March 13, 2023 – DB Schenker, a leading supply chain management and logistics service provider, commenced operating one of the largest automated e-commerce facilities servicing its retail customers in Spain, Portugal and France.
Operations in the 50,000 m2 state-of-the-art warehouse in Guadalajara have started with 150 employees in newly created jobs, more than 200 robots, and an optimized packaging system. The site is equipped with a goods-to-person picking system to handle around 120,000 units per day based on autonomous mobile robots (AMR) provided by Geek+, the global leader in AMR technology. The system features innovative pick-and-pack solutions for a fast and flexible online-order fulfillment as well as an efficient handling of returns.
Alfredo Alcalá, DB Schenker's Contract Logistics Product Manager in Iberia: "DB Schenker is committed to serving the e-commerce sector with its innovative power and proven reliability. The automated solutions of our Guadalajara operations were installed in a record time of only four months and already proved their stability and flexibility around Black Friday and the Christmas season. We are proud to meet the expectations and the confidence of a customer as important as adidas."
An automated conveyor system ensures on-time processing and fast delivery times to establish the best customer experience for adidas, a global leader in the sporting goods industry and DB Schenker's leading customer in this site. In order to optimize the volume of parcels and utilization of transport vehicles, packaging is adjusted to the exact size of the product that is shipped through an automated solution. This results in reduced CO2 emissions throughout distribution.
A privileged and sustainable location
The logistics hub is certified "BREEAM Very Good," aligning with sustainability as a strategic priority for DB Schenker, which seeks to grow in an environmentally friendly way and is committed to innovative and low-impact digital solutions. Among other features to protect natural resources, the warehouse combines skylights with high-tech LED systems and natural ventilation.
The state-of-the-art warehouse is situated in the Henares industrial park, strategically located 50 kilometers from Adolfo Suárez Madrid-Barajas airport and 60 kilometers from the center of Madrid with a connection to the main A2 and R2 highways. The flexibility of the warehouse design and technology, high-tech automation systems, plus the creation of jobs make it an excellent reference in Spain and Europe.


See the facility in action:
About Geek+

Geek+ is a global leader in robotic solutions for logistics. We develop Autonomous Mobile-Robot (AMR) solutions to realize flexible, reliable, and highly efficient automation for warehouses and supply chain management. Geek+ is trusted by over 700 global industry leaders and has been recognized as the world leader in autonomous mobile robots. Founded in 2015, Geek+ has over 1500 employees, with offices in Germany, the United Kingdom, the United States, Japan, South Korea, Mainland China, Hong Kong SAR, and Singapore

For more information, please visit: https://www.geekplus.com/


About DB Schenker
With around 76,100 employees at more than 1,850 locations in over 130 countries, DB Schenker is one of the world's leading logistics providers. The company operates land, air, and ocean transportation services, and it also offers comprehensive solutions for logistics and global supply chain management from a single source. To reach its ambitious goal of net zero until 2040, the logistics service provider continuously invests in innovative transport solutions, renewable energies, and carbon-neutral products for its customers.
Blog.dbschenker.com
For inquiries, please contact:
Christian Borrmann
Head of Marketing EMEA
christian.borrmann@geekplus.com
Tel: +49 172 512 3167
Lee Turner Kodak
PR and communications manager
lee.kodak@geekplus.com
Tel: +49 0172 512 2909