Top e-commerce retailer with over 1 million active customers ready for peak season rush with new robotic fulfillment center


HONG KONG, November 21, 2022 – Geek+, the global leader in autonomous mobile robots (AMRs), announces it has delivered the largest AMR-powered warehouse in the Hong Kong e-commerce industry, for leading online retailer YesAsia. The project was delivered in 16 weeks with 145 robots operating in YesAsia's brand-new smart fulfillment center.
With over 1 million active customers, YesAsia is a leading online retailer specialized in fashion and beauty (YesStyle.com) and entertainment products such as music, videos, and books (YesAsia.com). YesAsia chose Geek+ to support rising demand and help tackle the challenge of fast and efficient fulfillment during the largest sales months of the year.
Lit Fung, VP and Managing Director of Geek+ said, "Despite the supply chain disruptions caused by the global pandemic, our team was able to deliver this milestone project in record time. With rising e-commerce demand, particularly for all types of lifestyle products, having a robust, affordable, and flexible logistics setup is paramount. This success underlines our dedication to empowering e-commerce champions in retaining and improving their competitive edge, with the help of AI technologies."
Priscilla Chu, Founder & Chairperson of YesAsia, said, "As an e-commerce company that serves global customers, we experienced an exceptional spike in demand during the pandemic, which led us to invest in the AMRs offered by Geek+. We've since seen huge improvements in fulfillment accuracy and speed, with significant cost savings. It is impressive – the whole process was very smooth and took less than 16 weeks, from planning to deployment, to install over 100 AMRs in our warehouse."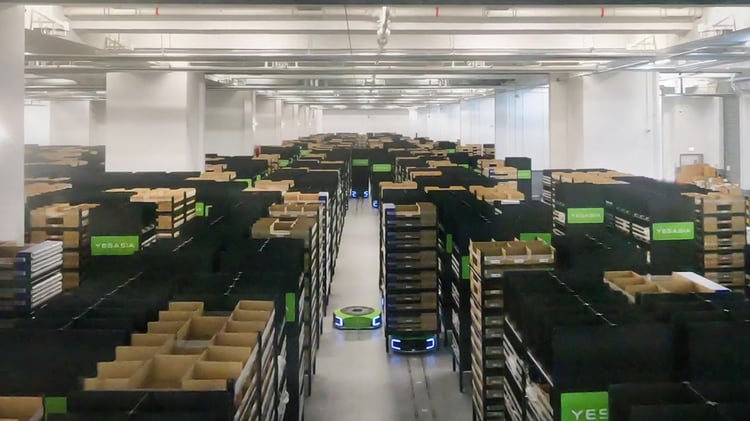 The smart logistics solution enables significant improvement in the accuracy and efficiency of the pick and pack process. The robots operate 24/7 to handle e-commerce orders from different time zones, allowing YesAsia to speed up delivery turnaround time and provide excellent service to its global customers. Return on automation investment is expected within 3 years.
To run a bustling e-commerce website that fulfills global customers' needs, YesStyle.com offers 6.6 million SKUs and delivers more than 11,000 trendy fashion products daily from more than 19,000 suppliers. The Geek+ robotics system is empowering YesAsia to manage a large number of SKUs and it is expected to fulfill over 1 million shipments in the coming year.
See the solution in action here:
About Geek+
Geek+ is a global technology company leading the intelligent logistics revolution. We apply advanced robotics and AI technologies to realize flexible, reliable, and highly efficient solutions for warehouses and supply chain management. Geek+ is trusted by over 500 global industry leaders and has been recognized as the world leader in autonomous mobile robots. Founded in 2015, Geek+ has over 1500 employees, with offices in Germany, the United Kingdom, the United States, Japan, South Korea, Mainland China, Hong Kong SAR, and Singapore.
For more information, please visit: https://www.geekplus.com/


About YesAsia
Established in 1997, YesAsia is an online retailer headquartered in Hong Kong which engages in the procurement and sale of Asian fashion & lifestyle, beauty and entertainment products to customers around the world. YesAsia has developed proven E-commerce platforms operated by a team that has, since 1998, accumulated over 20 years of experience in operating E-commerce businesses, as well as cultivated regional and global online markets for Asian products.
For more information, please visit: www.yesasiaholdings.com
For inquiries, please contact:
Geek+
Marie Peterson
Director of marketing and communications
marie.peterson@geekplus.com
Tel: +33 69 501 0346
Lee Turner Kodak
PR and communications manager
lee.kodak@geekplus.com
Tel: +49 0172 512 2909


Joey Chan
Senior Marketing Executive
joey.chan@geekplus.com
Tel: +852 3462 2128
YesAsia
DLK Advisory
Tel: +852 2857 7101
Fax: +852 2857 7103
Email: pr@dlkadvisory.com