When a top supermarket in Asia needed to plunge into the digital transformation era quickly, Geek+ deployed an automated solution in two weeks that helped the company stay competitive and poised for growth.
"Our automated distribution center can reach more than a 200 kilometers radius (124 mi) and the annual distribution amount reaches around $1.4 billion," said the company's Logistics Manager. "It's a strong guarantee that our company will continue to build a big market, expand a big network and build a big brand."
The 27-year old company completed a technological and structural overall in response to competitive pressures and the need to become more customer oriented. They not only deployed a two-phase Geek+ automated solution. They deployed an online shopping APP, added fresh meat and produce to their grocery offerings and gave a new look to their brick-and-mortar stores.
In their distribution center specifically, the company needed to address the challenges of:
✔︎low manual picking efficiency
✔︎high labor intensity
✔︎uneven staff distribution in peaks and valleys
The company decided on Geek+'s standard Goods-to-Person picking solution in early 2022. Later that same year, the company decided to expand the warehouse area from 2,000 square meters to 4,500 square meters and added additional AMR robots to achieve greater outbound throughput. Phase I and Phase II each took only two weeks to deploy. In phase I alone, picking efficiency was improved by 3x.
Project Background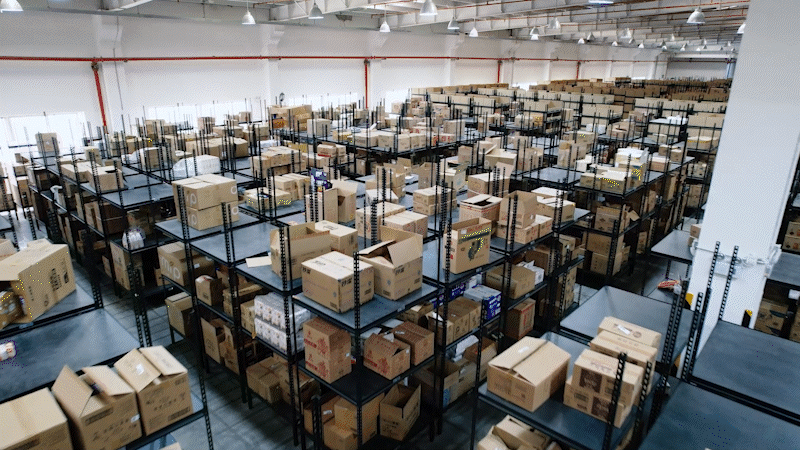 Before automating, the company knew it needed to expand to meet business demand and lower operation costs. But their traditional storage model wouldn't allow it, Furthermore, a surge in product SKUs led to an increasingly complex order structure and huge pressure on logistics operations.
The company chose to automate the high-frequency piece picking orders needed by stores to improve picking efficiency and reduce personnel cost.
Project Solutions
Before choosing Geek+ automated solutions, the company visited winter wear fashion giant Bosideng, which also automated their warehouses with Geek+.
After an in-depth investigation of Bosideng warehouse capabilities, product stability and after-sales service, the company decided to adopt a Geek+ Goods-to-Person solution.
The total area of the intelligent warehouse on the second floor of the company is 4,500 sqm (48,438 sqft), and nearly 70 P-800 picking robots are deployed.
By deploying the standard Goods-to-Person picking solution, the company increased the number of shelves to meet the demand for a wide range of SKUs and increased the storage capacity to reduce the frequency of replenishment.
Project Highlights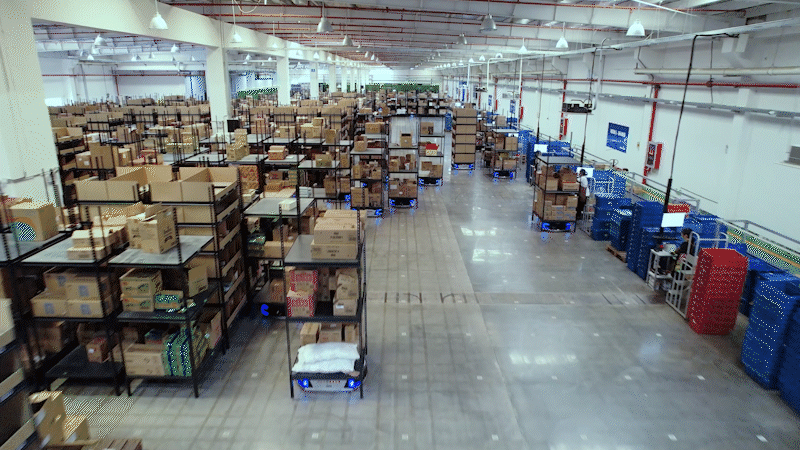 2-Week Rapid Deployment Go-Live
The project was deployed in 2 weeks as the easily transportable design of the Geek+ hardware and software was easy to implement. The P-series robots were extremely adaptable to the warehouse floor, and no additional work on the floor was required.
3X picking efficiency improvement
Empowered by the strong throughput advantages of the Geek+ standard Goods-to- Person solution, the company ultimately achieved a 3x increase in picking efficiency.
The standard Goods-to-Person picking solution uses variety of picking strategies in the warehouse such as:
✔︎order dynamic wave picking (non-stop picking)
✔︎total picking
✔︎order- by-order picking
ensuring that different order types maximize overall operational efficiency.


High Flexibility with Multiple Shelf and Order Strategies
Geek+ standard Goods-to-Person picking solution supports a variety of shelf designs to meet different storage forms (full pallets, full boxes, shelves), providing a one-stop solution to the complex storage and frequent picking problems of customers.
In addition, the company is now able to flexibly configure and adjust the system according to business changes and growth.
In the increasingly automated area of retail logistics, Geek+ helps established companies stay ahead of the competition quickly. And if the retail store continues to grow, Geek+ solutions will grow with it.