Micro fulfillment is an emerging model of fulfillment whereby online orders are fulfilled in a facility that is close to the customer, rather than from a centralized fulfillment center. The benefits of this advancing fulfillment strategy include swifter order picking and delivery, as well as lower operating costs. There are 3 main categories of micro fulfillment centers (MFCs), namely retail-based MFCs, DC-based MFCs, and standalone/ dark store MFCs.
The MFC automation market is burgeoning at an explosive rate - it is forecasted to grow to just above $4.5b in 2025, up from $122m in 2020 - a CAGR of 104%.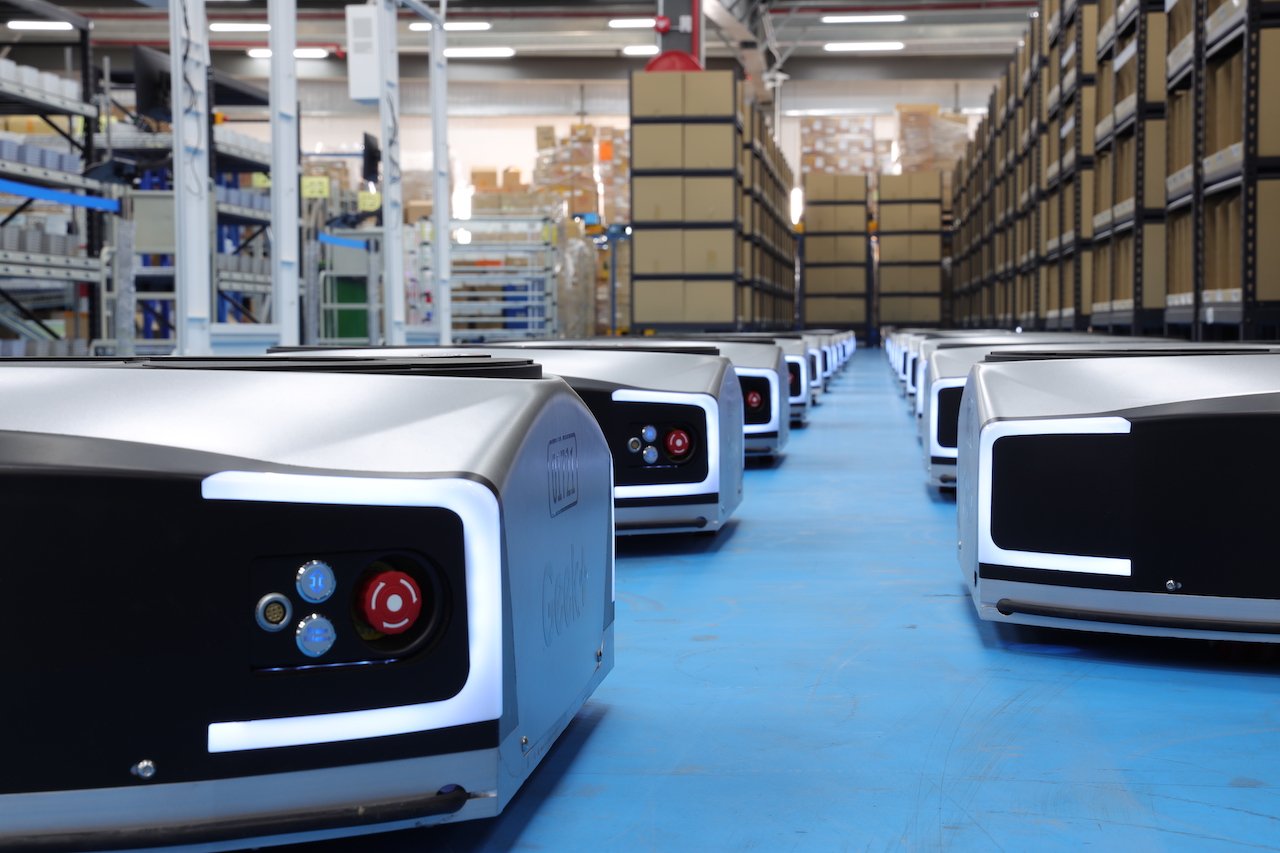 In fact, retail-based MFCs have been leading the charge and this is mainly propelled by retailers, in particular grocers, with a large real estate footprint. Rather than investing in additional facilities, these retailers typically leverage their existing floor space to implement an MFC, a phenomenon especially apparent in the US where retail stores tend to be much bigger than in Europe and Asia.
These grocers are likely to expand their MFC strategy to include standalone facilities. Since general merchandise retailers tend to have a smaller real estate footprint than grocers, it is probable for dark stores and DC-based MFCs to account for a larger share of the general merchandise MFC market.

On the other hand, service-based MFCs, where the retailer leases out part of a multi-client MFC, are well suited for smaller retailers which are less capitalized. General merchandise and apparel retailers with lower volumes are likely to be the main users of multi-client MFCs. It's also possible that 3PLs like DHL and FedEx will build a network of service-based MFCs for rapid order fulfillment in urban areas.
Which fulfillment strategy works best?
Whilst in some cases manual fulfillment may be the most efficient way to fulfill low volumes of orders, there reaches a point where the efficiency gains and improved picking rates of an automated fulfillment center warrants the capital investment.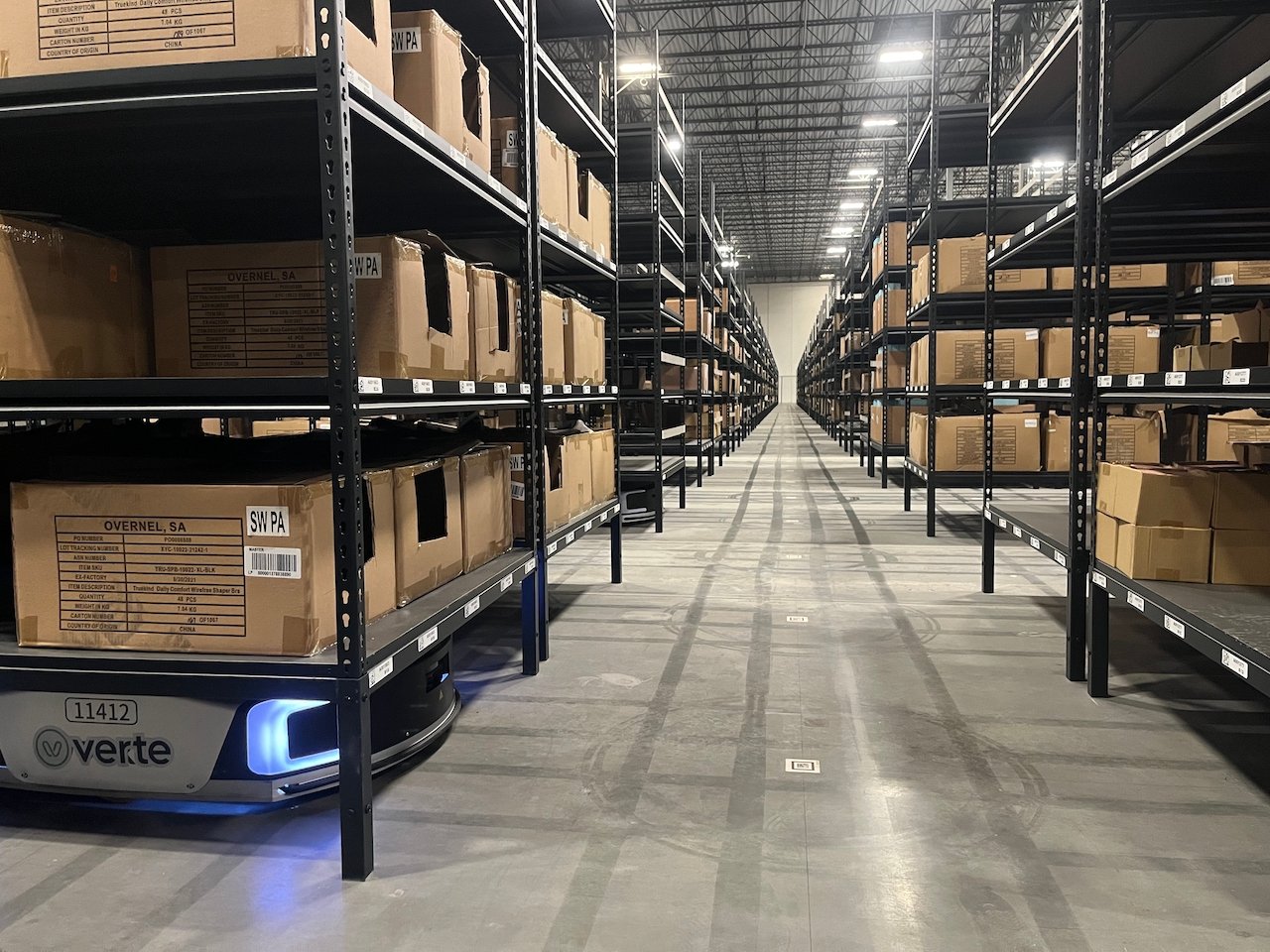 Once sales volumes warrant the investment in automation, the retailer should then decide whether to invest in a centralized or micro-fulfillment model. Here are 4 variables to consider to better aid your decision in selecting the best fulfillment strategy for your business.
1. Expected delivery time
In scenarios where same-day delivery is preferred, it is often most efficient to pick up orders as close to the customer as possible. Whereas when one- or two-day delivery is the norm, it can be beneficial to leverage the efficiency gains of a centralized fulfillment model e.g. a dark store, if order volumes are low.
2. Delivery radius
A centralized fulfillment model can become very costly when the delivery radius is too large. This is why the centralized model works well in places like the UK with a more densely populated landmass while in the US, which is more sparsely populated, the centralized model tends to be harder to justify.
3. Capital and time considerations
Costing less to build with an installation time of a matter of months, MFCs are a less capital-intensive alternative for grocers to scale up their fulfillment automation without having to invest in large centralized fulfillment centers, which can take years to build and can cost as much as 10 times more.
4. Characteristics of MFCs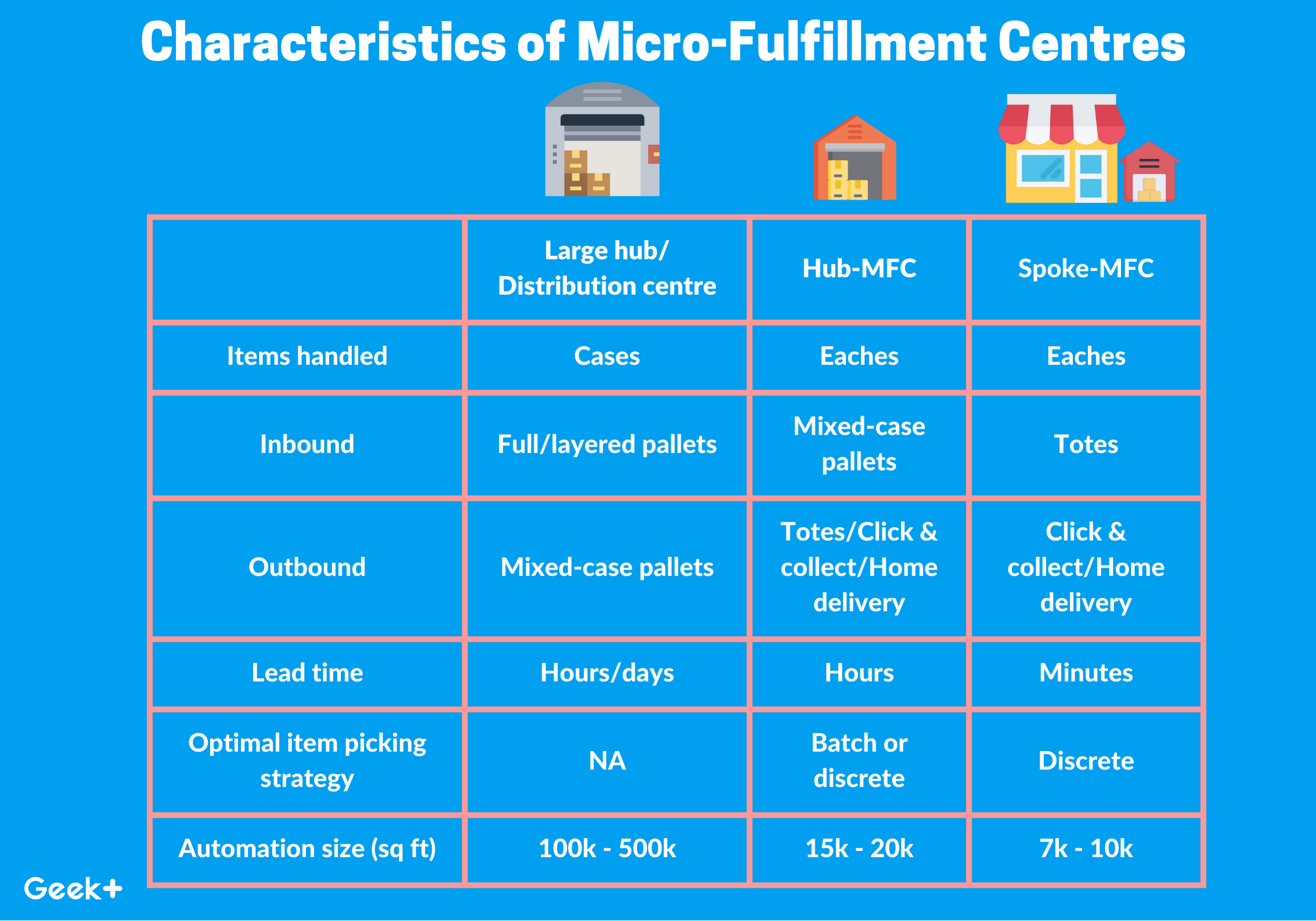 Hybrid Replenishment Model: System characteristics and demands
In this hybrid approach, a distribution center delivers cases to a Hub-MFC e.g. a dark store MFC or large retail-based MFC, where cases are split down into eaches and stored in a large MFC (approx. 20k sq ft). The large MFC fulfills local online orders and replenishes local stores and spoke MFCs (7-10k sq ft) with totes.
This approach combines the efficiencies of distributing cases for most of the distribution process while leveraging the efficiency gains of a tote-based replenishment strategy for the smaller MFCs and local stores, likely in dense urban areas. Furthermore, since spoke stores will likely have a smaller footprint, a tote-based replenishment model will mean that each store will hold less inventory.
Ariat International, Inc, a leading manufacturer of innovative performance equestrian footwear and apparel, partnered with Geek+ and Körber Supply chain and witnessed first-hand the transformational effect of MFC automation solutions. With the deployment of 88 Geek+ picking robots and 2000 racks, Ariat achieved improved picking efficiency, accuracy, and throughput, and its associates' productivity skyrocketed by 100%.
Decathlon, a professional sports goods retailer, also adopted Geek+ AMRs to provide a suite of innovation warehousing solutions in France.
The implementation of Geek+ solutions enabled Decathlon to overcome the limited performance of its manual processes and tackle its high order volumes through a 300% increase in picking efficiency and accuracy. The integration of RFID technology in the picking system also served to enhance inventory management.
DSV, a global supplier of transport and logistics, has also doubled its productivity after deploying Geek+'s picking system. In its Hong Kong warehouse which spans an area of 45,000 sq ft and houses more than 6,000 SKUs, DSV's challenge lies in the low picking productivity and accuracy of its manual processes. Geek+'s implementation has allowed DSV to enjoy an overall 200% increase in bin location and thus, increasing warehouse storage capacity.
In closing, Geek+'s automated solutions have proven time and time again to aid businesses in leveling up their productivity. We are confident that our picking solutions are highly applicable in MFC scenarios to optimize your warehousing space and increase overall throughput. To learn more about how our solutions can cater to your specific business needs, chat with our consultants today!