Early observations and lessons learned
Unexpected consumer behaviors, unprecedented peaks, unemployment, and a global chock to the economy. The uncertainty brought on by the pandemic has in less than two months rendered established ideas and forecasts inadequate while accelerating the awareness of shifts that were already in motion. While life appears to be on hold for some, others are struggling to keep up.
On Friday, April 17th, Supply Chain Now, invited Geek+ representatives Mark Messina, COO of the Americas, and, Rick DeFiesta, Director of Sales and Partnership Americas, to pause the button, sit down, and share their thoughts on early observations and lessons learned during the spread of COVID-19. How has the global supply chain navigated throughout the pandemic and how will the pandemic change the industry for generations to come?
COVID-19's impact on consumer behavior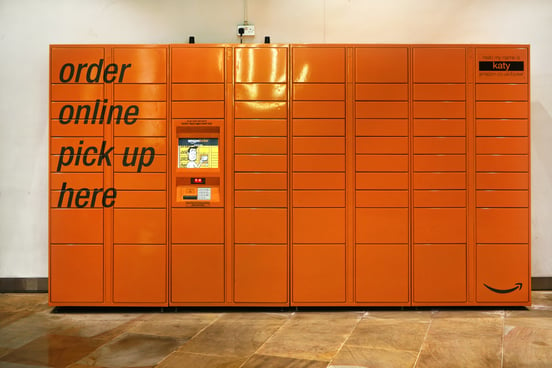 (An Amazon locker in lower floor of a shopping centre in London, United Kingdom)
Upon mentioning quarantine, most will think of an accelerated move towards e-commerce, a peak in demand for essentials, and the increased use of alternative channels like BOPIS (Buy Online, Pick Up In Store). However, as we ask ourselves when things will get back to "normal", the following question is, what does the new "normal" imply? Which behaviors will return once quarantine is lifted and which will have been altered for the long run?
"A stronger push towards e-commerce, whether you're a 3PL or you're a brick and mortar store with e-commerce components, the focus will be there" - Mark Messina
It's not easy to make predictions, but there are observations to be made. With regard to the general concern for viruses and health aspects, it's likely that some will continue to adopt safety measures like social distancing after quarantine is lifted, sustaining the shift towards e-commerce. Additionally, there are groups in society that never thought they'd have to use e-commerce who, due to social distancing, have taught themselves. If segments of this group decide to continue with online shopping when things return to normal, it also implies a sustained shift due to a change in consumer behavior.
"Who thought that a grocer would have to know whether or not they have eggs in stock?" - Rick DeFiesta
The overall shift towards e-commerce was a change many saw coming. Buying food online, however, was not. The overall uptick in e-commerce is putting a lot of strain on systems in terms of visibility, rendering it increasingly important for retailers to have access to real-time inventory and to see what items have been allocated by multiple people online at the same time.
With regard to the above-mentioned aspects, it suggests that food as an e-commerce, and new channels for delivery like BOPIS will lead to an increased need for cold chain logistics and robots that can operate in cold temperatures. When thinking about the current peak in demand for essentials, it will likely not last in the long run, nevertheless, the wish of companies to handle swift changes in demand, will. By adopting automation and robotics in warehouses, businesses can increase visibility, repurpose their storage better in times of fluctuations, and build resilience to unexpected scenarios.
Risk-mitigation and risk-management after COVID-19
Some of the solutions that have been adopted throughout the ongoing crisis are not optimal as they won't provide stability in the long run, especially in terms of labor. Many of the workers that have been allocated to the warehouse industry during the pandemic left jobs that ceased to exist when the economy was hit. This implies, that in time, they will want to return to their previous work, and new staff will have to be hired. The process of hiring new staff is not only costly but difficult since there's a scarcity of workers in many areas and many don't find warehouse work attractive. Similarly, the issue of having to hire new staff whenever there's a peak season coming up has long been considered a difficult task for business owners.
"You have the flexibility in these systems to de-risk your operations" - Mark Messina
In light of the pandemic, risk-mitigation has been given a new meaning, flexibility. In traditional warehouses, fixed infrastructure implies that whenever there's a change in product mixes, a need to scale up or down, or a lack of labor, a change in operation can be difficult to pull through. With a goods-to-person system, the software can easily adopt new product mixes, and in terms of scalability, one only has to adjust the number of robots, workstations, and added hours to the day while the human factor remains unchanged.
"Labor is very sensitive to safety in the work environment right now as it relates to the pandemic, this technology allows social distancing"- Mark Messina
Another part of risk mitigation that has been brought to light in recent months, is the potential infection of labor. The difficulty to track infections, the risk of having to shut down operations in order to disinfect, and the potential PR hit that an infected warehouse implies, makes it a costly scenario. The goods-to-person system segregates inventory from the operator, the software is able to track every inventory shelf that an infected employee has interacted with, and robots are able to disinfect shelves automatically and regularly without impact to operations so as to protect employees and workflow.
"Whether the glass is half-full or half-empty, there is always room for more wine"- Rick DeFiesta
Regardless of if you're one of the companies currently facing a 300-400% uptick in e-commerce or if you belong to those who have been forced to pause their business, sooner or later, everyone will have to face the challenge of having to adjust to the new normal. Whether your company is then confronted with the task of having to hire new people or replace the void created as people return to their previous work, preparing for the future is never a bad idea. It's therefore important that companies take some time to look into their operations and consider what is working and what is not.
The global supply chain has been under strain for many years and the events of last months have accelerated a change that was already underway. Geek+ solutions are quick to employ and quick to identify and so, if you're ready to take the next step, there's a good chance that we can be in place for the next peak to come.

If you want to learn more the automation trend, download our white paper now: