The past decade has been a tumultuous time for the retail sector, this is largely due to the quick rise of e-commerce, its impact on consumer behavior and the accelerated increase of sales and returns of online goods. Every year, 15% of goods are returned or deemed excess. In the U.S. alone, the National Retail Federation and software solutions provider, Appriss Retail, put the value of merchandise returns at $369 billion—or roughly 10% of total sales, and according to a KPMG report, as many as one in three items bought online are intentionally purchased for comparison and testing purposes and then returned. In turn, reverse logistics is increasingly perceived as the Achilles heel of retail.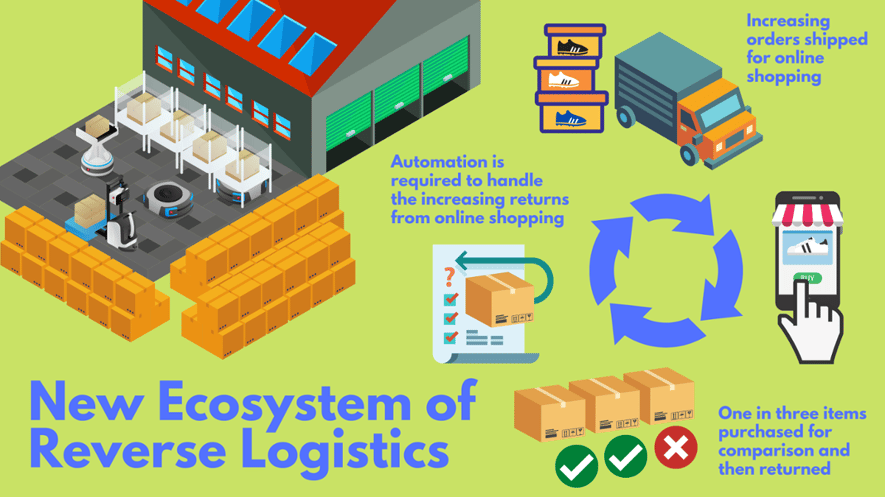 The advent of social media also drives impulse purchases which have increased the rate of returns. According to researchers, nearly 34% of consumers will make more impulse buys as social media makes it easier to buy products through in-platform selling tools. 63% of these impulse shoppers will end up sending more of their purchases back to retailers, accounting for a fifth of all online shoppers making more returns. This send-it-back sentiment is a burden for online apparel retailers, as web sales of apparel boast one of the highest return rates around.
The challenges in reverse logistics
Reverse logistics is often challenging due to factors like uneven product quality, lack of clarity over disposition options, and inconsistent inventory management practices. However, one of the biggest challenges is that there are significantly more steps to carry out for the sorting of returned items. As product return volumes soar, manpower and returns handling costs have also risen dramatically and many companies are now left scrambling to resolve inadequacies in their reverse logistics.
The COVID-19 pandemic serves as another hurdle for reverse logistics. For instance, Amazon has closed its warehouse dedicated to the returning of apparels because of employee infections, making them the first online retailer to indefinitely stop operations of a U.S. facility in response to the pandemic. It has been a difficult time for many e-retailers, as the risk of cross-infection and imposed quarantine rules has led to paused operations and shutdowns.
Reverse logistics automation
With so many challenges underway, the future of reverse logistics seems grim. The solution, however, is simple. Backed by intelligent algorithms and vision systems, robotics automation can optimize the process of reverse logistics and mitigate the pain points of many retailers.
Items are usually returned in bulk and mixed with assorted SKUs from different countries. The disorganized clutter is difficult and time-consuming, especially when it comes to having to sort out the qualified items for further handling. With Geek+ sorting robots, the returned items can be sorted efficiently based on different categories and conditions, e.g. items need to be repaired or in perfect condition. The sorted items can then be transferred to the workstation for putaway by Geek+ picking robots. In turn, the complicated process of manual sorting can be ameliorated and replaced by intelligent and efficient robotic sortation which guarantees higher productivity and accuracy. Moreover, installation time and costs of sorting robots are significantly lower than that of conventional conveyor belts and sorters, and more flexible when it comes to coping with fluctuating business demands.

Returned items in a disorganized clutter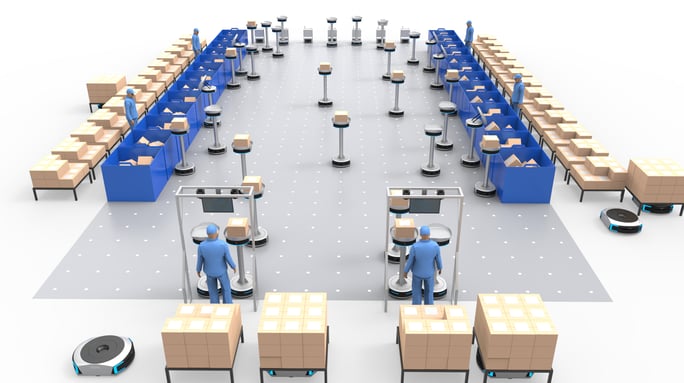 Returned items are sorted by categories and conditions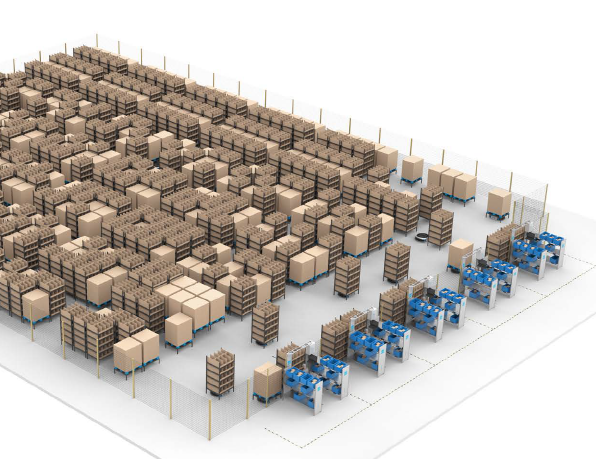 Sorted items transferred to workstation for put-away
Vipshop deployed Geek+ sorting robots for its e-commerce business
Take the example of Vipshop, the third largest e-commerce platform in China, specializing in online branded discounted apparels, cosmetics, home goods, etc. The company was faced with large inbound and outbound traffic marred by lower manual efficiency and higher error rates. In order to rapidly increase the efficiency, agility and flexibility of its warehouses and support its growth in orders and returns, Vipshop adopted the Geek+ picking system, which involved the deployment of 121 intelligent robots and 200 shelf racks, accommodating an inventory of 1 million pieces daily. The result was enhanced efficiency to deal with reverse logistics, increased storage space, and significant labor cost savings.
All in all, since reverse logistics is a complex process that encompasses an entire reverse product life cycle, it is pertinent that this process is robust and customer-focused so as to fully ensure customer satisfaction. The way a company manages returns and interacts with customers during the returns process can have a profound impact on business relationships. If the process is managed well, customer retention rates can be enhanced, ultimately benefiting future sales.
If you want to learn more the automation trend, download our white paper now: