Asia PetWorld chooses Geek+ solution to handle diverse product range and create ergonomic workplace
- Asia PetWorld chooses Geek+ solution to handle diverse product range and create ergonomic workplace
SINGAPORE, January 31, 2023 – Geek+, the global leader in mobile robotic solutions for logistics, has successfully implemented a multi-robot goods-to-person system at Singaporean pet supply distributor Asia PetWorld's fulfillment center to support its international expansion. The system was implemented in just 12 weeks. Using the Geek+ automated storage and retrieval system, Asia PetWorld is able to distribute its products to its growing customer base around Southeast Asia, Europe, and North America with over 99% order fulfillment accuracy.
Globally, the pet care market has grown to $261 billion (USD) in 2022; up from $245 billion in 2021, with this figure expected to grow to $350 billion by 2027, with the Asia Pacific region expecting an increase of 9.3%.* As a global supplier of pet products, Asia PetWorld handles over 8,000 SKUs in a variety of sizes and weights every day.
With stocks differing greatly, from small and light items, such as dog collars, to sacks of dog food that can weigh more than 15 kilograms per bag, Asia PetWorld needed an adaptable solution that can respond to a variety of tasks. The Geek+ goods-to-person picking system, with sophisticated algorithms and robots with a maximum payload of 1000kg, can easily handle heavy pet food bags, animal enclosures, and large pet bedding and maintain a safe and healthy working environment for their employees.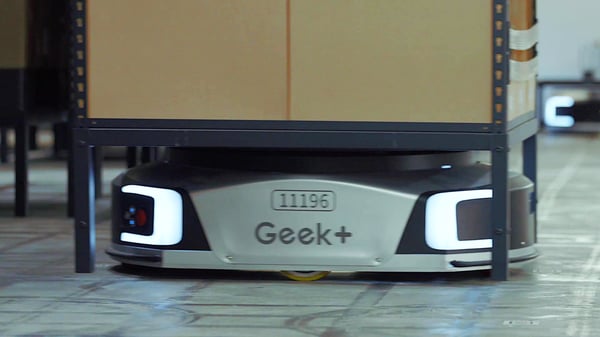 Alvin Yap, Head of South East Asia at Geek+, said: "We are delighted to see our smart picking solution increase Asia PetWorld's competitiveness in the demanding pet industry. This digital transformation helps them offer improved service to their customers in terms of efficiency and accuracy. We expect several more businesses in the region to adopt our solutions due to the gains in efficiency and flexibility they represent."
Sebastian Wiradharma, Director of Asia PetWorld, said: "In Singapore, the labor availability is always a challenge for warehouse owners. The situation is even worse for the pet industry where workers often need to manage heavy, awkward items. After adopting the Geek+ robots, we are better able to handle our stocks and can offer a more comfortable workplace to our employees."
Geek+ set up its ASEAN headquarters in Singapore last year to serve the region with a whole team on-site, from pre-sales to after sales.
*Data via Global Market Insights (2021)
About Geek+
Geek+ is a global technology company leading the intelligent logistics revolution. We apply advanced robotics and AI technologies to realize flexible, reliable, and highly efficient solutions for warehouses and supply chain management. Geek+ is trusted by over 700 global industry leaders and has been recognized as the world leader in autonomous mobile robots. Founded in 2015, Geek+ has over 1500 employees, with offices in Germany, the United Kingdom, the United States, Japan, South Korea, Mainland China, Hong Kong SAR, and Singapore.
For more information, please visit: https://www.geekplus.com/
About Asia PetWorld
Established in 2014, Asia PetWorld offers a single solution pet supplies distribution drop shipping service. We fulfill orders for both retail and e-tail stores. From our 40,000 sq. ft. warehouse located in Woodlands, Singapore, we ship over 3,000 lines of pet products direct to customers in the most efficient and reliable way. We serve customers worldwide, including those in the USA, Canada, Europe, Australia, Japan and South Korea.
For more information, please visit: https://asiapetworld.com/


For inquiries, please contact:
Marie Peterson
Director of marketing and communications
marie.peterson@geekplus.com
Tel: +33 69 501 0346

Lee Turner Kodak
PR and communicationsmanager
lee.kodak@geekplus.com
Tel: +49 0172 512 2909