HONG KONG, October 26, 2022 – Geek+, the global leader in autonomous mobile robots (AMRs), has successfully deployed a fleet of autonomous mobile robots for Stork Up, a Hong Kong-based division of global logistics and freight forwarding specialist NAF Logistics Group. The new system took only 12 days for hardware implementation, allowing Stork Up to quickly upgrade the warehouse and put it into service in time for this year's peak shopping season.
Geek+'s goods-to-person picking solutions are now fully operational in Stork Up's new warehouse, empowering them to build an agile and flexible supply chain for their integrated eCommerce logistics service.
Geek+'s goods-to-person picking solution is fully operational in Stork Up's eCommerce warehouse.
Lit Fung, VP and Managing Director, Overseas Business at Geek+, said: "We are committed to making AMRs simpler to use and easier to adopt. The rapid deployment in Stork Up's new warehouse, which we achieved in just 12 days, has proven that automation and digitalization are within reach for every company. Geek+ stands ready to assist different industries in leveraging robotic technologies to quickly respond to market changes."
"Thanks to Geek+'s robotics automation, we are increasing the accuracy and efficiency of the pick and pack process by up to 300%. We can cater to high volume orders and SKUs with ease, our job is to send our clients' orders out faster and ultimately, delivering happiness to satisfied customers around the world," said Stork Up co-founder Raymond Wong.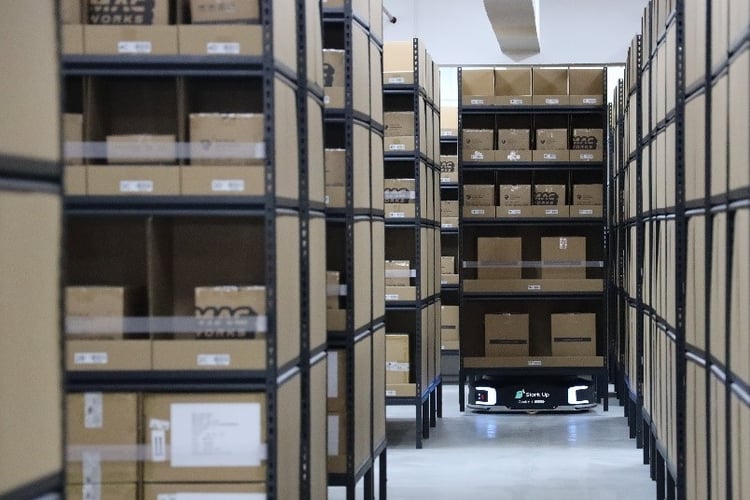 This solution guarantees 99.99% picking accuracy while handling up to 3X deliveries compared to manual picking.
Stork Up's new fulfillment center represents the beginning of its journey to warehouse automation and digitalization. They foresee that this is an inevitable trend to harness the state-of-the-art robotics and AI technologies to fulfill the ever-growing demand in eCommerce.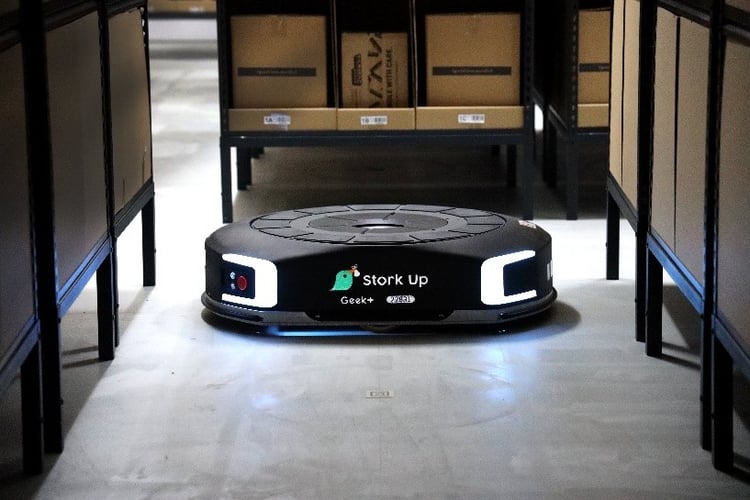 About Geek+
Geek+ is a global technology company leading the intelligent logistics revolution. We apply advanced robotics and AI technologies to realize flexible, reliable, and highly efficient solutions for warehouses and supply chain management. Geek+ is trusted by over 500 global industry leaders and has been recognized as the world leader in autonomous mobile robots. Founded in 2015, Geek+ has over 1500 employees, with offices in Germany, the United Kingdom, the United States, Japan, South Korea, Mainland China, Hong Kong SAR, and Singapore.
For more information, please visit: https://www.geekplus.com/
About Stork Up


Stork Up is a Hong Kong based eCommerce fulfillment and cross-border shipping solutions provider. Born in 2017, Stork Up began its journey to make eCommerce easier for online retailers worldwide. Over the past years, Stork Up has had the privilege of working with some amazing brands, from SMEs to global enterprises, and every type of business in between. Stork Up's client base is diverse, selling anything from toys to apparel, and cosmetics to health products. No matter the product, Stork Up strives to provide the best possible experience for its customers. The company's fulfillment services are designed to make selling online easier for businesses of all sizes. "Delivering happiness" is at the heart of every Stork Up team member and that's why they're passionate about making sure that every order is given 100% attention and care. With a team of experienced professionals and a state-of-the-art robotics-powered fulfillment center, Stork Up is able to handle even larger volumes of orders accurately and efficiently.
For more information, please visit https://stork-up.com or http://naflogisticsgroup.com

For inquiries, please contact:
Joey Chan
Senior marketing executive
joey.chan@geekplus.com
+852 9606 2487
Lee Turner Kodak
PR and communications manager
lee.kodak@geekplus.com
Tel: +49 0172 512 2909
Stork Up Customer Success Team
hello@stork-up.com
Tel: (+852) 2399-0737