The RoboShuttle robots, C200M and C200S, are the first Bin-to-Person storage solutions to obtain CE and ETL certifications. Tested by the global certification body Intertek, It validates the ability of Geek+ to produce industry-leading robotics products for warehouse automation.
Both robots attained the ETL certification to UL 3100 standard in February 2021. The CE certification was achieved for C200M in March 2021 and C200S in 2019 and guarantees that Geek+ RoboShuttle robots meet EU standards for reliability and safety. The picking system has also been CE certified, to ensure the strength of both hardware and software.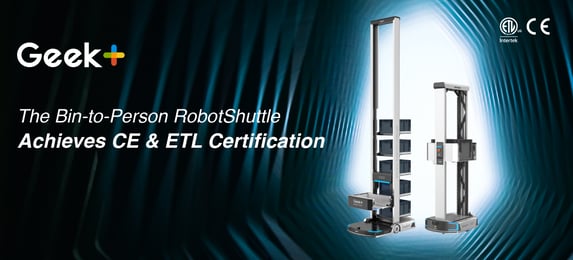 The CE certification includes the Machinery Directive (2006/42/EC) for health and safety and complies with the latest EN ISO 3691-4:2020 safety requirements for driverless vehicles. It is an upgrade from the old EN 1525:1997 standard and marks the highest standard for robot safety in the EU. Having achieved the CE Certification also ensures that the products meet the requirements of the RED Wireless Directive (2014/53/EU) for safety and health, electromagnetic compatibility, and the efficient use of the radio spectrum.
The EN ISO 3691-4:2020 standard was achieved after having undergone comprehensive and rigorous risk assessment of C200M, including an analysis of hardware system, software design, functional testing of on-site application, and test verification.
In 2020, the picking safety system was the world's first picking safety system to achieve CE Certification by global certification body TÜV Rheinland. It tests various aspects, from space usage and robot control, to the dispatch system and a fire-control linkage system.
The man-machine interaction is safe and efficient with employees positioned at workstations and the robot navigating the storage area, bringing bins of selected goods to the employee. To further secure reliable man-machine interaction, the robot has an electronic control system including sensors. Regarding the software, the robot can realize multiple functions such as emergency stop, local deceleration, and fire linkage under the control of the safety dispatch system, minimizing potential safety hazards.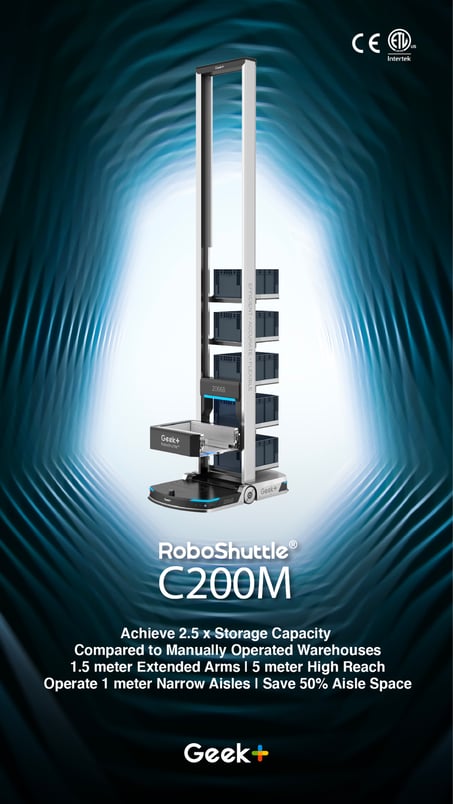 Geek+ ensures the quality and safety of its products through regular inspections by trusted global certification bodies. In turn, Geek+ has developed a wide range of exceptional robotics solutions for streamlining logistics and supply chain operations, demonstrating the holistic approach towards technology, innovation, and application driving Geek+ R&D.
Geek+ C200M RoboShuttle is the latest picking solution for optimized picking. It uses its double extended fork arms, narrow aisle design, and high reach to improve storage capacity and make full use of horizontal and vertical space. In turn, it can improve storage capacity by 2.5 times compared to manually operated warehouses.