Discover a New Manufacturing Model with Geek+ AMRs




An increasingly unstable market has brought many challenges to global supply chain operations, particularly in the manufacturing industry where rigid production models have caused industry leaders to look for solutions that can bring stability and flexibility to its operations.
Autonomous Mobile Robots (AMRs), are often mentioned as a potential solution that can provide highly efficient and reliable operations while supporting businesses to flexibly respond to fluctuating demand and adjust production capacity. It is, however, important to understand the potential challenges of robots in manufacturing scenarios as well as the technology needed for unlocking its true potential.
1. Coping with Complex Industrial Scenes using SLAM
Rapid changes in the surroundings of the production line, can greatly impact the positioning of robots. This is especially true for the production line docking scene, where changes in the environment can affect the robot's perception ability and cause inaccurate docking. Ground mobile robots that use single navigation and positioning technology, such as magnetic stripe navigation and two-dimensional code navigation, have a hard time coping with these complex industrial scenes.
Geek+ R&D team has developed a SLAM navigation integrating laser and vision technology, providing Geek+ moving robots with high perception, precise positioning, and better decision-making capabilities to keep a consistent trajectory and complete stable and accurate docking. With a closely linked multi-sensor framework, the robots achieve high-precision time synchronization from the processor chip to the lidar, camera, IMU, and encoder, to ensure sensor data obtained time accuracy.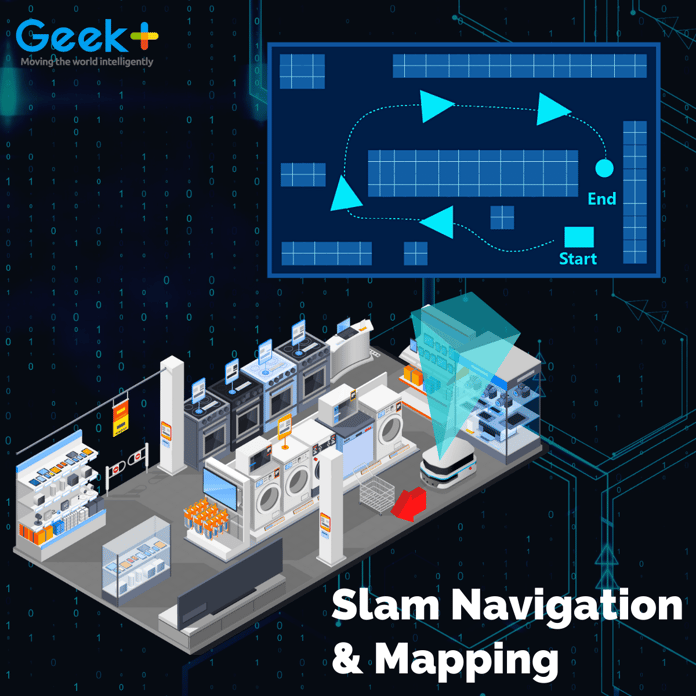 - Real-time algorithm for accurate docking
Powered by a real-time algorithm, the robots can achieve repeated AMR motion trajectories for time periods of several months. In turn, docking can be completed smoothly and accurately to ensure a stable production line regardless of changes to the environment.
- Motion compensation for accurate navigation under speed
At present, AMRs are often equipped with mechanical rotating lidar. Due to the laser scan frame getting easily deformed when the AMR moves at high speed, Geek+ SLAM algorithm uses IMU and wheel speed data to perform motion compensation on the lidar scan frame, solving the problem of trajectory deviation of AMRs traveling under high speed.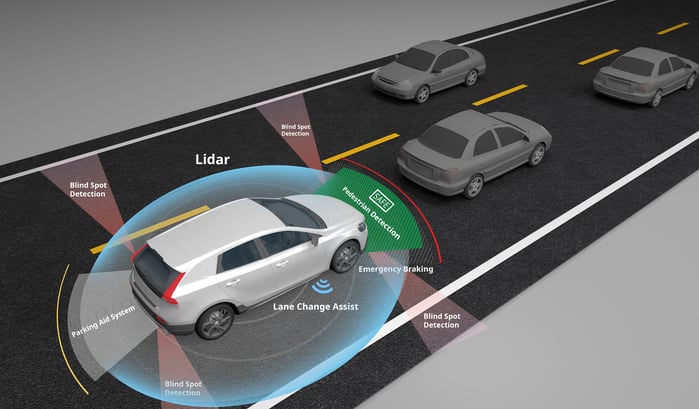 (Lidar is also applied in autonomous self-driving scenario)
- Sliding window optimization and marginalization technology for dynamic updating of online maps
Today, most will resolve to manual correction when the map needs changing. In order to realize dynamic updating of map and reliable positioning, Geek+ AMRs use sliding window optimization (Sliding Window BA) and marginalization (Marginalization) technology to cut out "outdated" nodes and map observation data for ensuring positioning accuracy.
2. Quick implementation & lowering the technical threshold
One of the most urgent challenges of adopting robot solutions in manufacturing scenarios is high implementation costs and with technical thresholds due to expensive and complicated systems. A long implementation period might impact existing production lines and lead to costly scenarios of delayed project launch and slow return on investment.
Geek+ moving system is equipped with a highly user-friendly stand-alone operating system, enabling users to get started with no prior knowledge. Through the visual interface, process configuration can be completed in 10 minutes while the "open-box solution" allows a 15 minutes implementation. For more complex projects the implementation can be finalized within a week. This leads to a 30% faster return on investment as well as simplified and fast project replication.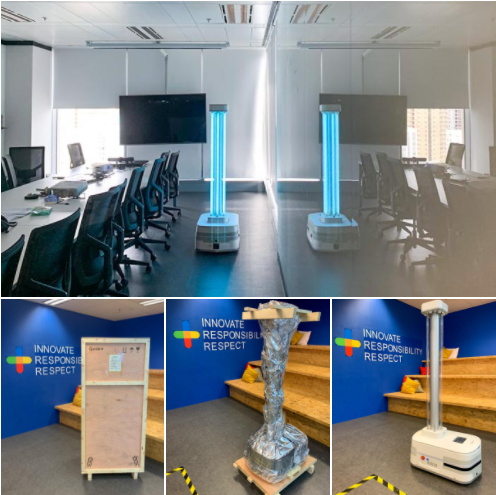 (Open-box solution for Geek+ disinfection robot which is also equipped with slam navigation)
3. Safe operations and better processes
In industrial scenarios where the need for precision is high and employees with specific skill sets are indispensable, robots must guarantee safe and reliable operations to ensure a smooth flow of the entire production and logistics transportation process.
Geek+ moving robots guarantee stable production and help mitigate against work injuries and dangerous production scenarios by replacing some of the manual processes that are unnecessary. By adopting a high-strength cast aluminum body, a multi-link suspension design for the chassis, and fire-resistant cable design to the robots can secure the workflow under severe working conditions such as fluctuating temperatures, high vibration, humidity, and electromagnetic radiation.
4. Flexibly combining hardware and software to meet varying business needs
In response to the diversity of customer business systems, Geek+ Moving System provides more than 100 standard interfaces for seamless integration of upstream and downstream systems. It eliminates information islands, realizes information integration, and improves the digital management of production flow. In regard to the variety of on-site customer needs, the system also allows customers to configure over 200 rules and strategies, covering more than 50 business scenarios, for improved logistics management, flexible order distribution, and adaption to changes in the production flow.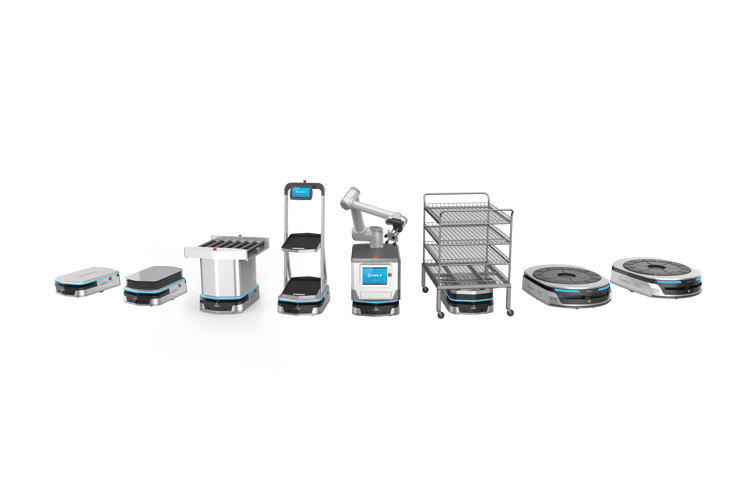 In terms of hardware, Geek+ provides a wide range of moving products equipped with capabilities suitable for different scenarios. Built on Geek+ developed AMR technology there are specialized robots for lifting, pulling, bin-moving, and a robotic arm hybrid for handling a variety of materials.
By mitigating issues of inaccurate positioning, the need for customization, quick implementation, as well as safer operations through the multitude of flexible products and solution, Geek+, has already earned wide industry recognition and its moving robots is currently powering nearly 100 projects in everything from automotive and manufacturing to 3C and apparel industry.