Warehouse Robot is rapidly becoming one of the most popular trends in the logistics industry, many different companies and organizations are constantly looking for new opportunities and methods of design, manufacturing and selling for supply chain. There is a set of forces that are increasingly pushing the use of warehousing & logistics robots, and providing the supply chain with the biggest margin and service expansion ever.
Influencing Factors Behind The Increase of Warehouse Robots
1. Labor costs and aging of labor force
The first reason for utilizing warehouse robots to load/upload and transport is due to lack of workers in the packaging and transportation industry. For most of millennial are prone to choose science technology or engineering as a future career, and demographic dividends have gradually disappeared, the labor costs have been increasing year by year. With the retirement or resignation of warehouse & logistics workers (as in the case with a growing shortage of truck drivers), the entire supply chain industry would deploy warehouse robots at a drastic rate of growth.
2. The continuous growth of logistic demand
With the spurring development of E-Commerce, the pressure on warehousing and logistics is also increasing. Especially in important promotional seasons, the warehouse will face considerable pressure on shipping. Therefore, the continuous growth of logistics demand accelerate the development of intelligent warehouse robots. By Eugene Demaitre from Robotics Business Review, it's not a new business venture to deploy warehouse robots in supply chain and manufacturing, instead warehouse robots are being actively deployed to decrease manual intervention and improve warehousing efficiency. Compared to manual operation the warehouse robots can achieve 24 hours of ceaseless work, and efficiency could reach 3-4 times than that of manual work.
3. Omni-Channel Logistics Demand
The third cause of growth in warehouse robots deployment is related to the global transformation of ommi-channel supply chain markets across all economies. Check out Amazon logo, its "smiley face" combined with A-Z which means Amazon offers almost everything. That seemingly ordinary arrow shows how consumers' attitude towards the web frontier. The internet is seen as the ultimate market, but brick-and-mortar stores will remain in existence. As a result, logistics providers must meet the need of both online and offline markets at the same time, the complexity of logistics systems will be improved as well. Under this circumstance, warehouse robot's flexible features just can enable enterprises to complete the whole supply chain transformation effectively so that online and offline shopping could prosper together.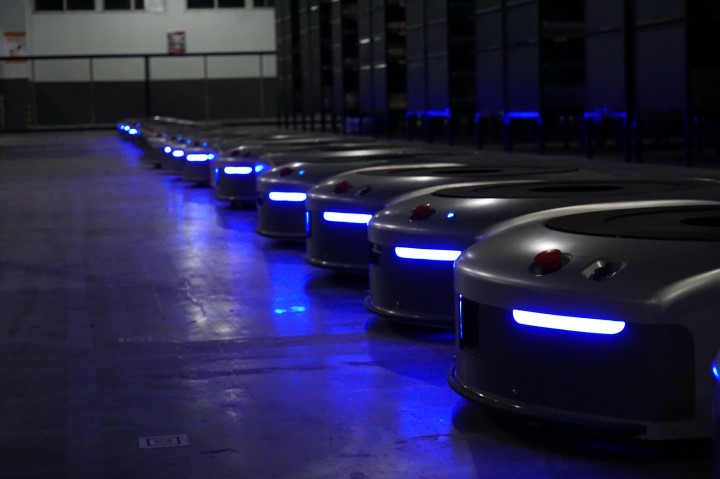 How Warehouse Robot Affect Process of Intralogistics
1. Reduce the time from the order to delivery
The concept of real-time order fulfillment is becoming true. The robots will facilitate the order process from manufacturing to sortation, pallet, packing and measurement to loading into container. This is even more realist than the concept proposed by many engineering and software giants of automated vehicle and drone delivery.
2. Reduce error and need for reverse logistics
The robot's ability to record huge amounts of data, examine data with precision and trouble-shooting can lead to unmatched error reductions. Therefore the demand for reverse/inbounding logistics which caused by uncertain orders will decrease.
3. Lower labor intensity
As mentioned earlier, warehouse robots deployment will have a direct impact on human workers. Though it may appear to be a violation of morality and compassion,in fact it offers an opportunity for workers to move to more insightful and enjoyable positions. Some manual and tedious task like walking for a long period of time, lifting overweight products or objects, and other forms of physical work may be beyond some human workers' capability, then the use of warehouse robots maybe provide job opportunities to those people who can't work in traditional logistics so as to increase efficiency.
4. Decrease shipping delays between manufacturer and distribution centers
As warehouse robots become more and more popular in warehousing and logistics, delays between different modes shift of transportation will also decrease remarkably. This is a consequence of quick analysis on various factors that affect the delivery, including weather, traffic, and tire pressure. Eventually product arriving at the distribution center earlier will be delivered to customers faster.
5. Delivery outside traditional time frame

Since the warehouse robot can operate without human intervention, loading/unloading and transporting with robots means that the order can be delivered beyond standard or traditional timeframe. Like drones in logistics, the order can be delivered before the goods arrive at distribution center, and the robots can be assigned to deliver when customer returns home, reducing the incidence of parcels lost, which further reinforcing the argument that warehouse robot is the future trend in supply chain.
6. Strengthen and accelerate processing through IoT
One of the biggest benefits of deploying warehouse robot in supply chain comes from IoT. As warehouse robots go online, the demands of integrating diverse equipment will grow, consequently IoT and robots will form a symbiotic relationship. When one of the parties expand, the other one inevitably will grow as well, and vice versa.
Discussion about logistics, especially warehouse robots' deployment in warehousing, loading, unloading and transportation will become tedious and outdated soon. However, warehouse robot is undoubtedly the most innovative and the most reformational improvement in supply chain. It will ultimately change the way wealth is generated in logistics and the way in which competition will push the shipping cost down, even though the logistics industry is facing some negative problems such as shortage of truck drivers.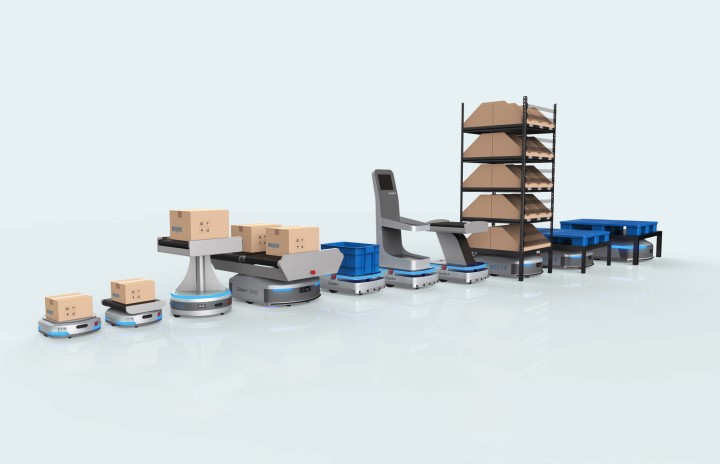 Application Advantage of Warehouse Robot
Warehouse robot is in small size and compact, but this doesn't affect its powerful loading capacity. It doesn't require manual operation and driving, but can realize the function of AGV. Besides,with the development of warehouse robots, the navigation method has been upgraded to QR code navigation, SLAM navigation rather than traditional magnetic tracks.
Geek+ Robotics has realized the "goods-to-person" solution through mobile robots to undertake tasks of intelligent picking, moving and sorting. The robot will automatically move the shelves to the picking station, and its maximum lifting weight can reach up to 1 ton, eliminating the time to find goods in the warehouse and truly realizing shift from "person-to-goods" to "goods-to-person". In addition, Geek+ M100 is equipped with various functional modules to achieve flexible roller join and man-machine interaction picking system, which highly improve the scalability of robots application in different scenarios.


About warehouse robots, how do you think?
Is a cute machine that can work with human worker?
Or a revolutionary logistics craze?
Look forward to your opinion!