With over 1,000 exhibits and 150 educational seminars, ProMat is known as the largest North American tradeshow for supply chain and manufacturing industries.
Attending a tradeshow like ProMat can be a daunting experience, but with a little bit of planning and preparation, you can navigate your way through the event with ease. Here are some tips for getting around at ProMat:
Download the event app:

The ProMat event app is a great resource for navigating the show. It includes a map of the exhibit hall, a list of exhibitors, and a schedule of events. You can use it to plan your day and find your way around the show. Download the ProMat 2023 app here.



Study the floor plan:

Before you arrive at the event, take some time to study the floor plan. This will give you an idea of where the different exhibitors are located and help you plan your route through the exhibit hall. Check out the floor plan here.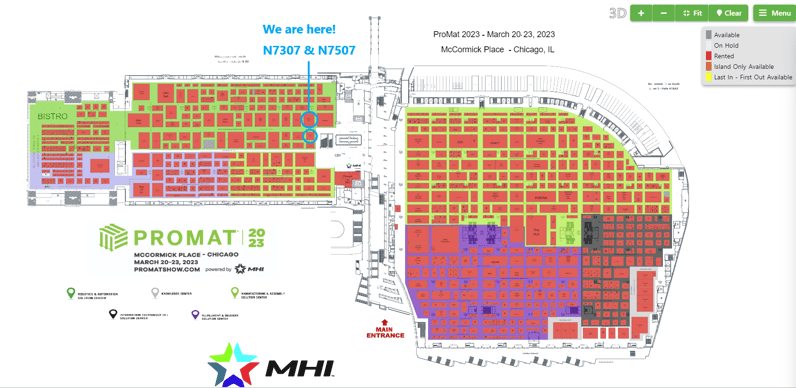 Geek+ will showcase its newest and most innovative sorting solution, Vertical Sorting Wall, as well as the award-winning picking solution, PopPick, at booth N7307 & N7507. Visitors can also expect Geek+'s moving solutions and high-density storage solution, Four-way Shuttle.
Interested in seeing our solutions in action?

Plan your schedule in advance: ProMat provides over 150 different educational seminars presented by industry experts and leaders. Take a look at the schedule of seminars before you arrive at the show and plan out which sessions you want to attend. This will help you stay on track and avoid getting overwhelmed. Check out a list of ProMat on-floor seminars here.
Talk to exhibitors: Don't be afraid to strike up a conversation with exhibitors. They are there to showcase their products and services and are happy to answer any questions you may have.
Interested in learning more about how
Geek+ can help you stay ahead of business change?
Wear comfortable shoes: You will be doing a lot of walking at ProMat, so make sure you wear comfortable shoes. Consider wearing sneakers or other supportive shoes that will help you avoid foot fatigue.
Use the shuttle service: If you are staying at a hotel near the event, take advantage of the complimentary, show-provided shuttle service. Buses will run on designated routes every 15-20 minutes in the morning and every 20-30 minutes in the afternoon. This will save you time and energy and help you avoid the hassle of finding parking. Check out hotel shuttle bus drop-off locations and routes here.
Bring a portable phone charger: You will likely be using your phone a lot at the event, so it's a good idea to bring a portable phone charger. This will ensure that you always have a charged phone and won't miss any important calls or messages.

Take breaks: Don't try to see everything at once. Take breaks throughout the day to rest and recharge. This will help you stay energized and focused throughout the event.
By following these tips, you can make the most of your time at ProMat and navigate your way through the event with ease. See you at ProMat!