How Attending LogiMAT Helps Ensure Your Adaptability and Competitiveness
LogiMAT, the world's leading trade fair for logistics, mobility, IT, and supply chain management, has been bringing together visionaries and pioneers from around the globe for over 20 years. With over 1,571 exhibitors from 39+ countries, LogiMAT showcases the full spectrum of technologies, solutions, services, and partnerships shaping modern logistics and supply chain management. As an innovation leader in logistics robotics and technology, Geek+ is excited to once again exhibit at LogiMAT 2023.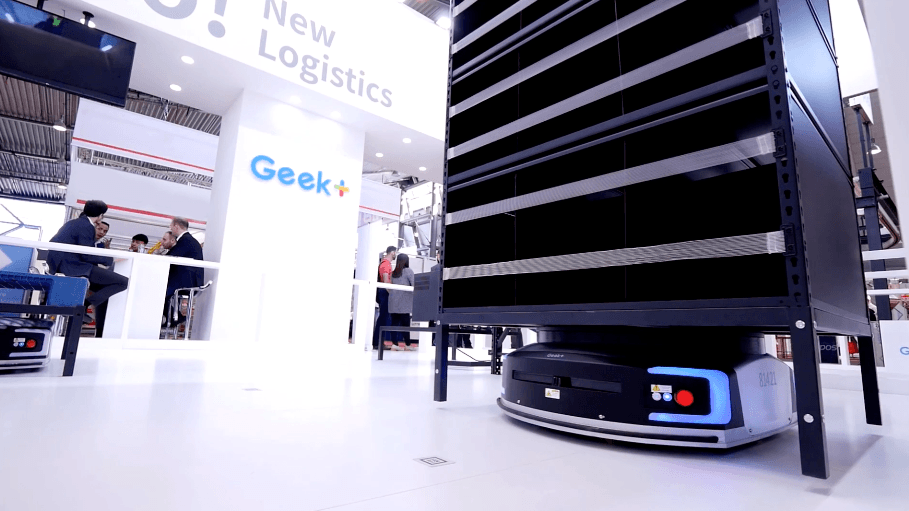 Geek+ Booth: Innovative Solutions for a Smarter Future (Hall6 Booth 6B71)

Geek+ is dedicated to developing robotic solutions and AI innovations that transform the future of logistics. At LogiMAT 2023, Geek+ will showcase a range of cutting-edge solutions and capabilities:

Cutting-edge Robotics: From mobile goods-to-person robots to sorting and SLAM robots that replace conveyors, Geek+ optimizes performance, reduces costs, and pushes the limits of efficiency with a 99.9% accuracy rate.

Sustainability Focus: Geek+ is committed to reducing waste, minimizing environmental impact, and focusing on progress. Their solutions help customers achieve sustainability goals and make a positive difference.

Future-Proof Solutions: Geek+ solutions are adaptive, configurable, and scalable to diverse and evolving business needs, helping customers stay one step ahead of change.

And More: Geek+ also offers intelligent sorting systems and warehouse management software to transform your supply chain.

Discover the Future of Logistics at LogiMAT 2023

LogiMAT 2023 provides attendees with an opportunity to experience breakthrough innovations in robotics, automation, AI, blockchain, 3D printing, and more. The event focuses on sustainable solutions, optimized processes, powerful partnerships, and the latest startups in the logistics industry. Over 250 conference sessions, workshops, forums, summits, and events allow for learning, networking, and collaboration.
10 Interesting Facts About LogiMAT
LogiMAT started in 1992 and has since become the world's leading logistics trade fair, held annually in Munich, Germany.

Over 3,500 exhibitors from 75+ countries showcase technologies, solutions, services, and partnerships in logistics and supply chain management.

LogiMAT is a platform for learning, networking, and collaboration, covering topics such as AI, robotics, sustainability, blockchain, 3D printing, cloud solutions, unmanned vehicles, and fintech.

LogiMAT honors innovative logistics solutions yearly. For 19 years, exhibitors received accolades for products streamlining supply chains, reducing costs and maximizing productivity—software, hardware and solutions automating management and material/parcel handling; established as the industry's most coveted award.

The event attracts over 100,000 trade visitors from 150+ countries, providing global exposure and connections.

LogiMAT is considered the world's leading innovation platform for logistics, supply chain management, and related industries.

Concurrent events at LogiMAT include conferences, summits, workshops, and seminars.

Extensive networking and matchmaking programs facilitate partnerships, alliances, investments, and collaborations.

LogiMAT features partnerships between providers across logistics software, hardware, services, consultancy, finance, IoT, and more.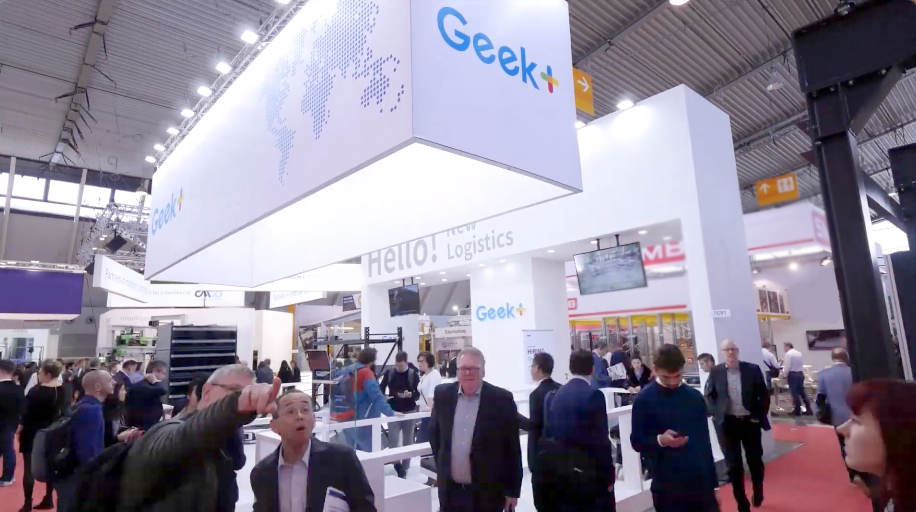 Some practical tips for LogiMAT
Plan your itinerary, bring enough business cards, dress professionally and be proactive in engaging in conversations with new contacts. Just in case this is your first time to LogiMAT, we have prepared some tips and ideas for you to have a fruitful trip in Stuttgart.
Know your target
In the same way we cannot see all the paintings in Louvre in one week, it is impossible to visit every booth at LogiMAT within 3 days. There are more than 20 exhibitor themes this year. Do the research and make a must-visit list. Go on LinkedIn to check the event participants. Connect with them and try to make appointments to guarantee the conversation will happen.
Facing the shortage of skilled labor and the need to cut costs, warehouse robotics is still growing. This year, LogiMAT devotes the entire 10,500 square meters of Hall 6 to robots. Geek+, with our latest AMR solutions, is located at 6B71.
In the European market since 2019, Geek+ has developed a local partner and supply network. Visitors can also find our robots at the booths of Meta (Hall 1, 1H01, and 1H05), Lalesse, ResinDek, UNILIN (Hall1 1B40), and Körber (Hall1 1C34).
Go to "Treffpunkt"
"Treffpunkt" is a German word that translates to "meeting point" in English. It refers to a spot where people can gather and meet up with each other.
The fair arranges both trade forums and innovation forums. High-ranking experts and industry innovators will be talking about the latest trends in intralogistics industry. Visitors with the same interests will gather at the forum. Take the opportunity to ask questions, have discussions and ask for more details about key logistics themes and innovative solutions.
Summarize the learnings and follow up with the contacts
If it is your first time at a trade show, you might experience information overload. Huge logos, big and small booths very close to each other. Exhibitors repeating their brand image, trying to grab your attention and make an impression in your mind, hoping it will linger after the show.
That's why we recommend you connect with companies like Geek+ beforehand, make appointments, and do some research so that you get closer to the information you want to gather.
Of course there will be new products and services you spot onsite. Take the marketing materials and business cards with you, and give yourself some time after the show to know more about them.
You might have a lot of new connections during the three days. Congratulations! Don't forget to follow up with them. Every new connection will help you gain a clearer map of the industry.
Take a rest and don't miss the German beer
Participating in a trade show can be exhausting. A good rest will recharge you for another energetic day. Although sleep will help you physically, a beer might be good to help the brain relax.
Over four days, LogiMAT 2023 offers a glimpse into the smart, sustainable, and transformational future of logistics. Attendees can make valuable connections, gain insights, and return home inspired to move their operations and industry forward. Don't miss this premier logistics event in Stuttgart!
Last but not the least, Geek+ experts are looking forward to meeting you at Hall6 6B71.
See you in Stuttgart. Prost!