As one of the fastest rising technologies in the logistics industry, Autonomous Mobile Robots (AMRs) are gaining the attention of supply chain managers across a multitude of industries. AMRs are well-known for their ability to boost the efficiency and productivity of order fulfillment operations. But before signing the papers for your new fleet of shiny AMRs, let's take some time to understand how the ROI of AMRs could be calculated and the possibility of hidden expenses in the purchase.
Table of Contents:
All the Costs that go with your AMR
Advantages/Benefits that Justify the Cost of AMR
Calculating the ROI of your AMR
Examples of Companies Getting a Positive ROI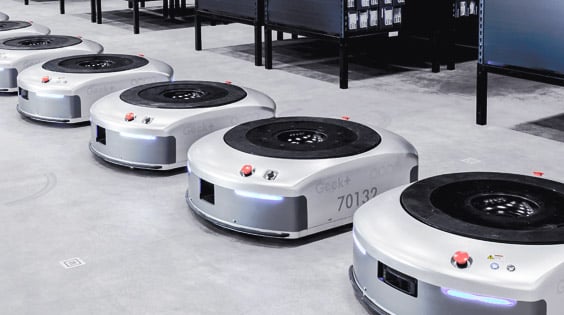 All The Costs that Go With Your AMR
In addition to the cost of robot hardware, software, and accessories that are commonly quoted upfront by an AMR supplier, there are additional costs that may be incurred when ensuring the smooth integration and operations of the AMRs to the business's existing systems.
Setup & Initial Configuration Cost
While it is true that compared to traditional industrial systems like AGVs, AMRs boast a simpler configuration, there will still be time and effort incurred to get an AMR up and running. Time and manpower will be taken out of their usual roles to modify and adapt the environment to be compatible with the movement of AMRs. There will also need to be time and effort spent to create the maps or paths that AMRs rely on for their movement, and subsequent re-mapping to refine the routes for improved efficiency.
Deployment Cost
While deployment is generally fast, there is likely to be a period of transition where your employees will need time to become acquainted, familiar, and confident in operating the AMR. Lack of adequate training or user-unfriendliness of the AMR could lead to deployment delays.
Training Cost
As part of the configuration and deployment, training costs will need to be factored in. If your workforce has had little or no prior experience in operating robots, it would be wise to factor in greater time as well as training to equip your employees with the skillset and know-how in human-robot collaboration and AMR software interfaces.
Reconfiguration Cost
When work or project objectives are changed, AMRs might need to be reconfigured to match the change. AMRs that are not easy to reconfigure, or complicated to use, can cause downtime on your operations and lead to additional costs.
Advantages/Benefits that Justify the Cost of AMR
As important it is to see the full picture of the costs of implementing AMRs, it is also crucial to keep in mind the cost justifications for AMRs. As with any other technology, costs are involved in AMR implementation, but in the long run, successful implementation and operations of AMRs can become a key driver of cost efficiency and overall productivity.
Reduced labor costs
AMRs can be highly flexible in the way they augment your workforce – they can either replace a sizeable portion of unskilled labor, or they can complement workers to make them more efficient and productive. In the long run, these translate into significant labor savings.
Better safety and a lower rate of accidents
While human workers are limited by health and fluctuating energy levels, robots are comparably more consistent, if they are maintained well. They improve workplace safety and reduce the number of mistakes in your operations – saving costs from damaged equipment and repairs.
Better overall affordability
Compared to conventional automation systems out there, AMRs win in overall affordability, without the need for big investments to renovate environments and add infrastructure. AMRs have relatively quick deployment ranging from a few weeks to a few months, and the number of AMRs can be easily scaled up or scaled down depending on the operational need.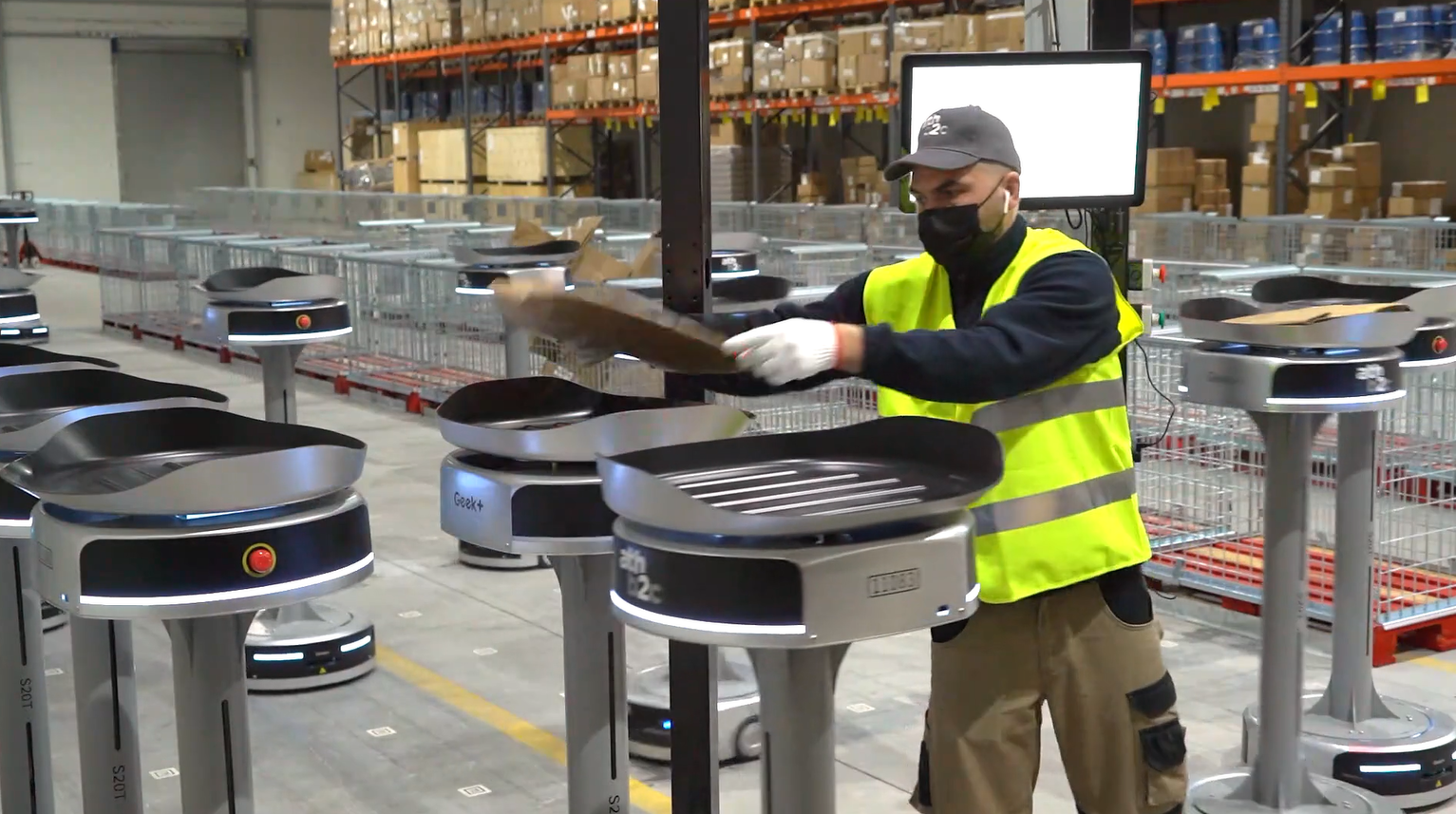 Calculating the ROI for your AMR
One useful metric is calculating the ROI payback period for your AMR investment.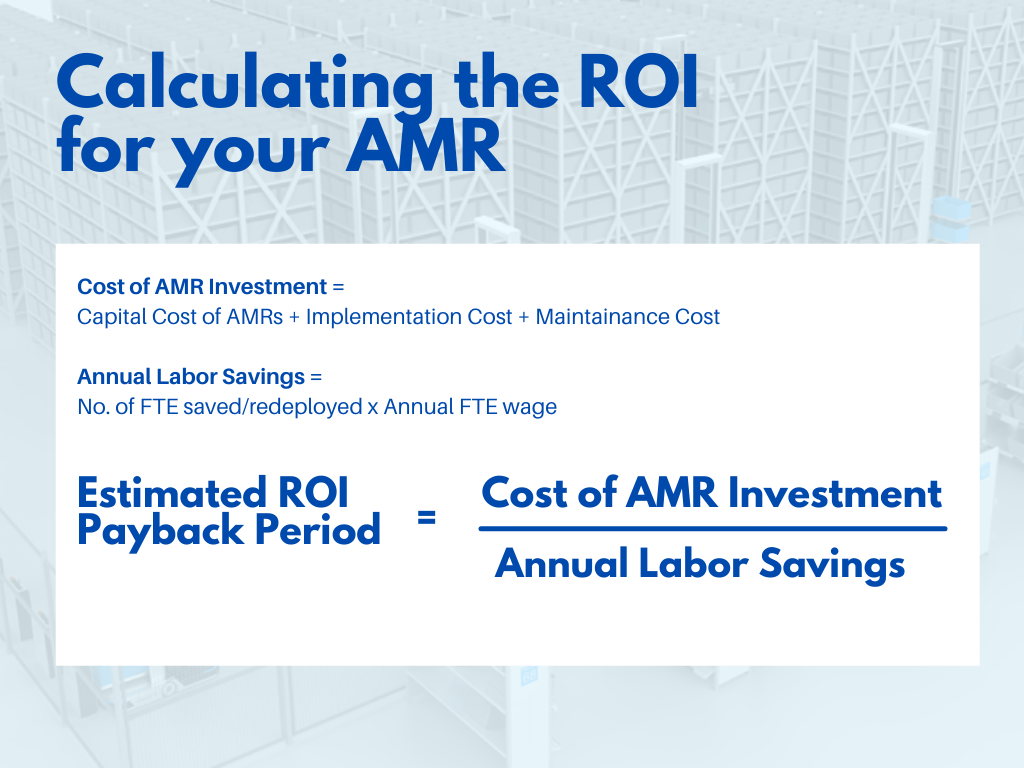 To calculate the ROI payback period (or in other words - how many years it would take for you to recoup the cost of investment in AMRs and begin generating a positive ROI), you would first need to calculate the total cost of AMR investment. This includes the capital cost, implementation cost and maintenance cost of the purchased AMR fleet, and can even include other hidden costs as mentioned in this article such as deployment costs, training costs and reconfiguration costs.
Secondly, you would need to calculate the annual labor savings from the AMR investment. For example, that can look like calculating the annual wages of your FTEs that you have reduced or redeployed from your warehouse after the introduction of AMR solutions.
Divide the cost of AMR by the annual labor savings to get your estimated ROI payback period.
Examples of companies getting a positive ROI
At Geek+, we have helped countless businesses achieve high ROI on their AMR investments. Check out these three success stories, which are only a few out of many.
Case study 1: Yanfeng
Yanfeng is a world leader in automotive interiors focused on product development, system integration, and design. In their production process, they faced the challenge of low efficiency of moving materials to production line, difficulties managing inventory, long material transportation path, poor visibility of the manufacturing flow and high error rates.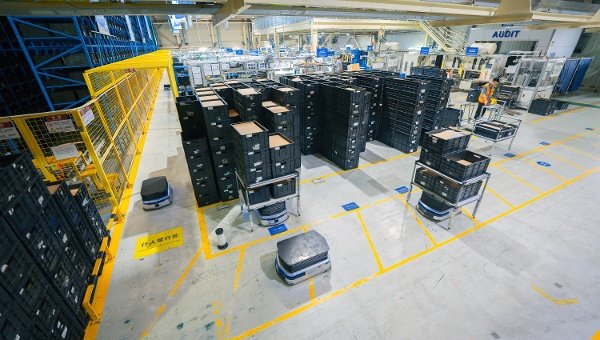 Geek+ provided Yanfeng with moving robots M100 for transferring raw materials to production lines. By connecting Geek+ Moving System (GMS) to WMS and MES, it enabled real-time visibility of the manufacturing process. This helped Yanfeng achieve lower labor costs, 99% material handling accuracy, and effective real-time monitoring of manufacturing process.
Case study 2: Konica Minolta
Konica Minolta is a Japanese multinational technology company with offices in 49 countries worldwide manufacturing business and industrial imaging products for the production printing market. They faced the challenge of low operating efficiency of material delivery, high maintenance costs, poor timeliness, and high labor-intensity in their warehouse that was still staffed with traditional technologies like AGVs.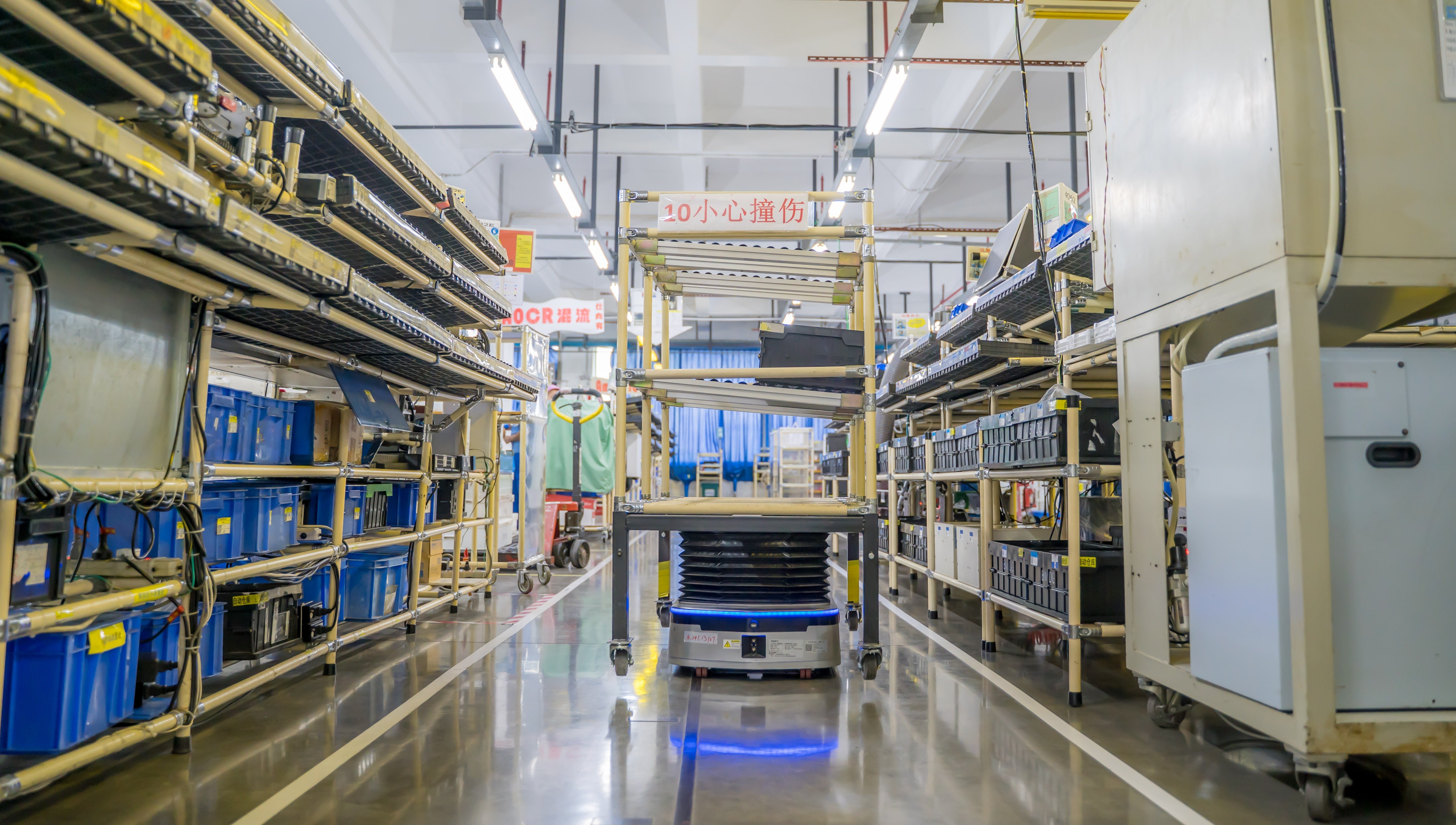 Geek+ provided Konica Minolta with 10 P800 robots in the warehouse with integration to the Geek+ iWMS , achieving precise management of materials.
Along with that, 3 M100 robots featuring SLAM navigation at the production line was also implemented for the delivery the materials from warehouse to production line. All these led to stock-taking frequency reduced by 92%, material delivery efficiency increased by 31~42%, and storage area saved by more than 32% for Konica Minolta.
Case study 3: Decathlon
Decathlon is the world's largest sporting goods retailer, specializing in the mass sports market, integrating the entire production chain of sports product design, R&D, production, branding, logistics, and retail. With the rapid growth of their e-commerce business, Decathlon faced the challenge of low picking efficiency that was unable to keep up with the rising demand.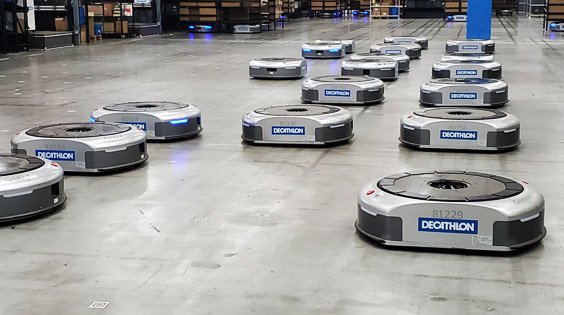 Geek+ provided innovative warehousing solutions for Decathlon's massive Kunshan warehouse: an RFID technology-based goods-to-person picking and inventory program. The project area was about 2,000 square meters, with 46 P800 robots, 7 picking stations, and 7 single-point stations. The total inventory of the warehouse is nearly 300,000, involving more than 20,000 SKUs.
The AMR implementation was highly effective, with shipment capacity increasing to 40,000 pieces/day, picking efficiency reaching 300 pieces/hour, which was a 300% increase from manual picking. The picking system integrated with RFID technology stood at a picking accuracy rate of 99.99%, greatly improving inventory management. New implementation of single-point stations saved space and made Decathlon's operations more flexible.
AMRs have proven to be greatly valuable in the digital transformation of warehouse operations across diverse industries, justifying their investment. To learn more about how Geek+ AMR solutions have changed the game for other businesses, check out the rest of our case studies.
---
Get in Touch with us
---