HONG KONG, March 15, 2022 – Leading online retailer YesAsia, owner and operator of retail websites YesAsia.com and YesStyle.com, will set up a smart fulfillment center using Geek+'s Autonomous Mobile Robots (AMRs) to provide faster and more flexible delivery of goods to customers.
The rapid growth of e-commerce has greatly impacted the logistics industry. To meet the surge in online orders, YesAsia will make operational changes by introducing cutting edge robotics and automation to its newly rebranded fulfillment center. The collaboration between Geek+, the global AMR leader, and YesAsia will further advance smart logistics in this new era of e-commerce.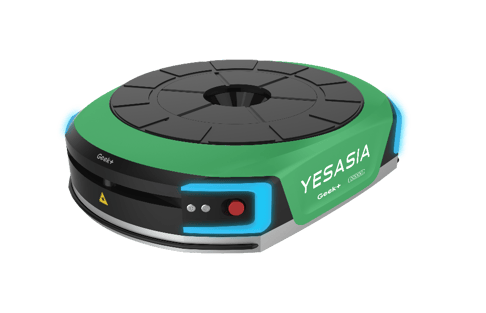 YesAsia.com and YesStyle.com will deploy Geek+'s autonomous mobile robots (AMRs) in their smart fulfillment center.
As an online retail pioneer of Asian products since 1998, YesAsia understands the importance of staying ahead of trends and providing excellent services to customers. In response to the spiking demand for e-commerce services during the pandemic, YesAsia actively sought an experienced partner to provide innovative, state-of-the-art solutions for its entertainment retail site YesAsia.com and its high-growth fashion and beauty retail site YesStyle.com. Geek+ proved to be a perfect fit with its vast knowledge and experience in tailoring robotic automation solutions for e-commerce retailers.
YesAsia.com and YesStyle.com currently serve millions of customers from all over the world, including in North America, Europe and Australia. Geek+'s customized robotics will aid YesAsia to efficiently deal with the overwhelming orders from its international customer base, while driving innovation and boosting customer satisfaction. When fully operational, YesAsia's smart fulfillment center will be the first of its kind in Hong Kong to fulfill e-commerce orders to millions of customers globally.
| | |
| --- | --- |
| YesStyle.com is an authorized retailer for numerous Asian beauty brands such as South Korean cosmetics label CLIO. | YS by YesStyle is a private label from YesStyle offering timeless fashion basics focusing on quality. Many of these simple pieces are made with eco-friendly sustainable materials, such as organic cotton and recycled polyester. |
Joshua Lau, CEO of YesAsia, said, "The smart warehouse upgrade demonstrates our determination to continue providing the best service and shopping experience to customers of YesAsia.com and YesStyle.com. We are glad to work with Geek+, a like-minded and reliable partner that specializes in logistics automation and has a deep understanding of the retail and apparel industries."
Lit Fung, VP and Overseas Managing Director of Geek+ said, "With our intelligent robots and smart algorithms, we will empower YesAsia to develop an agile and flexible supply chain aimed at the booming, fast-paced E-commerce market, helping the enterprise to quickly respond to market changes."
Geek+'s Goods-to-Person Picking solution will empower YesAsia to build an agile and flexible supply chain.
The YesAsia smart fulfillment center will be launched in the middle of 2022. It is expected to handle over one million orders in the first year of operation for YesAsia.com and YesStyle.com customers around the globe.
About YesAsia
Established in 1997, YesAsia is an online retailer headquartered in Hong Kong which engages in the procurement and sale of Asian fashion & lifestyle, beauty and entertainment products to customers around the world. YesAsia has developed proven E-commerce platforms operated by a team that has, since 1998, accumulated over 20 years of experience in operating E-commerce businesses, as well as cultivated regional and global online markets for Asian products.
For more information, please visit: www.yesasiaholdings.com
About Geek+
Geek+ is a global technology company leading the intelligent logistics revolution. We apply advanced robotics and AI technologies to realize flexible, reliable, and highly efficient solutions for warehouses and supply chain management. Geek+ is trusted by over 500 global industry leaders and has been recognized as the world leader in autonomous mobile robots. Founded in 2015, Geek+ has over 1500 employees, with offices in Germany, the United Kingdom, the United States, Japan, South Korea, Mainland China, Hong Kong SAR, and Singapore.
For more information, please visit: www.geekplus.com
For any media queries, please contact:

Geek+
Joey Chan
Senior Marketing Executive
Email: joey.chan@geekplus.com
Tel: +852 3462 2128
YesAsia

DLK Advisory
Tel: +852 2857 7101
Fax: +852 2857 7103
Email: pr@dlkadvisory.co