Geely Auto Group, a leading automotive manufacturer in Asia, has joined forces with Geek+, a global leader in warehousing robotics, and JD Logistics, a technology-driven supply chain solutions provider, to usher in a new era of intelligent logistics in the automotive industry. This strategic collaboration demonstrates a significant leap forward in optimizing operations and enhancing efficiency within the sector.
Reinventing Logistics for the Future
Geely Auto Group, known for its commitment to becoming the most competitive and esteemed regional automotive brand, houses brands including Geely Auto, Lynk & Co, and Geometry. The year 2020 marked a turning point for Geely as they embarked on a modular approach with BMA, CMA superstructures, SPA, and SEA architecture, shaping the foundation for a comprehensive modular era. By October 2020, Geely had achieved an unprecedented milestone, selling over 10 million vehicles worldwide and claiming the distinction of being the first Asian automotive brand to achieve such a feat.
At its Xi'an manufacturing base, Geely Auto Group operates a cutting-edge "dark factory," where CMA and SEA platform modular car production is in full swing. With a sprawling 100,000 square-meter RDC warehouse, responsible for storing components from 400+ suppliers and 7000+ parts, Geely recognized the pressing need to optimize storage, picking efficiency, and accuracy in the wake of rapid domestic automobile consumption growth.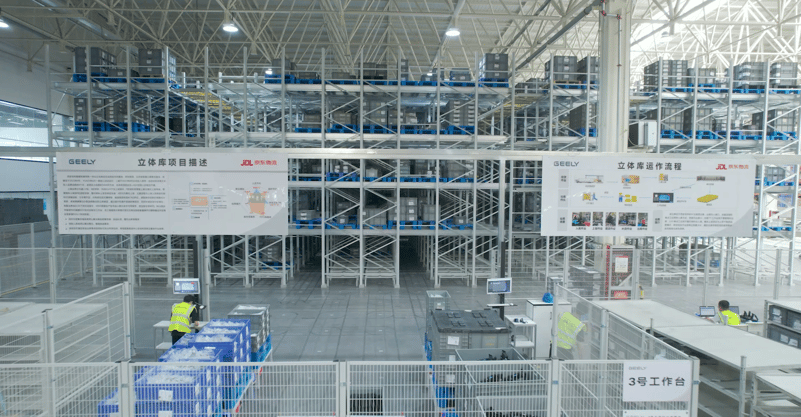 Revolutionizing Smart Logistics in the Automotive Industry: Geely Auto Group Collaborates with Geek+ and JD Logistics
To tackle these challenges head-on, Geely Auto Group partnered with JD Logistics and Geek+ to introduce an innovative solution. The Four-way Shuttle ASRS solution was seamlessly integrated, revolutionizing the entire process from inbound storage to efficient picking. This cutting-edge system optimizes storage by utilizing upper levels (2-5 floors) with the X1200 four-way shuttle and intelligent high-speed lift, while ground-level picking is handled by the P800 robot for efficient transportation and intelligent selection.
The results of this collaboration are nothing short of remarkable:
A staggering 8000 square meters of space saved

A remarkable 60% increase in efficiency

Inventory accuracy levels reaching an impressive 99%

A flawless 100% execution rate of the First-In-First-Out (FIFO) principle
The adoption of the Four-way Shuttle ASRS solution enabled Geely Auto Group to achieve efficient dual-effect storage and picking optimization. The intelligent system's algorithms drive full automation, ensuring precise stock replenishment based on real-time production line orders, supermarket inventory levels, and order demands. This innovation effectively minimizes travel distance, optimizes equipment efficiency, and streamlines inventory management.
The success of this project is echoed by Ma Xiaolong, Project Lead of the Xi'an Geely Auto Project, who highlights how the advanced intelligent logistics solution from Geek+ has not only boosted operational efficiency and cost-effectiveness but has also ushered in an era of intelligent, lean, and integrated logistics management. Geely Auto Group is proud to partner with Geek+ and JD Logistics, two trusted allies, in driving forward the industry-wide transition to data-driven transformation.
For media inquiries, please contact:
Benjamin Nylin
Geek+
Global PR and Communications Manager
benjamin.nylin@geekplus.com
Tel: +1.470.428.5624
About Geek+
Geek+ is a global leader in robotic solutions for logistics. We develop Autonomous Mobile-Robot (AMR) solutions to realize flexible, reliable, and highly efficient automation for warehouses and supply chain management. Geek+ is trusted by over 700 global industry leaders and has been recognized as the world leader in autonomous mobile robots. Founded in 2015, Geek+ has over 1,500 employees, with offices in the United States, Germany, the United Kingdom, Japan, South Korea, Mainland China, Hong Kong SAR, and Singapore.
For more information about Geek+, please visit: https://www.geekplus.com/
About Geely Auto Group
Geely Auto Group stands as a trailblazer in the Asian automotive landscape, aiming to be the most competitive and respected regional automotive brand. With brands including Geely Auto, Lynk & Co, and Geometry, Geely initiated a groundbreaking shift in 2020 by embracing modular approaches such as BMA, CMA superstructures, SPA, and SEA architecture. By October 2020, Geely's global cumulative sales exceeded 10 million vehicles, marking a historic achievement for an Asian automotive brand. For more information about Geely Auto Group, please visit: https://www.geely.com/
About JD Logistics
Initiating self-built logistics in 2007, JD Logistics Group was formally established in April 2017. Listed on the Hong Kong Stock Exchange in May 2021, JD Logistics is a technology-driven supply chain solutions and logistics services provider. Driven by technology, its mission is to lead efficient global circulation and sustainable development, aiming to be the world's most trusted supply chain infrastructure services provider. For more information about JD Logistics, please visit: https://www.jdl.com/