SAN DIEGO, December 29, 2021 - Geek+, a global leader in robotics technology, is proud to announce that it has won Material Handling Product News's 2021 Readers' Choice Products of the Year Award in the mobile robotics category with RoboShuttle RS8-DA, an 8-meter high, flexible-armed robot for high-density storage.

The Awards honor the achievement of companies for advances in materials handling systems and equipment within manufacturing, distributions centers, and warehouses.

Yixin Bai, Senior Product Manager at Geek+, says: "We are honored to receive this award and see it as a recognition of the ability of our R&D team to develop flexible, safe, and efficient products that solve complex logistics scenarios by optimizing precious warehouse space intelligently. We will continue to create innovative solutions that help businesses to streamline logistics operations and address warehouse challenges."
Built on a slim and robust chassis design and flexible frame, and featuring double-deep telescopic fork arms, the RS8-DA robot can navigate narrow aisles and reach high shelves safely and efficiently, increasing picking efficiency by three times. Compatible with totes, cartons, or boxes of varying width and racks up to 8 meters high, RoboShuttle maximizes space utilization. The multilevel robot can be used in a variety of warehouse operations across cosmetics, apparel, e-commerce, pharmaceuticals, 3C, automobile manufacturing, and many other industries.
Today, RoboShuttle has already been deployed in over 10 countries and has brought world-class picking accuracy and efficiency to high-density warehouse operations.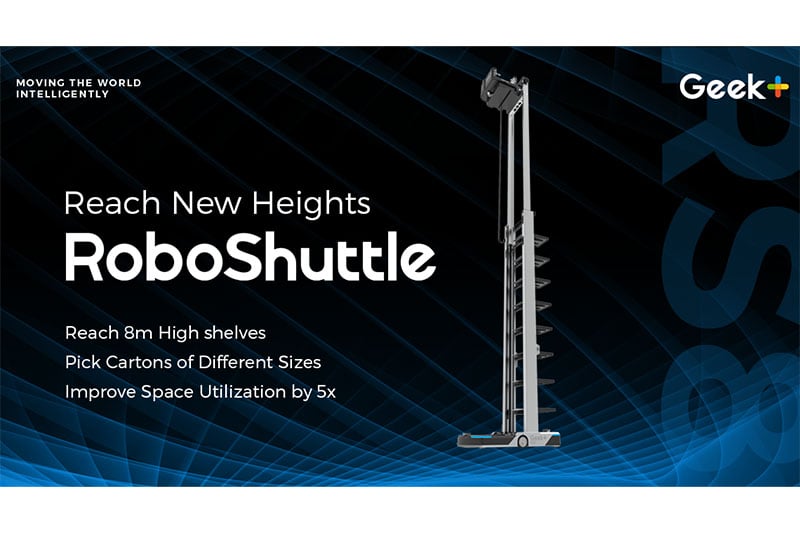 About Geek+
Geek+ is a global technology company leading the intelligent logistics revolution. We apply advanced robotics and AI technologies to realize flexible, reliable, and highly efficient solutions for warehouses and supply chain management. Geek+ counts 300 global customers and more than 20,000 robots sold worldwide. Founded in 2015, Geek+ has over 1500 employees and is headquartered in Beijing, with offices in Germany, the United Kingdom, the United States, Japan, Mainland China, Hong Kong SAR, and Singapore.

For more information, please visit: https://www.geekplus.com/en


For inquiries, please contact:
Lee Turner Kodak
PR and Communications Manager
lee.kodak@geekplus.com