- Geek+ was among the winners that came out on top of a field of almost 11,000 entries from around the world.

- Gamification-oriented approach improves worker experience and helps track ESG goals.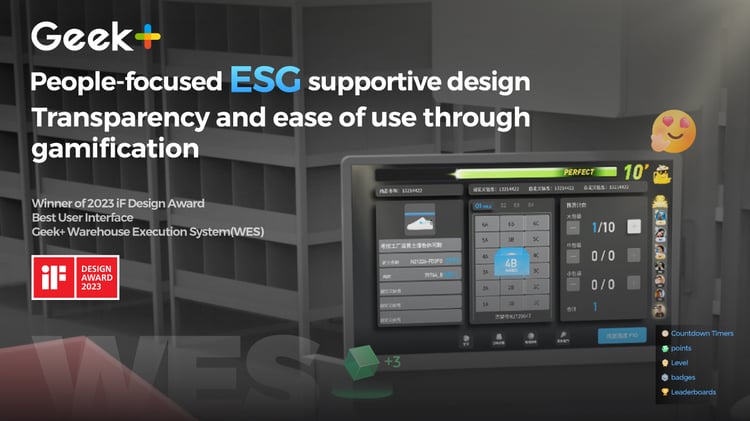 DÜSSELDORF, April 18, 2023 – Geek+, the global leader in mobile robots, has won this year's world-renowned iF DESIGN AWARD. The winning product, Geek+'s warehouse execution system (WES), won in the User Interface discipline, in the Interfaces for Digital Media category. Hannover-based iF International Forum Design GmbH, the world's oldest independent design organization, organizes the iF DESIGN AWARD each year.

Brian Lee, Head of EMEA at Geek+, said: "It's an honor to win this award for the design of our software. We are a robotics company, known for our world-leading hardware, but one of the main keys to our success is the ingenuity we put into the software that makes our robots move so effectively and efficiently and makes them so easy to use. Thank you to iF for recognizing our efforts!"

The Geekplus WES is a warehouse task execution system that goes beyond task scheduling to optimize and balance the collaboration between multiple automated units. The system has a people-focused ESG-supportive design that incorporates ideas and theories of gamification to make it easy and enjoyable for warehouse employees to use, a key principle of sustainable design. The WES has been applied in several industries including, e-commerce, pharmaceuticals, and the automotive industries, among others.

Geek+'s immersive and interesting warehouse execution system won over the 133-member jury, made up of independent experts from all over the world, with its ability to schedule warehouse tasks and coordinate fleets of robots to maximize efficiency and throughput. The competition was intense: almost 11,000 entries were submitted from 56 countries in hopes of receiving the seal of quality.
About Geek+

Geek+ is a global leader in robotic solutions for logistics. We develop Autonomous Mobile-Robot (AMR) solutions to realize flexible, reliable, and highly efficient automation for warehouses and supply chain management. Geek+ is trusted by over 700 global industry leaders and has been recognized as the world leader in autonomous mobile robots. Founded in 2015, Geek+ has over 1500 employees, with offices in Germany, the United Kingdom, the United States, Japan, South Korea, Mainland China, Hong Kong SAR, and Singapore

For more information, please visit: https://www.geekplus.com/
About the iF DESIGN AWARD
Since 1954, the iF DESIGN AWARD has been recognized as an arbiter of quality for excellent design. The iF Design brand is renowned worldwide for outstanding design services, and the iF DESIGN AWARD is one of the most important design prizes in the world. It honors design achievements in all disciplines: product, packaging, communication and service design, architecture and interior architecture as well as professional concept, user experience (UX) and user interface (UI). All award-winning entries are featured on www.ifdesign.com.
For inquiries, please contact:
Marie Peterson
Director of marketing and communications
marie.peterson@geekplus.com
Tel: +33 69 501 0346