- Geek+ robots achieved a groundbreaking milestone of 10 billion pieces picked in a single year

- Achievement follows recent industry record of 140,000 tons of carbon emissions saved in 2022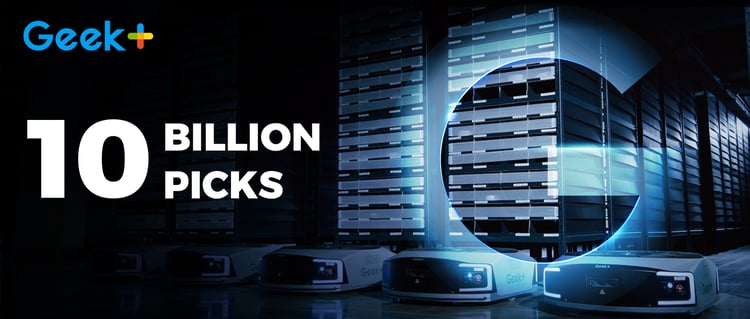 CHICAGO, March 20, 2023 – Geek+, the global leader in mobile robots, has announced that its combined worldwide fleet of robots picked ten billion pieces over the course of the past year. The company's goods-to-person picking solutions deployed around the world have covered great distances, handled huge volumes of stocks, and, as a result, contributed greatly to the goals of making logistics more efficient and sustainable.
Yong Zheng, Founder and CEO of Geek+, said: "We are very proud of what we have achieved recently. The amount of merchandise that our robots have handled, coupled with the savings in time and energy, demonstrate that mobile robots are a technology for today's problems and a brighter future."
Geek+'s picking robots traveled more than 175 million kilometers throughout the year, which is more than the distance from the Earth to the sun. Each day, the number of items managed by Geek+ robots and warehouse management systems reached as much as 750 million.
These combined efforts saved Geek+ customers over 17 000 hours of laborious manual tasks during the year. By switching from manual operations to robotic automation, these Geek+ operators could replace inefficient logistics equipment with modern mobile robots that do not require electric lighting, heating, or air-conditioning. The result was a savings of over 16 million kilowatt hours of energy. This translates into 140 000 tons of carbon emissions: To transport the equivalent amount of coal would require 887 trains.
Over the past year, Geek+ has added new projects and expanded its collaboration with existing clients and continued to learn from its successes. The software behind Geek+'s warehouse management systems was optimized to boost robot efficiency by 15%. Geek+ will continue to improve and enhance its technology and expects further gains in sustainability and efficiency in 2023.
In North America, where Geek+ has been present since 2019, the company has deployed more than 4000 robots in 24 locations. In 2022, Geek+ secured partnerships to expand into Canada and Brazil. Also, Geek+ has expanded its operations by adding a 1400m2 experience center and two new offices in North America, with over 100 employees.
Speaking from the ProMat 2023 show in Chicago, Zheng added: "The United States is one of the most important countries for us, and seeing the enthusiasm there is here for new automation technology is extremely exciting. I'm confident that our team and our technology can push Geek+ toward new heights of excellence."


About Geek+

Geek+ is a global leader in robotic solutions for logistics. We develop Autonomous Mobile-Robot (AMR) solutions to realize flexible, reliable, and highly efficient automation for warehouses and supply chain management. Geek+ is trusted by over 700 global industry leaders and has been recognized as the world leader in autonomous mobile robots. Founded in 2015, Geek+ has over 1500 employees, with offices in Germany, the United Kingdom, the United States, Japan, South Korea, Mainland China, Hong Kong SAR, and Singapore.

For more information, please visit: https://www.geekplus.com/
For inquiries, please contact:
Marie Peterson
Director of marketing and communications
marie.peterson@geekplus.com
Tel: +33 69 501 0346
Lee Turner Kodak
PR and communications manager
lee.kodak@geekplus.com
Tel: +49 0172 512 2909