Returned items put back on sale in record time

Customized Goods-to-Person Picking system with 4-sided rack design significantly increases pick and put-away rates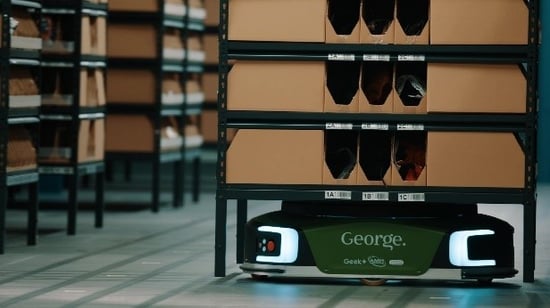 WARRINGTON, November 29, 2022 – Geek+, the global leader in autonomous mobile robots, is excited to announce the successful collaboration with Asda Logistics Services (ALS) and AMH Material Handling to launch a new goods-to-person picking and returns system for Asda's clothing brand, George. With the system, Asda will be able to handle peak season fulfillment and regular returns simultaneously at the same location.
This customized Geek+ P800 returns solution features a four-sided rack design, which significantly increases overall pick and put-away rates. With a 4-sided pick face, operators who stay in the workstation can carry picking for fulfillment and put-away for return orders from any open slot once the rack is presented in front of them. Not only is it more user-friendly for the operator, but it also speeds up the return cycle and allows returned items to be put back on sale in the shortest amount of time. In addition to processing 7200 units with 700 SKUs every day, the solution allows Asda to have fewer racks but more storage location.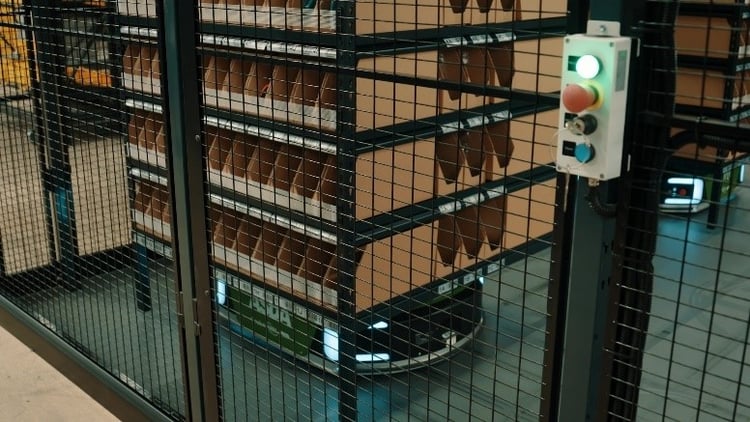 Lit Fung, VP and Managing Director, International Business at Geek+, said: "I am proud that another Asda site is opening in the UK for fulfillment and returns. Right in time for peak season, our system is uniquely positioned to handle returns. We accompany our customers as they grow their businesses, and the replication of success from our first project is proof of the value of our solutions."
Chris Hall, Vice President, Asda Logistics Services said: "I'm delighted to see this project going live supporting the growth of our George.com business. This has been a real collaborative effort across our internal teams, AMH, and Geek+. This is our second AMR installation in the network and I can see the value automation brings to supporting the colleague experience."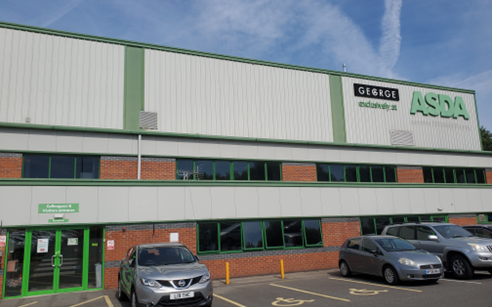 This project is an extension of previous successful cooperation. The replication reflects the customers' endorsement of Geek+ products and services and satisfaction with the efficiency and accuracy improvements brought them.
Adrian Carter, Sales Director at AMH Material Handling, said: "I am profoundly proud of the solution we have managed to create together with Asda and Geek+. This solution is of excellent quality and provides the benefits we promised."
The cost of handling returns is a big issue for e-commerce businesses. Reports show that the "reverse logistics" of returns cost UK retailers £60 billion a year.* Businesses' profit margins are being eroded by these significant costs. There is continuing growth in the business of Asda's clothing brand, George. As a result, Asda's warehouse return operations are expected to experience significantly increased pressure. The cutting-edge Geek+ solution helps Asda reduce the time required for stocking back returned items, reducing the impact on return processing.


About Geek+
Geek+ is a global technology company leading the intelligent logistics revolution. We apply advanced robotics and AI technologies to realize flexible, reliable, and highly efficient solutions for warehouses and supply chain management. Geek+ is trusted by over 500 global industry leaders and has been recognized as the world leader in autonomous mobile robots. Founded in 2015, Geek+ has over 1500 employees, with offices in Germany, the United Kingdom, the United States, Japan, South Korea, Mainland China, Hong Kong SAR, and Singapore.
For more information, please visit: https://www.geekplus.com/


About AMH Material Handling
AMH Material Handling is a leading UK distributor for Geek+ robotics and AI logistics solutions. A successful material handling integration business with proven innovative materials handling solutions. Our vision is to lead the way through design and innovation, utilising the latest robotics and AI technologies that demonstrate the benefits to all of our customers.
Starting at the concept and design stage through to final implementation and onto maintenance & service we provide a first-class service to ensure long-lasting relationships with our customers.
Founded in 2015, AMH Material Handling is UK based and has offices in both Stoke -On-Trent and Halesowen employing over 60 employees nationwide.
About Asda Logistics Services
Asda Logistics Services [ALS] is a division of Asda Stores Plc, supporting nationwide distribution across all five of the business's store formats, as well as the retailer's Asda toyou service and the delivery of parcels to customers' homes.
The ALS distribution network includes 20 food depots, three clothing centres, two core hub National DC's, two import centers, five dot.com fulfillment centers, a national sortation centre and nine ASCs.
In 2015, ALS launched Asda toyou as an end-to-end solution to support the collection and return of parcels from more than 600 locations. Today the service allows customers to conveniently pick up and return parcels at their local Asda store via George.com and over 100 online and High Street retailers, with real-time parcel tracking, automated parcel collections and QR code technology to support the printing of returns labels and parcel collection in store.
For inquiries, please contact:
Marie Peterson
Director of marketing and communications
marie.peterson@geekplus.com
Tel: +33 69 501 0346
Lee Turner Kodak
PR and communications manager
lee.kodak@geekplus.com
Tel: +49 0172 512 2909