Geek+, the global AMR leader, together with comprehensive solution provider Engero, have deployed a fleet of Geek+'s moving robots to create a smart, unmanned cold chain port warehouse in the port of Tianjin, one of China's largest and busiest. Thanks to Geek+'s solutions, the warehouse has seen improvements of 35% in storage, 42% in handling efficiency, and to 99.99% in handling accuracy.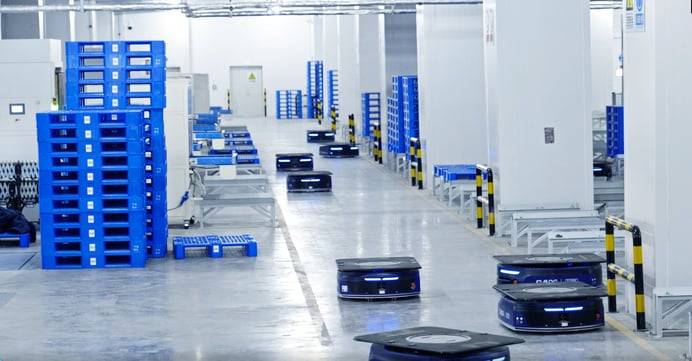 Thanks to globalization, the cold chain logistics market is heating up as consumers pursue quality, fresh ingredients. Tianjin, the gateway to Beijing and a hub for China's massive import and export businesses, is the first stop in China's cold chain logistics network, and here, the trend is plain to see: The new smart cold chain warehouse provides low-temperature warehousing and other services in an area of over 30,000 square meters.
Geek+'s highly flexible autonomous mobile robots and advanced algorithm strategies are the twin engines driving the improvement and modernization of cold chain warehouse. Due to the extreme conditions, manual operations are by nature not well-suited to cold chain logistics operations and quickly become inefficient and even dangerous. Geek+'s AMRs can operate stably at low temperatures 24 hours a day, seven days a week, reducing the need for people to endure extreme, unpleasant working conditions.
A further benefit of robotic automation of cold chain logistics is a reduction in risks to workers' health and goods' safety. Upon arrival in the port, goods requiring cold chain storage are carried by Geek+'s MP1000R moving robots to the depot area for customs inspection and disinfection, before entering the storage area for further processing and distribution.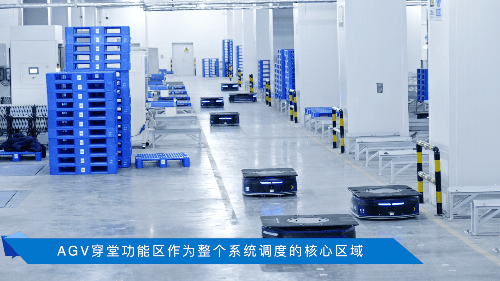 Geek+ robots autonomously handle all aspects of warehouse operations.
Within the warehouse, Geek+ robots interact and collaborate with different intelligent devices to handle the whole logistics process: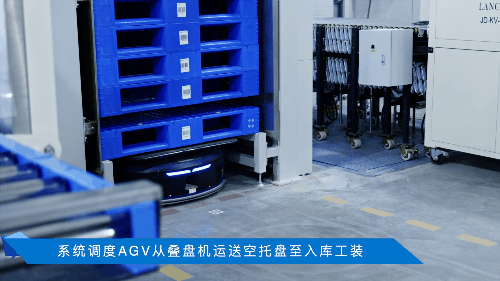 Geek+ robots automate pallets scheduling.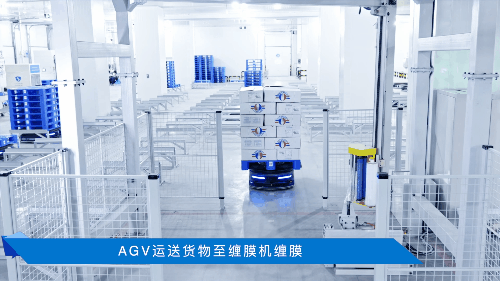 Cargo can be packaged automatically.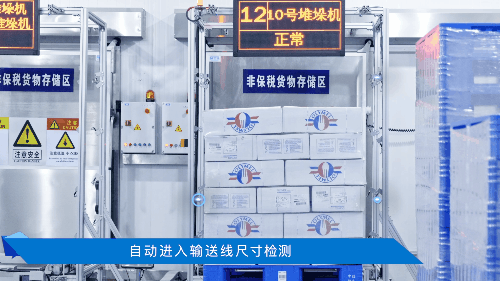 Geek+ MP1000Rs distribute goods automatically to the conveyor line for inspection.
AI algorithms optimize the robots' routes with intelligent queuing strategies to avoid traffic jams in narrow passages and drive efficient cluster scheduling. 360° laser obstacle avoidance and omnidirectional sensing allow the MP1000Rs to navigate in narrow aisles, maximizing storage space density and further ensuring worker safety. The robot's self-rotating jack allows for great flexibility with minimal space occupied when moving pallets, meaning that warehouses can be upgraded with a minimum of fuss.
Geek+'s artificial intelligence is seamlessly integrated into the warehouse control system and oversees the operations of the whole fleet. The warehouse operates under the "cloud warehouse" management mode and all process data can be traced. This enables centralized inventory management, online billing, and real-time information flows, which greatly improve efficiency and makes it easy to keep tabs on the whole process.
The facility in Tianjin is the world's first fully-automated cold chain port warehouse, but it is far from the last. Geek+ will continue to work together with Engero to implement its innovative technology to extend this new industry benchmark to further cold chain logistics providers!
About Geek+
Geek+ is a global technology company leading the intelligent logistics revolution. We apply advanced robotics and AI technologies to realize flexible, reliable, and highly efficient solutions for warehouses and supply chain management. Geek+ is trusted by over 500 global industry leaders and has been recognized as the world leader in autonomous mobile robots. Founded in 2015, Geek+ has over 1500+ employees, with offices in Germany, the United Kingdom, the United States, Japan, South Korea, Mainland China, Hong Kong SAR, and Singapore.
For more information, please visit: https://www.geekplus.com/
About Engero
Engero is a professional smart logistics and integrated solutions provider that helps customers to improve efficiency, reduce costs, and improve management through automation and smart technologies. At present, Engero conducts business throughout China, and has won the trust and recognition of its customers.
For inquiries, please contact:
Lee Turner Kodak
Geek+
PR and Communications Manager
lee.kodak@geekplus.com
Tel: +49 0172 512 2909