The logistics industry is undergoing profound changes in the era of intelligence, also has been forced to improve efficiency by customer demand, enterprise transformation, and social development. To catch up with the trend, FAW Group, a state-owned automobile enterprise with a yearly output of 3 million vehicles, has built up a research center for intelligent logistics technologies. It combines the development trend of global logistics technology to provide application scenarios and experimental sites for new technologies.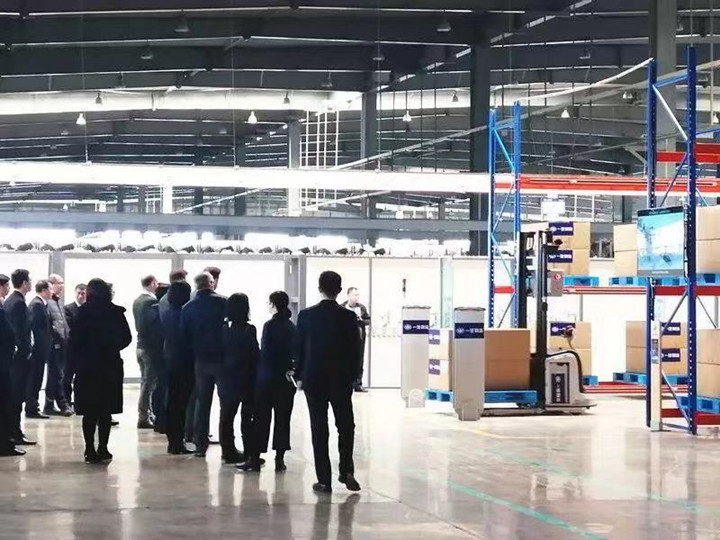 - Executives of Volkswagen Germany visited Geek+ Automated Forklift operation
As a world-class AI & Robotic solution provider, Geek+ is proud to join in the FAW Logistics Lab. Its automated forklift has been applied in the automatic logistics system of FAW Changchun HQ factory. Two units are operating in high-rise warehouse for heavy-load auto parts, autonomous storage and retrieval, material handling, mechanical arm collaboration, and conveyor line integration.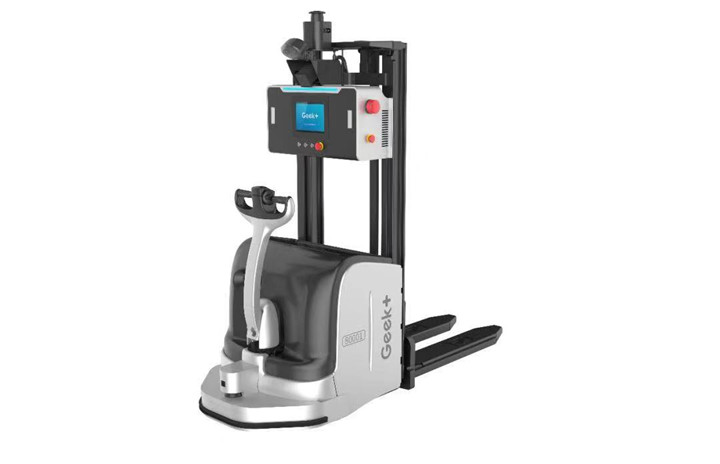 - Geek+ Automated Forklift F14L
Work efficiency has been greatly improved by implementing automated forklift in the factory, as well as less labor density, operation accuracy and reducing the risks.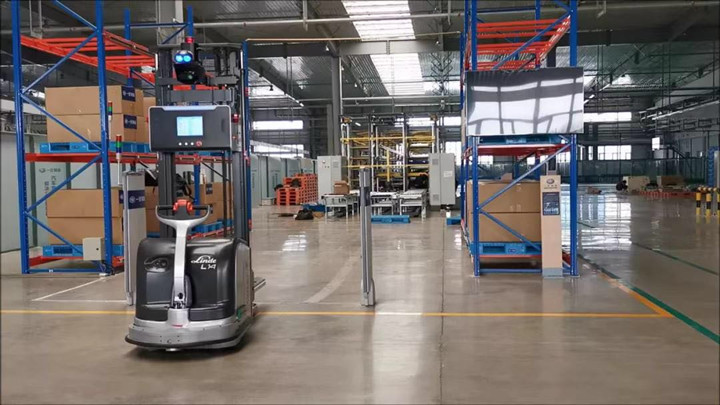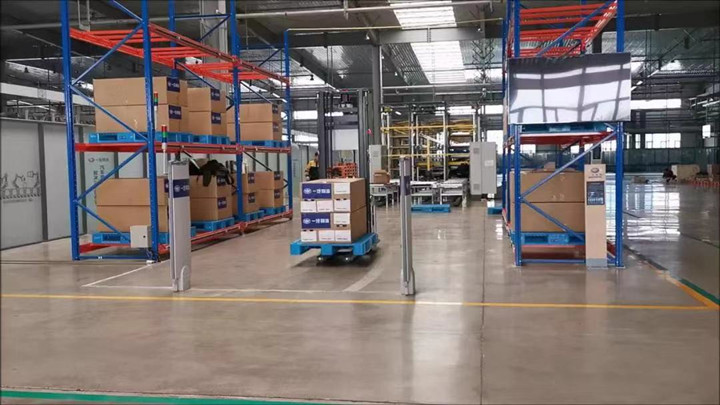 - Geek+Automated forklift is operating in FAW Changchun Factory
Controlled by RMS, Geek+ automated forklift is capable of collaborating with multiple robots and other industrial equipment. Moreover, Geek+ RMS can be seamlessly interfaced with FAW warehousing information management system and MES. After receiving the task of storage or retrieval, the intelligent forklift will be interfaced with the mechanical arm and high-rise warehouse automatically to realize an unmanned warehousing operation.
The logistics automation system in FAW Changchun has realized technology innovation and model optimization by adopting an integration model for storage and picking. The application of multi-layer RGV can realize dense storage by processing small auto parts picking in a special bin. Meantime, Geek+ forklift will complete autonomous storage and retrieval.
In 2019, FAW will continue the full-process automatic logistics system project for other main factories. It will build smart warehouses of auto-parts which is based on IoT technology, and promote the unmanned product line powered by RFID technology. Also, it's planning to integrate the robotic RS/AS and goods-to-robot solution. Geek+ will establish long-term and in-depth cooperation with FAW logistics. By providing a flexible robotic solution and helping FAW on the modification and application of unmanned product lines, Geek+ will create a benchmark of innovative automotive manufacturing factory.