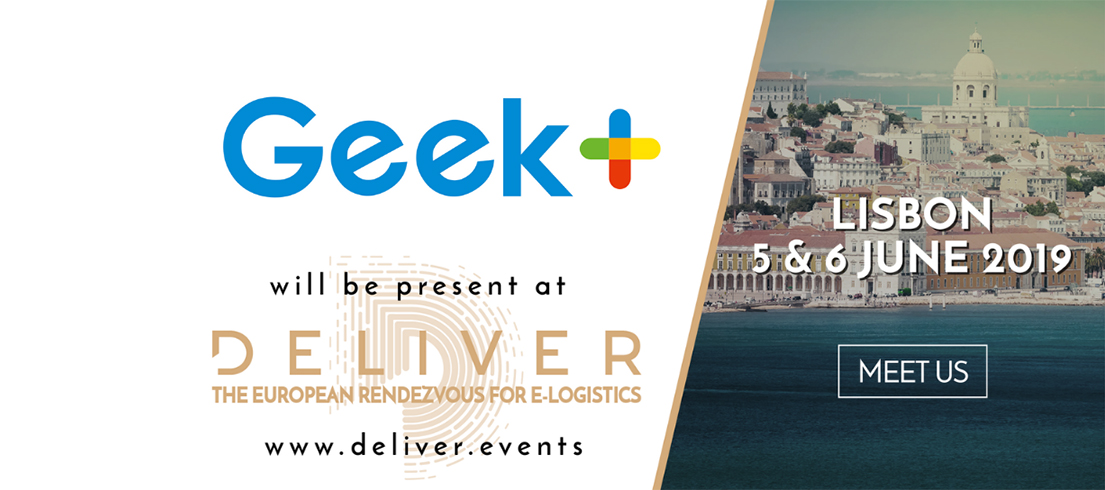 Geekplus Robotics, a leading supplier of warehouse automation technologies, is to showcase its "Picking System" at the Deliver Portugal event, at booth C7.

Deliver has been described as "the Davos of the e-commerce world", although it takes place at various locations, such as London and, in this instance, Lisbon, Portugal, from 5-6 June 2019.
It's an event that attracts the world's leading e-commerce companies, as well as many technology providers.
Geekplus Robotics last year took a stand in Deliver London, where its overseas business manager, Lit Fung, made a presentation to a packed audience. He also took part in a panel discussion about robotics technologies in the supply chain.
This year, the company has new personnel to work alongside Fung. The new appointments will be responsible for the European market.
Geekplus has been growing its customer base in Europe, particularly in Germany and the UK, where large retailers have installed the company's automation systems in their warehouses.
The company has also been receiving a growing number of enquiries from the region.
One of the key products that Geekplus customers are interested in is its Picking System, which includes a mobile robot that carries and moves shelf units inside a warehouse.
Sometimes described as a "goods-to-person" system, the robots bring products directly to the picking station, to the human picker, and then return the shelf unit to its original location.
The robots also go to their charging stations autonomously.
The entire process is managed through the Geekplus Management System, a computer-based application that provides visibility across the operation. The information it provides includes:

1. location and activity of the robots
2. charge levels of robots; and
3. condition of robots.
The Management System also integrates with various, widely used software platforms such as warehouse management systems, and enterprise resource planning applications.
Additionally, the Geekplus Management System uses artificial intelligence algorithms to optimize dynamic storage and relocation of goods by frequency of purchase.
This improves the efficiency of the warehouse operation and increases productivity, which means the length of time to see a return on investment can be minimized to as little as two years or even less.
In total, there are four components of the Picking System. There are:
1. the robot;
2. the Geek Management System software;
3. the picking station, where the human picker is located; and
4. the charging station, where the robot recharges itself.
Using the Picking System, warehouse managers can increase productivity from 300 picks an hour to 700 an hour, on average.
The flexible and scalable system can be implemented easily within three months and can reduce space requirements by approximately 30 percent.
The Picking System is part of a large range of products and services offered by Geekplus. Its other products include:

1. Geek Moving System for material handling in factory logistics;
2. Geek Sorting System for parcels sortation in express;
3. Geek Automated Forklift and collaborative robot for unmanned warehouse; and
4. Geek Robot Shuttle System for bin-carrying with single layer rack and multi-layer mezzanine rack.