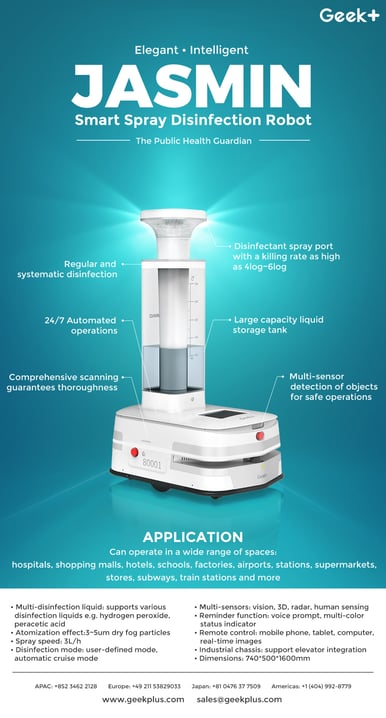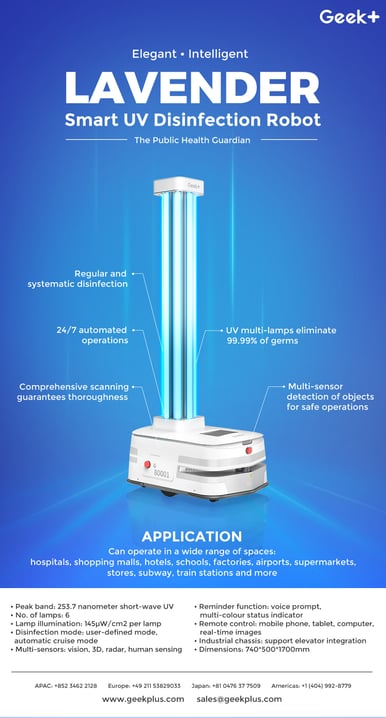 In light of COVID-19 and derived public health concerns, Geek+ has decided to step up to the challenge and launch two new disinfection robots to customers worldwide. Lavender, the Smart UV Disinfection Robot, executes quick, accurate, and automated sterilization using strong UV rays. Jasmin, the Smart Spray Disinfection Robot, executes swift, accurate and automated sterilization using liquid agents. Both robots can be applied in a variety of spaces, from warehouses to offices, hospitals, and more, in order to protect public health.
Kills 99.99% of germs
24/7 Automated operations
Regular and systematic disinfection
Comprehensive scanning guarantees thoroughness
Can operate in complex environments
Multi-sensors detection of objects for safe operations


Contact us to pre-order now: sales@geekplus.com
Stay safe!