- CEVA manages wholesale fulfillment, distribution for an iconic footwear company in 50 000m2 warehouse in Grobbendonk, Belgium

- Highly efficient site handles 15 million units a year of footwear and apparel

- Geek+ goods-to-person solutions chosen to automate picking process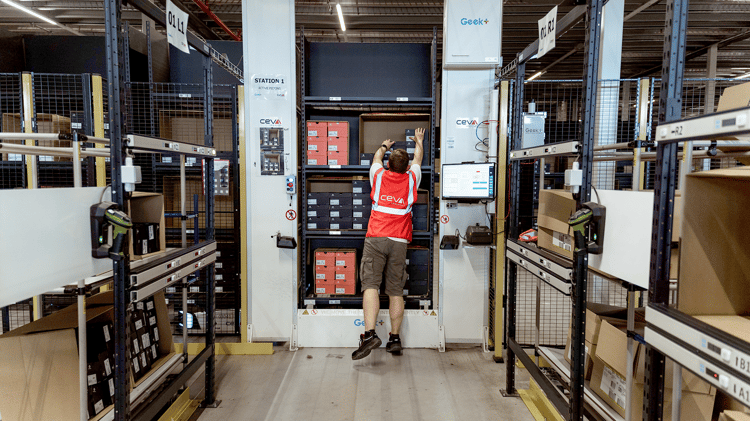 GROBBENDONK, Belgium – March 29, 2023 – CEVA Logistics and Geek+ are teaming up to more efficiently connect consumers with their favorite footwear and apparel through the use of autonomous mobile robots (AMR).
The modernization efforts at CEVA's Grobbendonk warehouse, located in Belgium's Antwerp province, clearly demonstrate the benefits of AMRs through delivering a more ergonomic working environment and improving efficiency, all while maintaining accuracy.
The warehouse is now equipped with a fleet of 27 Geek+ P-series picking robots and five workstations. The picking robots feature a 1000-kilogram payload and operate at a maximum speed of 2 m/sec. The goods-to-person solution devised by CEVA and Geek+ provides a high degree of flexibility, quick integration into the existing operations and can handle daily volumes of more than 10,000 outbound items.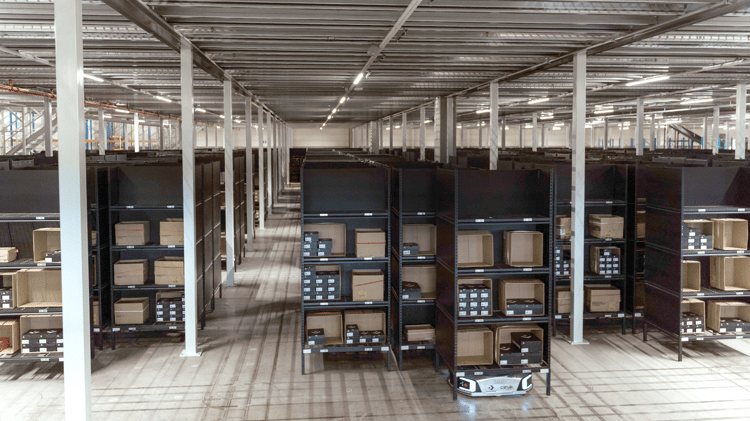 The Grobbendonk project represents the latest collaboration between Geek+ and CEVA Logistics. In 2021, Geek+ robots were introduced in certain automated operations at a CEVA warehouse in Australia, one of the largest distribution centers in the southern hemisphere. The Grobbendonk site applies those previous successes to online retail operations in Europe, including the creation of safe working conditions for warehouse staff.
Jean Gateau, Global Key Account Director at Geek+, said: "This project with CEVA once again demonstrates what Geek+ can do for retail operations and warehouse operators. We have already had great success with CEVA in Australia, and it's fantastic that we can reproduce that in Europe, too."
Bart Beeks, Global Head of Contract Logistics at CEVA Logistics, said: "At CEVA, we define innovation as the implementation of new ideas with business impact. As a result, we are always looking for the best solutions for our clients, scanning the technology horizon alongside our partners. The Geek+ solution is a great fit for our operation in Grobbendonk, providing a more comfortable working environment for on-site employees, while at the same time handling a far greater order volume."


About Geek+
Geek+ is a global technology company leading the intelligent logistics revolution. We apply advanced robotics and AI technologies to realize flexible, reliable, and highly efficient solutions for warehouses and supply chain management. Geek+ is trusted by over 500 global industry leaders and has been recognized as the world leader in autonomous mobile robots. Founded in 2015, Geek+ has over 1500 employees, with offices in Germany, the United Kingdom, the United States, Japan, South Korea, Mainland China, Hong Kong SAR, and Singapore.
For more information, please visit: https://www.geekplus.com/
About CEVA Logistics
CEVA Logistics, a world leader in third-party logistics, provides global supply chain solutions to connect people, products and providers all around the world. Headquartered in Marseille, France, CEVA Logistics offers a broad range of end-to-end, customized solutions in both Contract Logistics and Freight Management thanks to its approximately 98,000 employees at more than 1,000 facilities in 170 countries worldwide. With pro forma 2021 annual revenue of US$12 billion, CEVA Logistics is part of the CMA CGM Group, a world leader in shipping and logistics.
For more information, please visit www.cevalogistics.com.
For inquiries, please contact:
Geek+
Christian Borrmann
Head of marketing EMEA
christian.borrmann@geekplus.com
Tel: +49 172 512 3167
Lee Turner Kodak
PR and Communications Manager
lee.kodak@geekplus.com
Tel: +49 0172 512 2909
CEVA Logistics
media@cevalogistics.com