Last mile delivery is known to be the key battleground for retailers. Regardless of industry, be it e-commerce, grocery stores or apparel, it is considered one of the key factors that determine the market winners in terms of margins and time of delivery. Therefore, retailers are now emphasizing the need for micro-fulfillment centers – small-scale warehouses in accessible urban locations, close to the end consumer. The implementation of these small facilities can enable more seamless and affordable rapid delivery services and significantly ameliorate the pain points of last mile deliveries.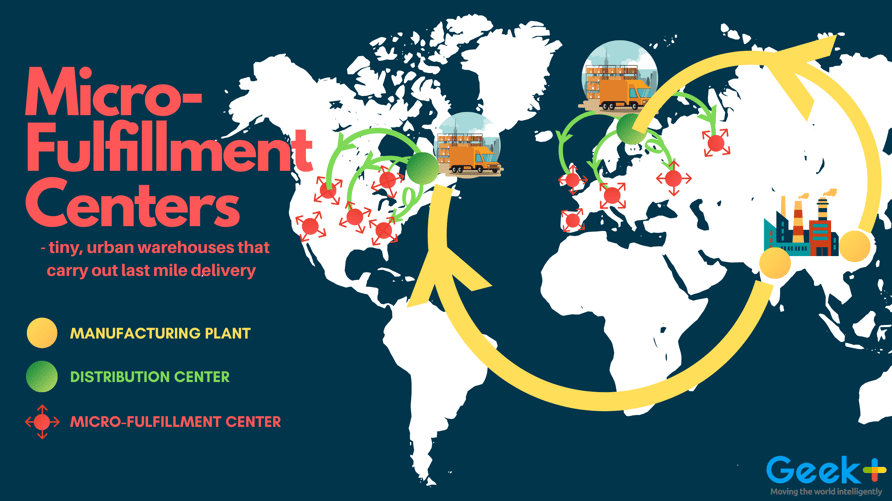 A few reasons why micro-fulfillment centers are being implemented
Today, the focus of shoppers increasingly lies in the ability of retailers to provide fast, cheap and flexible delivery services. In turn, we are seeing a switch from manual warehouse operations towards innovative robotic solutions that leverage AI algorithms in order to achieve faster, seamless and efficient fulfillment. According to a Service channel report, 41% of shoppers say they are less likely to return to any store of the same brand where they've had a bad experience, and 69% claim they are more likely to shop at a competing brand after a single bad experience. In a recent survey made by the NRF, they found that more than 40% of retailers say that their top customer-facing priority is faster fulfillment of online orders. Micro-fulfillment is, therefore, seen as a new concept that has the potential to boost grocers' fulfillment capabilities whilst making use of existing local structures.
Although the market is still in its early stages, Interact Analysis estimated that in 2023 micro-fulfillment centers will account for approximately 20% of the total demand for US grocery warehouse automation in terms of revenue.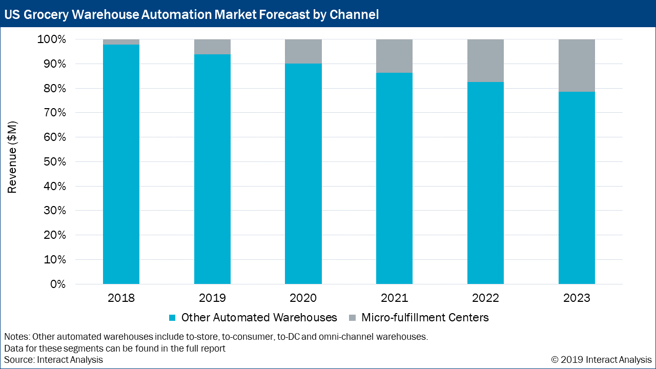 The automation race in micro-fulfillment centers
According to Common Sense Robotics (CSR), online grocery penetration will increase from 2% in 2019 and take up to 15% to 20% of all grocery sales by 2023, underlining the need for micro-fulfillment centers. To meet the expectations for better customer experience in e-commerce and at grocery stores online, retailers are now providing same-day and next-day delivery services on their platforms. This is becoming more prevalent and is now regarded as the bottom line when it comes to staying competitive in the market. The fierce competition that companies meet in terms of providing efficient deliveries is causing retailers to move their fulfillment centers to urban areas.
In Australia, the supermarket and liquor outlet, Woolworths, has partnered with Takeoff Technologies, a provider of automated grocery fulfillment solutions based in Boston, US, to test the feasibility of micro-fulfillment centers in three locations. According to Woolworths, the aim is to improve the speed of delivery and in turn, improve customers' online experience.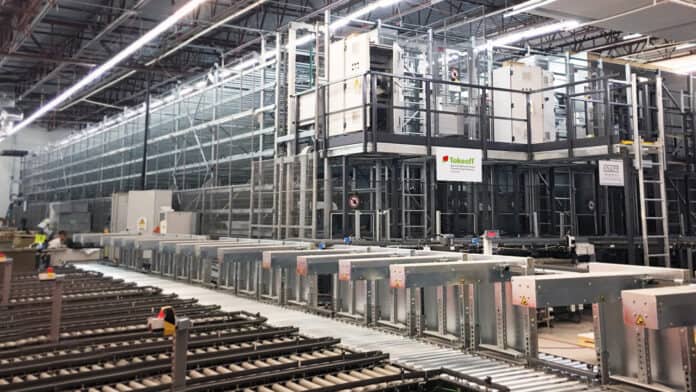 (Source: Loss Prevention Magazine)
Moreover, Albertsons, one of the largest foods and drug retailers in the US, has made a similar move. Having sought to find a more cost-efficient model for its online grocery delivery and pickup processes, it has made use of Takeoff Technologies' fulfillment solution and turned one of its existing stores into a micro-fulfillment center. Furthermore, the company has recently announced the expansion of the partnership with the tech company and will continue to invest in additional micro-fulfillment centers.
(Source: SupplyChainAnalysis)
Even though a reduction in the distance between warehouses and customers helps reduce delivery fees, the rental costs are much higher in urban areas. Therefore, space utilization and efficiency are increasingly becoming matters of importance to retailers. Not only do they have to fully make use of each square meter in the fulfillment center, but they must also ensure high productivity. This, in turn, sparks the beginning of the automation race.
In February 2020, Geek+ successfully partnered with Nike to provide advanced robotics solutions to Nike, deploying more than 200 picking robots to its warehouse in Japan. The smart robots now carry Nike products and packages directly to the warehouse workers, reducing footprint, costs and increasing picking efficiency. With the help of Geek+ robots, same-day delivery is now a reality for Nike customers in Japan.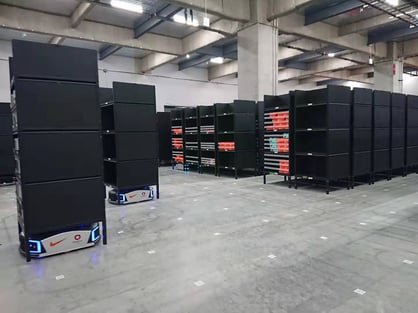 (Geek+ Goods-to-person picking system in Nike's new distribution center)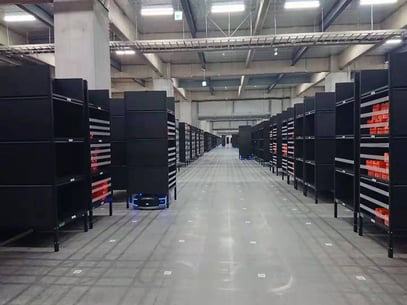 How industrial mezzanine facilitates micro-fulfillment centers
Micro-fulfillment centers are often located in urban areas, which implies limitations in terms of space and high rental costs. The physical reality affects the layout of the fulfillment centers. Thus, mezzanine floors provide an ideal solution as they help maximize the unused vertical space above the centers' ground floor. If multiple mezzanine floors are installed between the floor and the ceiling, it helps increase the storage capacity of small warehouses, accommodating higher product volumes.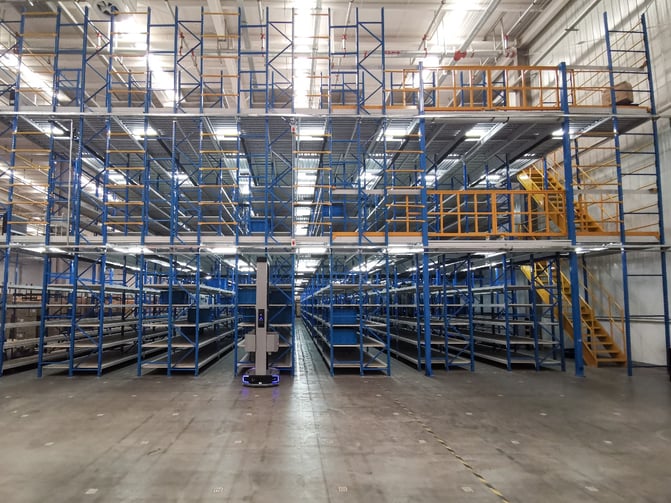 (Geek+ Roboshuttle system with multiple mezzanine floors)
The best solution for the micro-fulfillment center: Geek+ RoboShuttle system C200
The large storage capacity of facilities using mezzanine floors leads to increased workload. As the process of inventory control and order fulfillment grows more complex, automation becomes a necessity. Geek+ Robot Management System (RMS) integrates the WMS to receive and fulfill orders. It also controls the RoboShuttle system to carry out Bins-to-Person or Goods-to-Person picking on behalf of the worker, achieving higher productivity, picking efficiency and a reduction in costs. Intelligent scheduling and route planning will further optimize the warehouse footprint and lead to consistent order fulfillment. The Geek+ RoboShuttle system can operate on single or multiple mezzanine floors and the number of robots can be adjusted to suit peak season or off-season, demonstrating the efficient space utilization and high flexibility provided by the RoboShuttle system.
Moving forward, retailers who wish to remain competitive and profitable will have to consider new ways of distribution. As the need for effective paths for reaching the end consumer grows, so does inevitably the need for digitalization of the supply chain and micro-fulfillment centers. By providing micro-fulfillment centers with great solutions in terms of efficient space utilization and high flexibility, The RoboShuttle system can help retailers bring about a change towards seamless distribution.