Following the rise in travel and baggage volume, the number of mishandled or lost luggage remains an Achilles heel of the aviation industry – an approximate $3 billion dollar cost a year before the outbreak of Covid-19. While airlines deliver baggage on time to passengers 98% of the time, the remaining 2% still remains an exasperation for both passengers and airline companies. In fact, 80 of the top airports account for 80% of the world's mishandled baggage. Therefore, it is time to review and address the baggage handling problem during the city's lockdown period.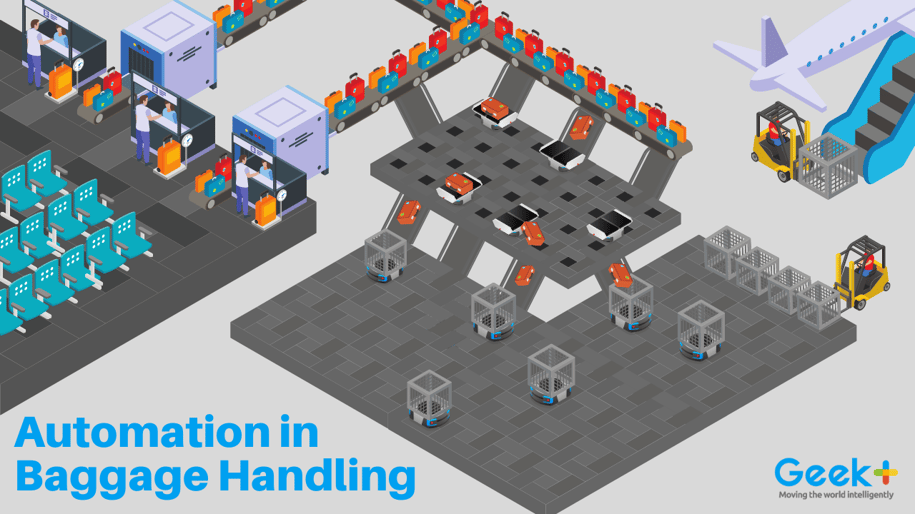 Process of baggage handling
Before deep diving into the challenges of baggage handling, it may be helpful to understand what exactly does baggage handling entail. Simply put, baggage handling is the process of transporting passenger luggage from the check-in counter at the departure airport, onto the plane cargo hold and then to a collection point at the arrival airport. However, in reality, this process requires the precise coordination of many activities and can be extremely complicated to realise.
Challenges in baggage handling
So where does the challenge of baggage handling come in? Intuitively, tremendous quantities of baggage due to high frequency of transfers and connecting flights, which subsequently introduces a sortation problem. The sheer volume of baggage handled amplifies the risk of congestion, routing errors and control problems. Baggage may not be sorted into destination cart on time and results in any delay situation. Additionally, the problem stems from the airport of origin, which can often be smaller airports that do not possess dedicated terminals or airlines. Here, all bags pass through a common use system and there is a higher risk of them not being placed on the correct flight, thereby contributing to mishandling of baggage.
Other than the heavy costs that are tagged to the issue of mishandled baggage, passengers also perceive baggage handling as a major contributor to airport and airline quality. With increasing competition in the aviation industry, this implies continuous pressure to better the baggage handling process. As such, many airports have started investing in automated baggage handling systems. An example would be Dallas Fort Worth Airport, which has recently engaged new mobile robots by Vanderlande to perform baggage transfer tasks for international travelers from the check-in counter to the baggage conveyor belt. The result is an automated and more seamless process with significantly higher accuracy and efficiency.
(9 FLEET autonomous baggage robots at Dallas Fort Worth Airport)


Potential of baggage handling automation
Geek+ S100C sorting robots can also be highly applicable in baggage handling scenarios, particularly in terminal sortation stations where baggage is divided based on destinations and subsequently loaded onto planes. Empowered by robust algorithms, our mobile robots can aid airports in achieving maximum operational efficiency and accuracy whilst reducing manual error and issues of lost or delayed baggage. Moreover, these robots boast a high payload of 100 kg each and are thus extremely competent in transporting heavy baggage. This is palpable in the case of EMS in Wuhan, which deployed Geek+ sorting robots to handle bulky parcels. The sorting system is built in a two-level steel platform where hundreds of mailbags or containers are placed on the ground floor. A fleet of mobile robots patrol the top floor and drop the parcels into corresponding slots which are connected to the mailbag. Thereafter, the moving robots on the ground floor will transport the fully loaded mailbags to the corresponding destination port.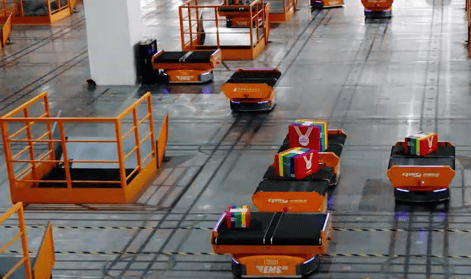 (EMS in Wuhan deployed Geek+ sorting robot)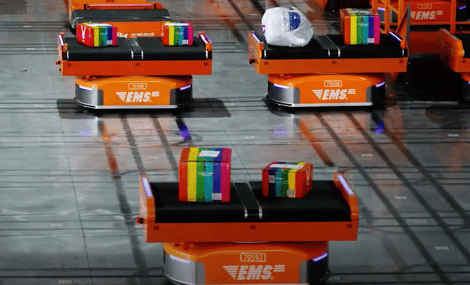 (The sorting system is built in a two-level steel platform)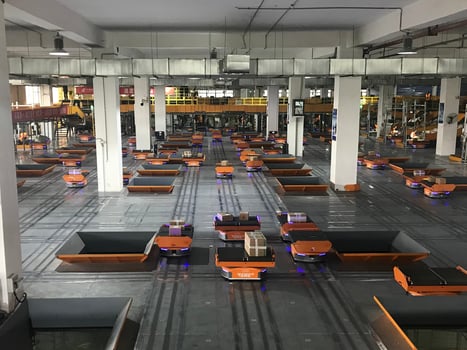 (Sorting robots drop the parcels into corresponding slots)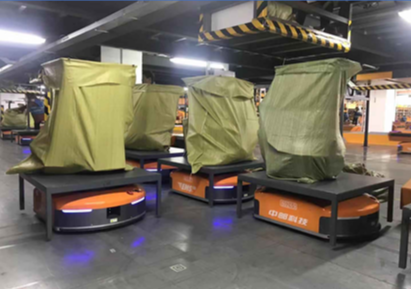 (moving robots on the ground floor transport the fully loaded mailbags to the corresponding destination port)
In closing, the transformative potential of automation in the aviation industry, particularly the baggage handling system, is indisputable, be it in optimizing the overall process chain, preventing bottlenecks or smoothing peaks in baggage volume. Given the inefficacy of existing systems and growing demands for finer airport and airline quality, it may not be long before robots become an essential part of our air travel.